Advantages of Plastic Gift Cards Over Gift Certificates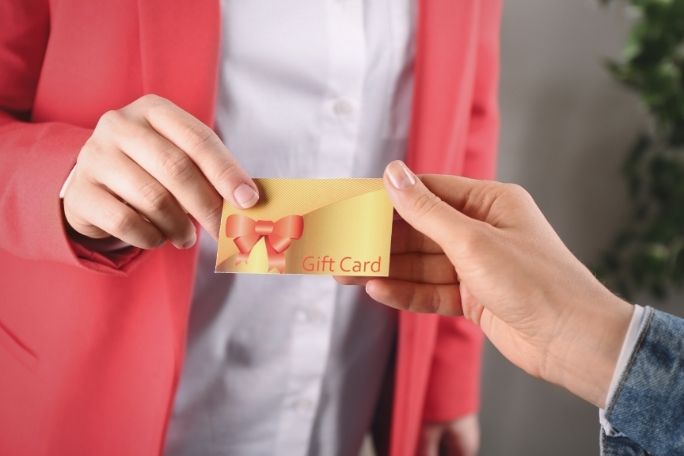 Category:
Paper gift certificates are a common choice for many small businesses in the US because they're easy and affordable to produce. Unfortunately, they also aren't durable and can be easily copied or stolen. To protect your business and reap additional benefits, consider investing in plastic gift cards. Keep reading to learn about the advantages of plastic gift cards over gift certificates.
Great Durability
One of the advantages of plastic gift cards is that they are much more durable than paper gift certificates. Plastic gift cards are often made from the same material and with the same thickness as credit cards, so they can endure any wallet, pocket, or purse. Being made from plastic also prevents them from being bent or torn like paper gift certificates.
Do gift cards need to be durable? They just need to last from the store to the person receiving them until they get back to the store, which can be a quick turnaround. Paper can easily survive that long. But what if someone buys something for less than what their gift certificate is worth? That leaves your cashier in an awkward position: write out a small, specific gift card or give them cash to make up the difference. And then, if the shopper returns the original product for a cash refund, your cashier hands out even more cash. A durable plastic card that automatically subtracts the spent around and can be saved for future purchases with the leftover amount will eliminate this potential problem.
Quick Convenience
Another benefit of gift cards over paper certificates is how safe and quick they are. To prevent robbery, many small businesses store their paper gift certificates under the register or in another secret place. This means that if someone wants to purchase a gift certificate, they have to ask a sales associate, wait until someone is available to retrieve a certificate, and then wait longer as the associate fills the certificate out for the desired amount. It can be a long process, especially if you have a busy store and can't spare an associate or have to retrieve more certificates.
In contrast, plastic gift cards provide your customers with quick convenience. You can leave them on display, since many aren't useable until activated, so all someone has to do is pick one up that already has the desired amount on it and hand it to the cashier. While they still may have to wait for a cashier or associate to activate the card, they won't have to wait nearly as long and won't be as anxious as they wait since they'll already have the card in their hands.
Better Branding
When a person takes a gift card out of your store, they're not just taking a gift to a loved one; they're also giving you free advertising if you've branded your cards right. If you have custom plastic gift cards with your business name and logo, along with other aesthetic features like embossing and foil, then gift cards can show off your brand and provide free advertising for your business. If the gift recipient opens their gift in public and shows off your card, a well-designed card will catch people's attention, and many will want a second look later.
You can also sell your gift cards in specific packages, so you'll get better branding and free advertising on the street. Custom boxes and bags that perfectly fit small plastic cards and display your company's information on the side will draw attention when it's carried out of your store. It lets people know that you care about your customers and that gift cards are for sale inside, which will draw in more customers who may not have previously been interested.
Improve Sales
One of the biggest advantages of plastic gift cards is that they help improve sales. When people aren't spending their own money, they're easily tempted to buy full-priced items. And if they're using a plastic card instead of a paper gift certificate that can offer cashback for spending less, they're even more likely to spend the entire amount on the card. This means that when someone walks in with a gift card, they will probably buy a full-priced item and additional items until they have spent the entire amount on the card, since it's free money to them. Even if they don't spend the entire amount at once, the leftover money will stay on the gift card until they come back to your store another time.
Since gift cards feel like free money to their recipients, many people won't just spend the money on their card but will spend some of their own money as well. Most of their purchase will feel free since it was through a gift card, but if they see something else they want, they're often willing to splurge with their own money. This means that you end up with more money in your pocket, all because of a bit of plastic.
Long-Lasting Loyalty
The last advantage that plastic gift cards have over paper gift certificates is that they can help inspire long-lasting customer loyalty because you can hand them out like coupons. Most small businesses can't run coupons in the paper like big-box retailers but still want to offer loyal customers discounts and advantages. By keeping plastic gift cards close by, you can easily reward a customer with a gift card for a small amount that can help discount their next purchase. Doing this can even feel more luxurious for the customer than a scrap of paper offering a certain percentage off based on how much they spend. Gift cards are easier for them to apply and will keep them coming back to your store to spend the free money. You'll probably get some free advertising out of it too, since people love to tell their friends about good deals, and free gift cards are a great deal.
Durability, convenience, branding, improved sales, and customer loyalty are the top advantages of plastic gift cards over gift certificates. Buying custom plastic gift cards can be an initial investment, but it will help grow your business and keep customers coming back again and again. It's time to throw your old paper gift certificates away and invest in gift cards. To learn more about ordering gift cards, give the experts at SilkCards a call today. We offer everything you need to create incredible gift cards your customers are sure to love!