Customer Spotlight: Emily Meehan, Artist & Photographer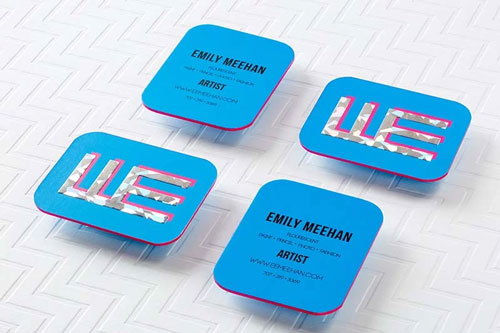 Category: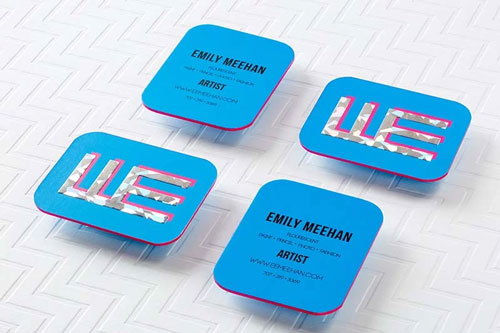 For our customer spotlight today, we're going to feature the owner of this incredible artist / photographer business card, the talented Emily Meehan. What really makes this card great is its flourescent look and unconventional shape. The square business card style really works well with the overall theme of the card, especially with the rounded corners that give it an almost pop art feel.
The colored edges add drama to the overall design, and the raised sparkle foil logo texturizes an otherwise flat design.
Related: Flat Design vs Realism: Which Is Right for Your Brand Identity?
About Emily Meehan
Emily is an all-around jack-of-all-trades working in a number of mediums from pencil and paint to photography, fashion design, and sculpture. All of her California-inspired work investigates culture and color in super bright highlighter colors and incredibly precise geometrics, much like her business card.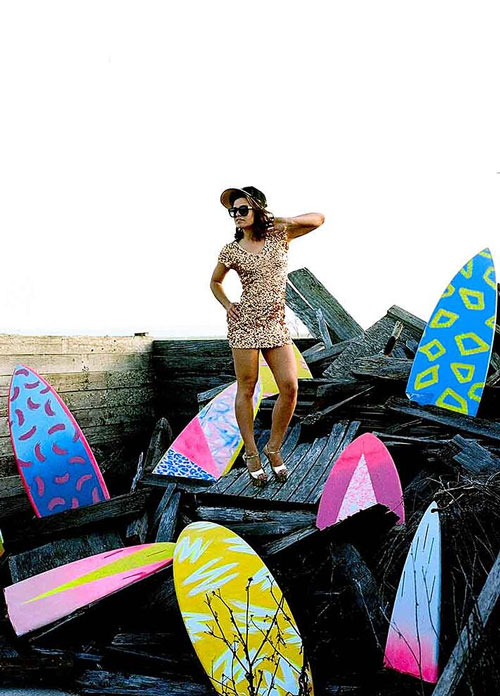 We were able to interrupt her busy day for this interview:
How long have you been ordering your cards from SILKCARDS?
This is the first order I've done with them.
Fantastic! So how do these cards compare to other cards you've come across in your field?
They are very sturdy and unique in shape and color.
Would you ever go back to using a more traditional business card?
Never. I think they'll only get fancier as time goes on. [Laughs]
Having seen some of your work, what I love most about these cards are that they're very YOU. How Important is branding to you as an artist?
Consistency of branding is very important. I'm still trying to get my footing about how exactly to brand what I do because I walk such a variety of creative paths, but these are definitely the dream card for now that encompasses and represents everything perfectly. I love handing them out, and people seem to really enjoy receiving them as well.
Did you design your business card, or did the SILKCARDS team design it for you?
I designed it.
That's awesome! How was the experience working with them overall?
Very creamy smooth. I'd contacted so many other print shops to see if they could do this exact design for me, and none of them were willing or able. I was so excited that they didn't tell me right off the bat that there was an element of the card that they couldn't do, and their prices are so reasonable.