Another Layer to Impress: Innovative Business Card Sleeves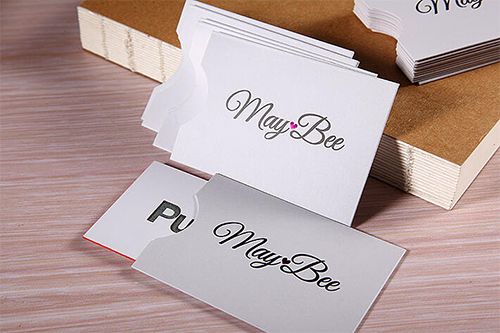 Category:
After the meeting, when you're long gone, you depend on your business card to continue the conversation with your prospect. It should speak of your personal and business style, reputation and brand every time it is viewed and handled. For this reason, you need a card that leaves as much of a lasting impression on your contact as you did in person. Fortunately, printing technology has grown far past the simple ink on card stock paper cut into rectangles. Now, innovative designs know no limits. One relatively new aspect in business branding is custom business card sleeves. Below are a few ideas that can spark your imagination towards your own business card sleeve design.
Image Is Everything
The more high-end your business or your position within your company, the better off you are using a style design that exudes elegance, innovation and sensory wonders. For instance, when creating a business card with sleeves, you might consider using a die cut figure on the sleeve that exposes the color and texture of the card within.
Related: Luxury Marketing Techniques for Luxury Real Estate Agents
Symbiotic Relationship
When choosing to present your business cards in sleeves, you definitely want the card and sleeve to work together as a complete set. A cut-away textured sleeve with a corner of the card exposed, and with the sleeve image repeated in metallic ink or foil on the card inside, can be a striking combination that bespeaks class that comes from its own mold.
Stun Them with Art
For upscale fashion businesses or other really design-oriented industries, sleeves die cut in delicate filigree patterns will floor the recipient who will probably never forget your most unique business card. Use a complementary color on the side of the card below the lattice work with your text and image on the back side for a clean, artistic card and sleeve combination.
Get a Grip
Consider losing the straight edges. Design a card with a rounded or scalloped side edge to fit inside a slightly smaller sleeve so the recipient can grip the edge and pull the card out easily; no delicate pinching in the notch of the sleeve. Or, rather than a round side edge, maybe a clever cut-out design of your logo would look great. You might consider printing the card the same on both sides so when the card slides out, it presents the front whether it is held in the right hand or left. Lefties will really appreciate that you had them in mind, too, when you designed your business card and sleeve.
Go With Texture Over Cardstock
One of the most extraordinary finishes for a luxurious feel of a business card and sleeve is silk. If you really want your prospects to handle and examine your card, hand them something silky smooth. The unusual tactile finish will leave a lasting impression.
Related: Are Unique Tactile Business Cards the New Norm?
With a world awash in business cards, it pays to construct yours in a manner that can't be forgotten. Using a sleeve imparts the idea that "this card is different and to be respected." Engineering the card and sleeve arrangement for the maximum "Holy cow, this is nice!" reaction can take some work. At DGi, we can help you through the process from concept and design to finished product. Contact us today to consult with a professional designer and begin your business image makeover.