Tips for Designing Custom Metal Business Cards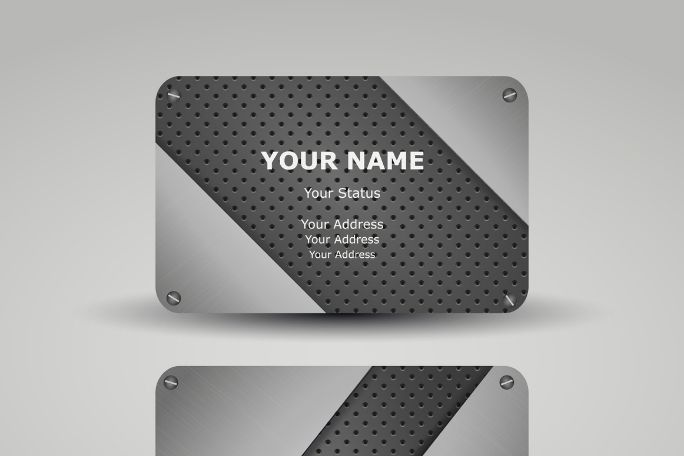 Category:
Everyone, whether they work a side hustle or have a job with a big corporation, seems to have a business card. While it's great that people use their cards to share what they do, the prevalence of similar business cards means that information can easily get lost. Don't get lost in that business card avalanche. Create and give out something unique, like a metal business card, that people won't forget and will never let go of. If you've already considered getting metal business cards but aren't sure how to design them, we can help. Keep reading to learn tips for designing custom metal business cards.
Proper Font Size
Using metal for business cards creates a different effect for card recipients when they're trying to read your information. For this reason, you should choose a proper font size for the shape of the card and the amount of information you have. Depending on the type of engraving, you can print your information on both sides of the card, which should allow you to use a larger font size, which will be easier to read. If you're not sure how large or small the font should be, ask a professional designer. They can walk you through the entire process of how to design your metal business cards.
Blank Space
Paper cards often leave blank space for recipients to write notes. While the people who receive your metal cards won't be able to write on them, you can still include blank space in your card's design. Blank space will make design elements like text blocks and logos easy to read and can even act as a design element. Since metal is stronger than paper, your blank space doesn't have to be empty space. This is just one of the many advantages of metal business cards over paper. You can literally cut part of the card away so that the blank space is a gap in the card itself. While this will take away space to print information, it creates a unique and unforgettable design that recipients will love.
Color Options
When most people imagine metal cards, they imagine a typical metallic color, like silver or gold. While there's nothing wrong with picking these expected colors for your business card, you do have other options to choose from if you want to include your business colors or use color theory to your advantage. The important thing to remember when using color on metal business cards is that the colors may not appear the same as they would on white paper. With that in mind, you can pick any color for your cards.
There are several tips to keep in mind when designing custom metal business cards. The most important design elements to consider are font size, blank space, and color, as these will affect how recipients feel about your card. If you need help putting the right design together for your laser cut metal business cards, reach out to the team at SilkCards. We're happy to help you create a perfect, unforgettable design.