5 Breakthough Tips for Vibrant and Effective Hang Tag Design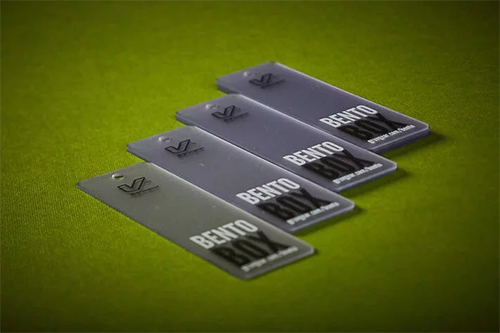 Category:
Your brand is more than just your company logo. It's that special quality that sets you apart from all of your competitors. As you plan your marketing strategy to distinguish your brand, consider the benefits of using hang tags.Whether your products are clothing, sports equipment, toys, boutique food items or just about anything else, attaching a hang tag can grab the eye of shoppers and draw them to your product. Once you have their attention, your hang tag design should convert them to a buyer.
Related: Solidifying Your On-the-Rack Brand Strategy Through Garment Hang Tags
1. Consider Trends in Hang Tag Design
Some trendy hang tag styles right now are:
Minimalism

. Display your logo and contact information with an image but not much else.

Flat

. No embossing, simply print your design on plain card stock.

Vintage

. Replicate hang tags from the early twentieth century using Courier typeface.
Are the Above Trends Right for You?
In the world of competition, should you consider following a trend with your marketing materials? This may work well for your brand, and it's certainly the least expensive option, but what if your product could sell itself over and over by establishing itself in a unique, easy-to-remember format? Wouldn't you want to increase your budget enough to accomplish that goal? Of course you would. Here's a few ideas to apply towards a vibrant hang tag design that shoppers can't resist.
2. Go Ahead and Emboss Away
Embossing your logo or other design element is another way to add texture to the tag while using budget-friendly cardstock. Again, the tag appeals to the sense of touch which helps the mind remember your brand.
Related: How Letterpress and Silk Cards Can (Literally) Make an Impression in a Saturated Market
3. Mine the Metallic Potential
Metallic ink or foils create a striking visual no matter how you use it. While these printing options are hardly new, they carry the weight of classic, undeniable appeal, particularly when your company personality is meant to be elegant and luxurious.
4. Use Tactile Materials
To read a tag, you have to hold it in your fingers. By using a material the shopper is not expecting to feel, you instantly set yourself apart as a serious brand not to be ignored. Some unusual materials are silk, suede, cotton and plastic. Each possesses a surface and weight that will inspire the reader explore its texture while consuming the information. Once you have their undivided attention, you can impress with your branding information, and the customer is much more likely to remember your product and come back to it at decision time.
5. Raise the Bar with Spot UV
Spot UV is a special varnish over the ink that gives it a raised quality which enhances the visual and tactile appeal of the tag. Use spot UV to call attention to the most important design element of your hang tag, and your customers will long remember your product.
The Importance of Quality Printing
All of these options, and a whole lot more, can be yours from DGi. Located in the Las Vegas metro area, we have professional designers on staff to help you launch or update your brand. Would you like to speak with a friendly, knowledgeable representative? Contact us today.