How Letterpress and Silk Cards Can (Literally) Make an Impression in a Saturated Market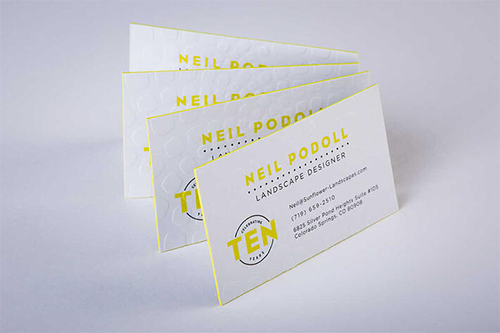 Category:
Choosing the most inspired business card design and style is an extremely important personal decision that can influence the way potential clients and partners see you and interact with your brand.
Considering that business cards mirror one's style, taste and personality, you should definitely strive to avoid boring designs that don't really speak to you and your audience and rely on one-of-a-kind, sophisticated details that command attention, make your contact information stand out and encourage recipients to take action.
Silk Cards as an Indicator of Your Great Style and Unique Personality
In case you're interested in trendy business cards that will always stay in fashion due to their timeless elegance and elevated practical value, consider investing in silk laminated cards, which are much appreciated for their soft, smooth feel. Aside from the fact that these items are absolutely gorgeous, they are also tear- and water-resistant, making for more durable and lasting promotional materials.
Situated on the high-end side of business card printing, these cards are literally smooth as silk and can be personalized in a number of ways to meet one's aesthetic needs and demands to a tee. Silk cards can be die-cut, embossed, foiled or treated with spot UV. Without a doubt, silk matte business cards are an excellent option for any type of business, given their subtle refinement, durability, luxurious feel, and overall versatility.
Indulge Your Clients With a Tactile Experience
These products are associated with a unique, suede-like feel that no average business card could ever match. As a plus, the silky texture will highlight your content and imagery in a delightful manner without any added shine that could lower its readability.
If you are eager to invest in print marketing materials reflecting the care and effort that you put into every single detail related to your company, opt for silk business cards that constitute the most attractive alternative to traditional, uncoated cards whose cardboard-like texture doesn't exactly create a positive, long-lasting impression.
Do Your Current Business Cards End Up in the Trash?
Superior quality can increase the chances that someone will keep your card around and thus keep your brand at the forefront of their minds. Silk cards are the kind of quality that almost any individual would feel too guilty to toss one out.
If you're gathering design ideas for business cards that are virtually impossible to put down, consider going for products whose manufacturing process combines the ease and cost-efficiency of digital printing with the retro vibe and sublime elegance of traditional letterpress. Just like silk cards, letterpress cards take pride in a unique, customizable design leading to a magnificent tactile experience. You just have to choose the letterpress elements that you want to see on your cards and let your provider of custom print marketing materials press them on your cards.
Personalize Your Custom Business Cards Even Further

With silk or letterpress cards, you can explore various design templates and color schemes, and choose the one that makes sense to you. Count on a team of experts to select the most striking design elements (ink, paper, images) that best compliment the elegant letterpress texture, or simply upload your own photos and let the best specialists from 4colorprint.com turn your business card design ideas into reality.