How to Design a Business Card – The Dos & Don'ts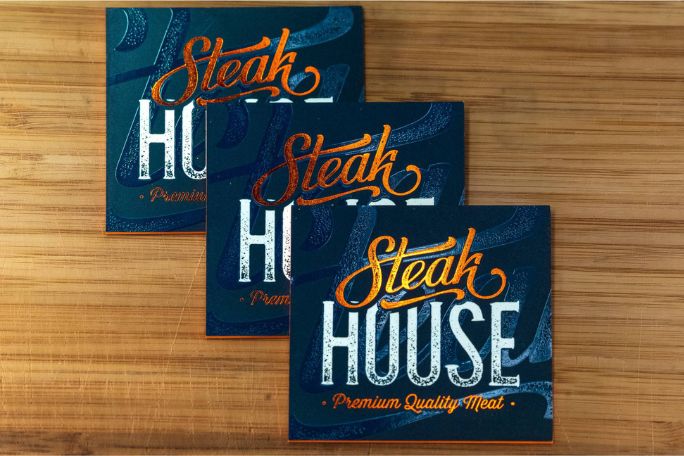 Category:
Your business card is the only thing that physically lasts from your first impression. Many people struggle to remember faces and names, but business cards offer a tangible reminder of your interaction. However, if you provide a bland business card, then the recipient may forget they even have it. That means your interaction is lost to history. When looking how to design a business card, you must try to balance professionalism and uniqueness so the card and conversation are memorable. There are many dos and don'ts to this process, and we explain them for you below.
Do: Use Physical Cards Instead of Virtual Ones
We're living in an increasingly digital age, so many people assume virtual business cards are the best way to connect nowadays. Before you start designing virtual cards, though, consider the many benefits of using physical cards instead of virtual ones. You need to reap all the benefits possible for your business.
For example, the person you're interacting with must have a smart device and internet connection to download your virtual business card. If they forget their phone, can't access the internet, or prefer to limit their use of technological devices, then you can't share your card. A physical business card is always accessible. You can give one to anyone at any time, independent of devices or internet connection.
Don't: Skimp on Card Quality
Now that you know the importance of using a physical business card, you must choose the right material. Some people try to save money on these materials and order their cards on the cheapest cardstock available. However, that attempt at frugality can hurt you once you start handing these cards out.
Professionals who receive a lot of business cards will touch your card and immediately know you cut corners. Invest in high-quality cards in good material, whether heavy cardstock, plastic, metal, or wood. When you hand out high-quality cards, you send a clear message about your professionalism and attention to detail.
Do: Provide Necessary Information
Business cards should leave a lasting impression on the recipient that allows them to easily contact you when your product or service becomes relevant to them. This means you must provide the necessary information to allow for easy contact. Most businesses or professionals include the physical address of their business or a mailing address, a phone number, and an email address. Depending on the type of business you have, you may also include a fax number and social media handle, although these aren't necessary for everyone.
Don't: Pick a Difficult Font
People can't easily contact you if they can't read the font on your card. While a unique font can help your business card stand out, standing out is pointless if the recipient can't contact you. If you're not sure what font is best for your card design, you can ask the company that's designing and printing your cards. Many of them, including us here at SilkCards, offer graphic design services that can help you pick a great font. If you choose a printing company that doesn't offer these services, then show a mock-up of your card with your desired font to someone who hasn't seen it before. Ask them how well they can read the font and change it if they struggle.
Do: Choose an Eye-Catching Color Scheme
One of the main features of your business card is the color scheme. There are many formulas for picking a color scheme, such as studying complementary and tertiary colors. Whatever color scheme you pick will provide an immediate visual impact that wordlessly communicates with card recipients.
For example, blue is a calming color, and many people consider it the color of intellect. A business card featuring a tertiary blue color scheme will imply your business provides some type of intellectual service, such as tutoring. It may also imply that you, as the business owner, are calm and smart.
Don't: Overwhelm Card Recipients
Just because you can select a color scheme from the full shade of the rainbow doesn't mean that you should. Choosing a bright, flashy color scheme can overwhelm the card recipient. If they don't want to look at your card because it's overwhelming, then they won't reference it later when your business may fit their needs. You can still place bright flashes of color on your card to make a visual statement, but keep these areas small. Surround them with calming, neutral colors so the bright color is more effective and balanced.
Do: Design a Unique Card
Think about how many businesses are in the world. All those businesses are full of professionals who have business cards to hand out. That means when you meet another professional to exchange cards with, they've probably already exchanged cards with at least one other professional that day. While this isn't necessarily a bad thing, you want your business card to stand out from this crowd. Designing a unique card is the best way to do that. Add a special element to your card, such as silver foil accents, shiny Spot UV finishes, photographs, logos, QR codes, or any other element you prefer.
Don't: Forget To Check Designs and Information
Now that you have your card design ready to go, you need to check the design and proofread your information. While your printing company should help with that process, you are the expert in your business. If the design doesn't look like how you envisioned or you accidentally misspell something, then you could end up with bad cards. Check over the design and proofread your information before giving your card printer the go-ahead. This ensures that you love the design and that everything is accurate.
Designing a Business Card
Designing a business card is an important step in creating a memorable and professional image for your brand. By following the dos and don'ts outlined in this blog, you can ensure that your business card represents your brand effectively. Remember to take your time during the design process and create a balanced and visually appealing card that you love. If you're looking for unique and eye-catching business cards, consider exploring the option of silver foil business cards with SilkCards. These cards are sure to make a lasting impression on anyone who receives them, helping you stand out from the competition. Don't hesitate to reach out to SilkCards for assistance in designing and ordering your perfect business cards today!