17 Insane Body Piercing and Tattoo Parlor Business Card Designs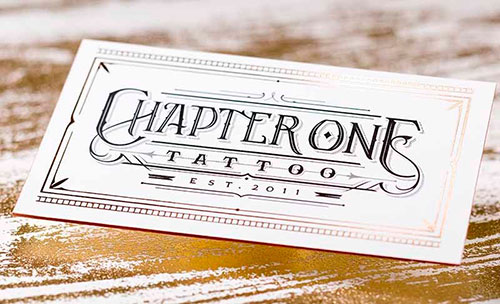 Category:
If you're looking for inspiration, or even if you're simply a business card enthusiast like we are, there's no better place to look than body piercing and tattoo parlors for incredible designs. Because of their unique styles and emphasis on the visual, the results always end up looking stunning.
13 Insane Body Piercing and Tattoo Parlor Business Card Designs
We do some of our best work with the creative geniuses behind many tattoo shops. Here are some of our favorites:
1. The Classic Look

Chapter One Tattoo went for a minimalistic design with heavy emphasis on font and linework. Along with the heavy stock and colored edges, this is one clean card.
2. Shiny as Body Jewelry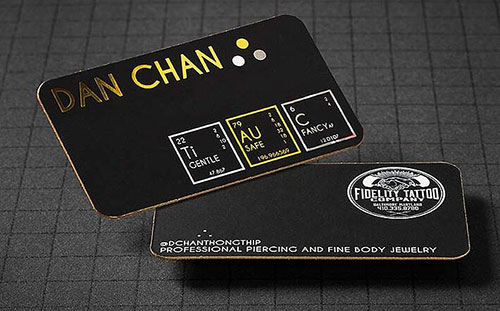 Onyx card stock with gorgeous gold edges isn't the only thing that makes this card stunning. The subtle Periodic Table joke along with silver, gold, and copper foil makes this card beautiful AND witty.
3. Die-Cut Border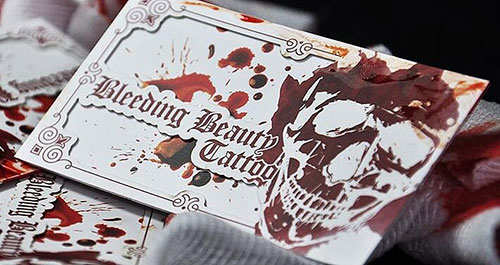 We especially love the die-cut border with the cross-section in the middle over the bloody background.
4. Super Insane Die-Cut Madness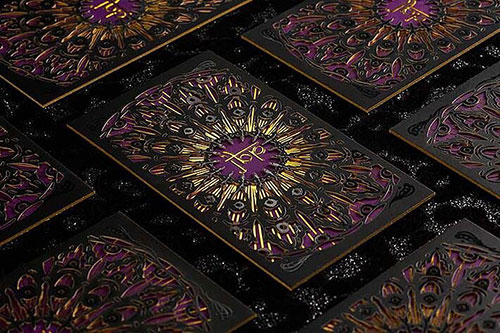 This card pretty much speaks for itself, but if you'd like to know more, check out our interview with the card's owner and creator: Customer Spotlight: Perspectives from J. Brett Prince, Tattoo Artist
5. Wicked Lunar Logo on Dark Stock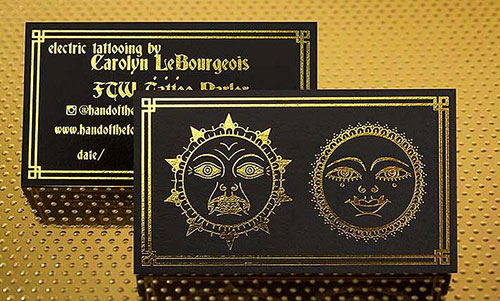 A creepy and perhaps somewhat demonic set of lunar characters on an Onyx "night time" card stock background gives this card its personality.
6. Let the Art Do the Talking, Let the Stock Make an Impression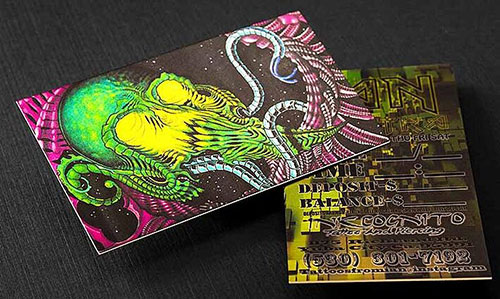 With this card, it's all about the art, and that seems fitting for a tattoo shop. However, notice the silk texture of the card stock and its weight. This thing feels good in hand as well.
7. Translucent Beauty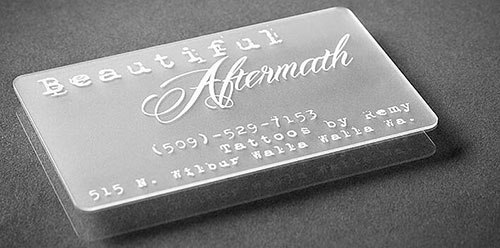 This unique visual effect using a frosted plastic-style business card exudes elegance and beauty.
8. Edgy Colored Edges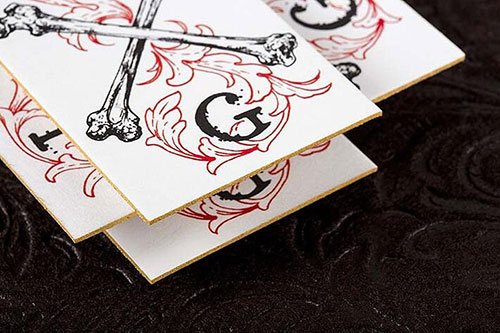 This is another card that relies heavily on the artist's original work, but with a hint of texture and a pop of color on the edge, this pushes the envelope of business card design.
9. Foil and More Foil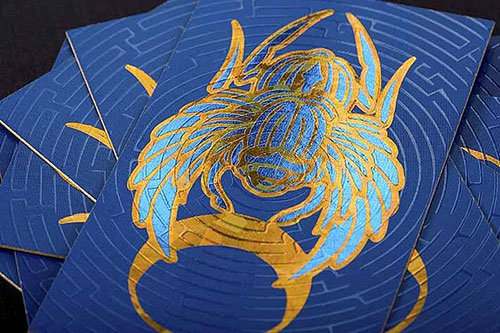 We love the way this foil print business card really enhances the logo and calls to mind ancient Egyptian culture, which also happen to include the earliest evidence of tattooing.
10. All That's Missing Is a Monocle.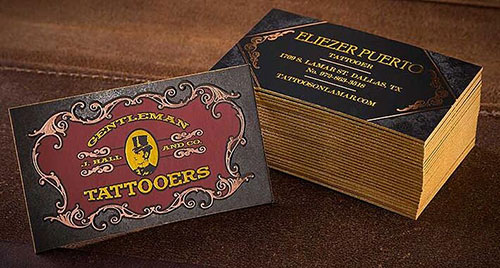 This is one of our favorite tattoo business cards. It makes use of a number of different features. Find out more on this article we wrote about it: The Anatomy of One Bad-Ass Tattoo Shop Business Card
11. Gold Foil on Onyx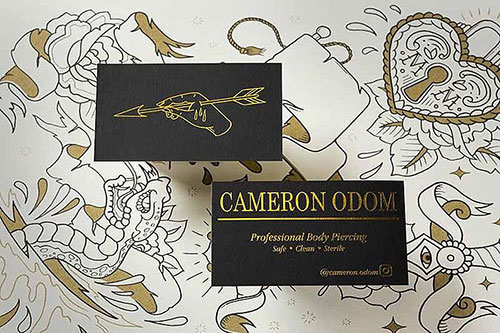 Okay, so there must be something about gold foil on Onyx card stock that we just love because here's another. Also, we love that logo for a body piercing professional.
12. Boy, That's a Shiny Skull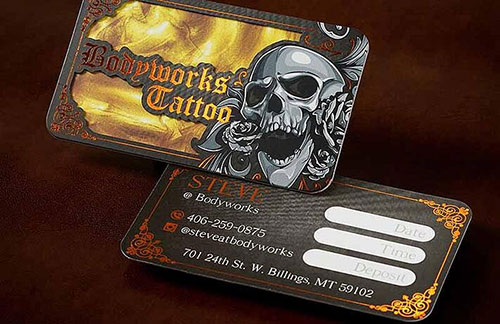 There's something about the foil, yellow texture, and gray skull that really WORKS. We LOVE this color palette.
13. Spot UV and Colored Foil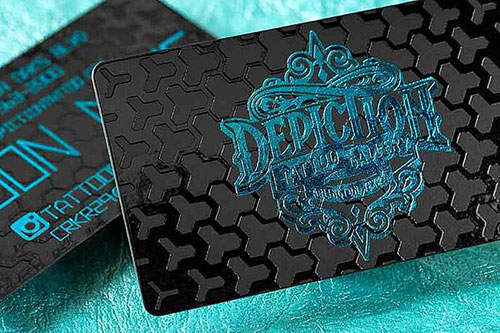 The foiled logo here has an amazing visual effect with the Spot UV pattern. This whole business card has a lot for the eye to take in.
14. All That Glitters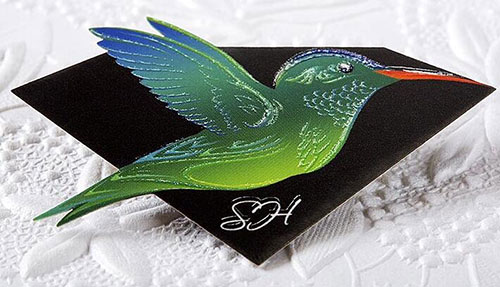 This diamond-shaped die-cut card on silk stock is not unique only for its shape. Check out the raised Spot UV with dusting. The vibrant colors in the hummingbird also add an extra element to it.
15. Intricate Shapes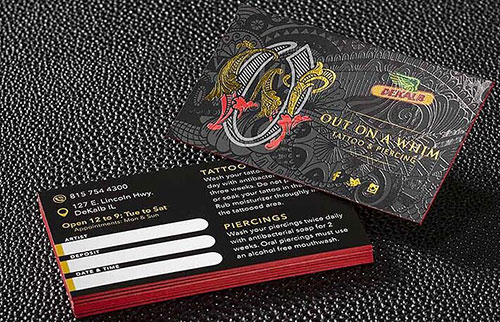 The detail on this card is fitting for an expert tattoo parolor. Just look at the way the foil patterns interact over top the Spot UV patterns on the front side. The silk stock is also ideal for writing on, which makes it a perfect choice for the appointment section on the reverse side.
16. Blue for Blue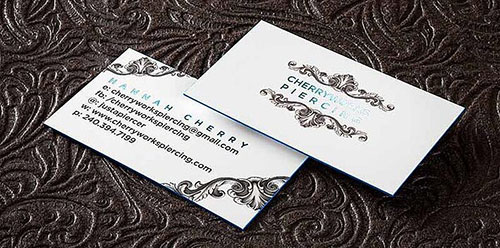 This piercer coordinating gorgeous light blue foil with light blue colored edging on a plain, minimalist white background. Not apparent in the photograph is the soft suede stock.
17. Display Your Banner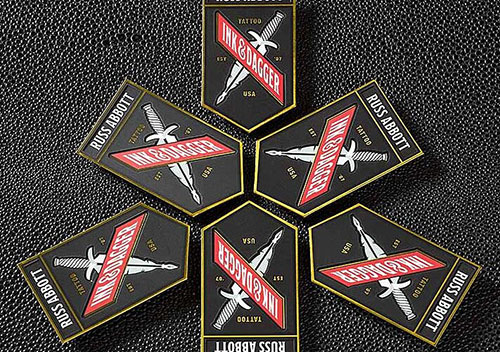 Love the shield shape with the dynamic "Ink & Dagger" diagonal across the middle. The thickness of this card allows for beautiful die-cut compartmentalization of information, and the gold foil edging is just stunning.
All of these photos really don't do these business cards justice. If you can't get enough of these tattoo shop business cards, order a FREE sample pack to see in person what we can do.