3 Brands That Are Crushing It in the Apparel Industry and Why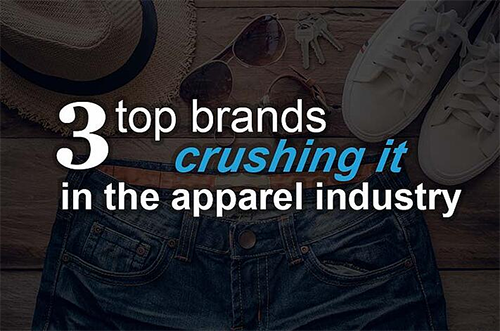 Category:
Everybody wants to be the best. If executives didn't want to be the best at what they do, they wouldn't be in business. Of course, not every company can be at the top of the pyramid. In order to generate sales and fully drive awareness to your brand, you must be serious about the image your present from your website down to each tiny hang tag.
In the apparel industry, there are a few companies that are simply killing the competition, and they know exactly what they're doing. A lot of their success could be boiled down to their apparel and fashion brand marketing strategies.
3 Apparel Branding Strategies to Pay Attention To
I'm sure you've heard the phrase, "If you can't beat them, join them." Perhaps that saying should be amended to, "If you can't beat them, learn from them." Every fashionpreneur should understand branding. Here are three apparel branding strategies that are crushing their industry:
1.
Topshop
What started as a cool brand with affordable clothes that teenagers flocked to has turned into a social media sensation that's attracted the attention of bloggers, celebrities, models, and everyday people everywhere. People who embrace individuality in their styles and love a little glamor, too, have now made Topshop their "it" clothing store.
According to Keyhole.co, Topshop has seen a 75% boost in sales on featured products and engaged around 3.8 million customers thanks to its optimal use of Twitter. The key came with a unique, yet usable hashtag, #LIVETRENDS and a stellar collaboration with the social media giant during the 2015 London Fashion Week. With real-time front-row fashion insight, Topshop was able to advise its viewers as to what trends would be hot in the coming season and which clothes were available for purchase right away.
This campaign not only won Topshop tons of new viewers and loyal consumers, the brand also ran away with the title of Digital Marketing Campaign of the Year at the 2015 B&T Retail Week Tech & eComm Awards, among others.
Related: How Has the Internet Changed Fashion Marketing?
2. Amazon
According to Bloomberg, Amazon is the biggest online seller of clothing and apparel. By 2020, the company is estimated to hold around 20% of apparel merchandise sales in the U.S., which will be just a little over a decade since the company purchased Zappos and began making its own private-label clothing line.
Initially, brands refused to sell on Amazon, seeing the website as cluttered and as a potential marketplace for cheap knock-offs to be produced. To gain consumer trust, Amazon's private-label line began with the basics: t-shirts, leggings, and jeans. Last year, Amazon boosted the number of apparel and accessories for sale on its site by 87%, ushering in $16.3 billion in sales and outdoing the combined online sales for competitors Macy's, Nordstrom, Kohl's, Gap, and L Brands (the parent company of Victoria's Secret.)
Amazon's keys to success:
Find gaps in consumers' trust and introduce products that will slowly gain customer confidence
Undercut the competition with limited-availability products that come with severely discounted prices
Court fashion bigwig brands like Kate Spade, French Connection, and 7 for All Mankind
3. Nike
Sometimes the tried and true brands are the ones able to beat out the competition, and Nike hasn't fallen from the top of the apex in a long time (perhaps never). The Motely Fool recently reported Nike's market capitalization value at $98.6 billion with annual sales coming in around $32.5 billion.
Size isn't the only advantage Nike holds. The brand's iconic swoosh, as simple as it is, is one of the most notable and recognized brands across the globe. Armed with an unforgettable logo, the company has invested enormous amounts of money sponsoring athletes, events, and campaigns that remain memorable to consumers for decades.
Related: The Top 3 Logo Design Tips for a Minimalist Aesthetic
Your Helpful Partner In Branding for the Apparel Industry
No brand can be amazing without high-quality products that people love and trust. At Silkcards, we believe in creating unique, beautiful products that showcase our customers' personalities and create outstanding first impressions that lead to a lifetime of loyalty. Whatever marketing materials you have in mind, we can create it. Intrigued? Request a sample pack to see what we can do, and reach out to us when you're ready to put something beautiful in your customers' hands.