Increase Your Restaurant Revenue with These Unique Gift Card Campaigns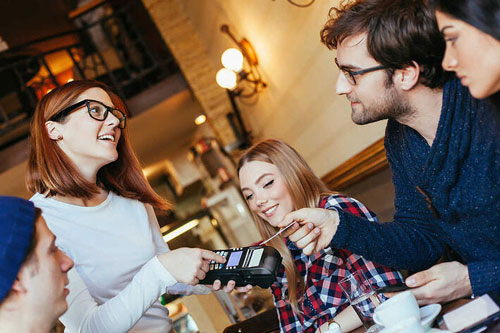 Category:
It is unbelievable how time flies by, the holidays come one after another, and you see families, business networks, and friend groups enjoying your delicacies, but when you finally draw the line to measure your revenue, you are still disappointed. You tried traditional and online marketing, and you have even put together a smart referral program, but the figures have yet to reflect your efforts. What else can you do? Have you tried restaurant gift cards?

Related: 15 Ideas to Get New Customers In Your Restaurant
Why Use Restaurant Gift Cards?
The weekends and holidays that your restaurant is busy is not enough to make up for the rest of the time when customers pass by it. If you've been struggling with attracting customers during the off hours, you need new and more effective solutions like gift cards.
Just think of it:
Most retail businesses offer gift cards or certificates.
Gift cards were voted as the best gift idea for years in a row.
The average adult is estimated to spend around $737.95 on retail products around the holidays, part of which will include food and presents for their loved ones.
When someone purchases a gift card, this ensures that they or the person they intend to give the card to will be back in your establishment and dining away. This essentially improves your bottom line and may even increase your customer base by giving someone who has never tried your food a reason to come and potentially turn into a loyal repeat customer.
Related: Yelp for Restaurants: Take Advantage of 26,380 Reviews / Min
How Gift Cards for Restaurant Reward Programs Work
Sometimes it is difficult to choose the perfect gift for family, friends or acquaintances. Even if you are familiar with their tastes, there is always the risk that you buy them an item they already have. The best solution is to offer them a gift card from a retail store they enjoy going shopping to and allowing them to choose items they need.
Why would this be different when it comes to restaurants? In fact, restaurant gift cards are the second most commonly purchased gift cards behind retail stores. Creating gift cards for restaurant programs would give a lot of people the opportunity to offer their friends the gift of a romantic dinner at an excellent restaurant, whenever they want to enjoy one.
This way, your restaurant is guaranteed a future influx of customers with the products and services they will consume paid for in advance. This is the actual bottom line value of gift cards, and no restaurant owner should miss out on this opportunity.
Building a Long Term Gift Card Program – The Best Guerilla Marketing Move
Restaurants are used to handing a one-time loyalty discount card to their loyal customers. The same rule applies to gift cards – they are made of cardboard and intended for a single use.
However, this is not an efficient marketing and promotional tool. The cardboard card can get damaged and rendered unusable by mistake, or the promotional period expires before the holder finds the time to use it.
By comparison, gift cards for restaurant programs using plastic cards are much more useful and efficient as marketing tools for your business. Of course, preparing these cards costs more than ordering a batch of disposable printed discount cards, but the benefits you will reap are also higher.
Related: Designing a Gift Card Program That Works
Three Benefits of Investing in Reusable Gift Cards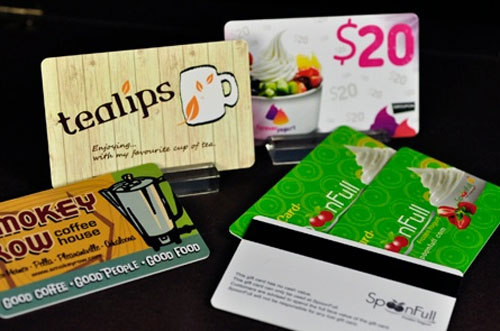 1. Branded Gift Cards Build Customer Loyalty
If you offer your customers a plastic gift card that carries the name and logo of your restaurant, you provide a constant reminder of your business. People usually carry all the cards in the same place, so, whenever they open their wallet, they will see your restaurant's name.
This kind of constant reminder is one of the best tactics for building customer loyalty – whenever they see the card, they are reminded of the pleasant moments they spent in your restaurant and will want to come back.
2. Rechargeable Cards Encourage Repeated Visits
Gift cards for restaurant meals are never fully drained of funds after one dinner (this happens to all gift cards). Since the remaining amount is usually not sufficient for another meal, people recharge it to make sure they can benefit from every cent.
After a few good meals, they will continue reloading the card as a matter of course, being more convenient than paying for each meal out of their wallet. This way, your restaurant has gained a happy and loyal customer who, in turn, may purchase an additional gift card for other friends and family members.
3. Gift Card Holders Frequently Dine with Friends
When they receive a gift card for a restaurant, people will not use it only for themsevles but also for a weekend get together with several friends. Thus, the gift cards will bring you the second and third wave of customers originating from the person who bought the card for someone else. In turn, all these people may purchase other gift cards and offer them to their friends, creating the opportunity to earn new customers.
4 Restaurant Gift Card Campaign Ideas
Many of your competitors are probably already implementing restaurant gift card programs, so don't just follow in their footsteps when you can take the lead and really turn your gift card strategy into something unique. Here are a few ideas:
1. Gift Card Promotions for the Holidays
Incentivize customers to purchase gift cards by offering a "bonus" with each card that's purchased. This little extra could be a discount on their holiday dinner, some free drinks, a discount on the card's value or any other perk you can come up with. This way, they will be investing not only in their friend, relative or business connection's satisfaction but also on their own.
Consider presenting it as a limited date coupon as well so that you can count on their return business in a reasonable amount of time. If the amount is considerable, you could divide it into several coupons. For example, instead of offering a $10 coupon, why not offer two $5 coupons? The person receiving them may decide to use them on separate occasions and thus stop by your restaurant more often.
2. One-Time Gift Cards
A special one-time only promotion is a way to put the urgency into a purchase as customers will be aware that such an opportunity may never come around again. You can offer these cards as a reward to those organizing festive dinners and parties in your restaurants, to those looking for a gift for someone they care about or work with or to those winning various contests such as a recipe, dish naming, ingredient guessing, or chef's quiz. This puts the fun into your marketing!
The gift cards' value can be predetermined, their design can be personalized according to the purpose they serve and it will be easier to keep track of how they affect your bottom line. You can even leave it up to the customer whether they want the gift personalized with a name or not, making it seem like a true trophy or reward.
3. Rechargeable Gift Cards
While fixed amount gift cards are perfect for those who have never come to your restaurant before, rechargeable gift cards are much more appreciated by your loyal customer base. Whether the person who originally purchased the card decides to recharge them on another occasion or the restaurant gift card holders themselves want to keep their privilege, you have only to win.
You can make these cards even more attractive by ensuring a bonus for the buyer on every recharge, and if the purchaser has a rechargeable card themselves, the bonus will be yet another reason for them to reload their card.
4. Lottery Gift Cards
Imagine dining out in your favorite restaurant and having the owner, chef or, better yet, someone festively dressed for the occasion telling you that you were selected to participate in a lottery drawing.
They allow you to reach in and pull a lottery card from a mystery box. You wind up retrieving a thin plastic or embossed card with a mouthwatering photo on one side and a small space to scratch on the other one. It may also have a magnet to be later placed on the fridge or a filing cabinet at the office.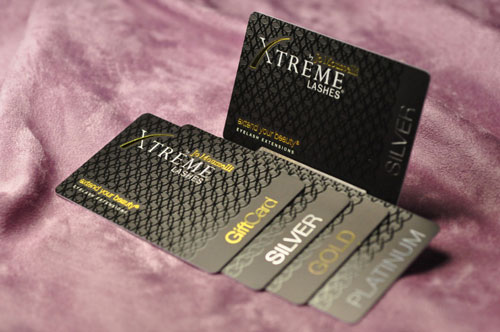 Can you feel the silky plastic slipping in your hand? Can you see the exotic plate in the picture? Can you feel the excitement of scratching the dedicated space? What does the message say? You won a $5 discount on your next meal, a meeting with the chef, the recipe of the restaurant's specialty dish, an invitation to a future event or perhaps an apron with the restaurant's logo.
A lottery gift card will be worth gold, not for its value but for the excitement and pleasure it offers.
What Other Unique Gift Card Ideas Can You Try?
You can also look at the following fun ideas to bring the enjoyment into your gift card campaigns and marketing strategy:
Regular subscriptions, offered as plastic cards as well, to those who wish to enjoy many meals a month in your restaurant at preferential prices
Taste sampling cards for when you release new dishes and need feedback on whether to include them in your regular menu or not
Referral reward cards for those who bring new customers and leave positive reviews on your restaurant website
If used smartly, all these can get you more customers, increase customer satisfaction, turn occasional customers into loyal ones and implicitly increase your revenue!