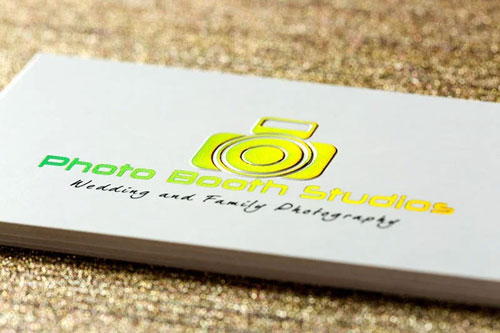 Having a well-made business card is essential for any photographer who is looking to build their brand. Decisions such as font style, color, images, etc. should all play a part in the design of your card. If you want to grow your customer base but aren't sure where to begin with your photography business card, the following tips can help you develop one that your customers will be sure to remember.
Photography Business Card Design Tips
Your card should incorporate certain elements to keep the interest of potential clients. Consider the following to develop an impressive business card.
Related: 6 Picture-Perfect Photographer Business Cards [Showcase!]
1. Showcase Your Photography Style
Do you specialize in a certain field of photography? You should make that clear with relevant branding, visuals, or theme. For example, if you're a wedding photographer, you could display a recent wedding photo on the back of the card so that customers can see a real-life example of your work. On the other hand, landscape photographers can use blue foil accents to mimic water and die-cut shapes for mountains or other natural features when creating a business card.
2. Go Simple for Your Card's Font
A card with extravagant lettering might detract from your awesome photography if you chose to feature it on your card, so it's best to choose simple fonts.
Related: When Is It Acceptable to Use a Script Font in a Design?
Mixing fonts is okay, but be sure to use a very readable font like Arial or Helvetica for your contact information. After all, you want it to be easy for your customers to get in touch with you. Fonts like Myriad Pro and Karat will also give you the readability you want with a little more flair for the other content on your card.
3. Use Colors Wisely
The right use of color can really make your business card stand out. It's important to not overdo it, however, so use colors for the most important elements of the design. For example, you can emphasize any graphics you've chosen with a little color. Adding some color to your company logo or name can also enhance your business card design. You should also make sure that the colors you have selected blend well the background color of your card.
Related: What Should Go in the Background of My Business Card?
4. Consider Mosaic Options
Consider using Mosaic SILKCARDS to really showcase your style. This allows you to order one set of cards with multiple designs so that every card will be unique. What better way to generate more business than to create a business card "portfolio" allowing people to see multiple images you've created?
5. Utilize an Interesting Texture or Card Stock
You want your business card to stand out in a person's wallet or card holder. Utilizing a thicker paper will do just that. Your card will always have a heft to it, making it easier to find and setting it apart from the stack of other cards in a person's collection. Heavier cards also exude a sense of reliability and professionalism that will make your business very attractive to potential clients. Likewise, having an embossed lettering or textured paper will also set your business card out from the rest.
6. Display your Aesthetic with a Logo
You don't have to be a graphic designer to make an impression on your business cards. You can turn a simple doodle into your own custom business logo. A simple line drawing can really add interest to your cards and show off your personal style. If a logo isn't for you, consider showcasing your business name in your own handwriting. Again, simple, personal details will attract customers who are interested in working with YOU.
Related: How to Update Your Logo and Maintain Its Integrity
7. Design a Custom Die Cut
Your photography business is different from your competitors. Your business cards can reflect this by having a custom shape. Creating a custom die cut or shape for your cards allows you the creative freedom to truly express your quirky and fun side. Maybe your card could be shaped like a retro vintage shutter camera. Or perhaps you specialize in newborn photography, the shape of a bassinet would be a perfect way to promote your business. There are many options for this type of design. The creative possibilities are endless.
8. Make your Card Shine
There are two great ways to make your business card shine without being glittery or tacky. Both Spot UV and the use of colorful foil are great ways to enhance the look of your cards and show potential clients that you can add a special pop to their photography sessions. Custom business cards with Spot UV reflect light as they are looked at from different angles. This creates an interesting effect that makes people really want to examine your card. Foil, especially gold or silver, gives your business card a professional classic appearance.
9. Include a QR Code
Everyone has a smartphone nowadays. QR Codes make it easy for a potential client to scan your card and find out everything about your business, your contact information and your portfolio. Businesses love QR Codes because they allow you to change any relevant business information that you need to immediately. Perhaps you can link right to your booking schedule or showcase your most recent photoshoot. QR Codes show your potential clients that you are technologically savvy.
Related: Are QR Codes on Business Cards Out of Style?
10. Remember, Cards are for Networking Too
Sure, you are going to use your cards to attract new clients, but don't forget the networking potential that a well-designed card will give you. A colleague or business acquaintance will remember your custom business card and pass it along to people who may need your special talents. Businesses also need photographers for employee headshots or for special events. Be sure to keep business opportunities in mind when you are designing your card by mentioning that you are available for corporate clients. This is a great way to expand your business!
Related: 4 Communication and Networking Secrets of Successful Leaders
11. Work with a Professional Design Team
All of these design suggestions may feel overwhelming, especially if you've never given thought to creating an original custom business card. It is now easy to design your own custom cards entirely online. You can work with a design team at the convenience of your own home or office. This means that you will get the professional expertise of graphic artists who specialize in custom business card design. This is a good idea especially if this is your first time designing a card. If you have had business cards in the past, this is a great way to learn about the freshest design options for today's professional photographer.
The right business card can be just what you need to enhance your brand. Use these tips and marketing materials from Silkcards to grow your business and develop better relationships with your customers.