Make Your Photography Clients Feel "Welcome" With This Trick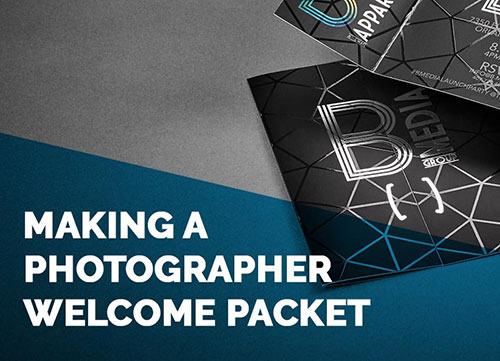 Category: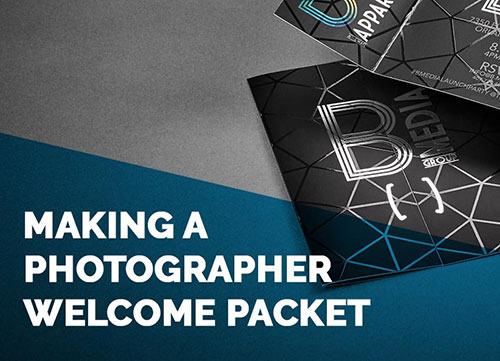 As a photographer, you are entrusted with capturing some of the most important moments in your clients' lives. However, getting to that point takes plenty of careful planning, trust building, and open communication between you and your client.
A photography welcome packet or presentation folder is an excellent tool that can help you cultivate better relationships with clients, earn more business and ultimately build your brand to differentiate yourself from competitors.
Making a Photographer Welcome Packet
An expertly designed welcome packet for photographers showcases your skills and reinforces your client's decision to hire you. It allows you to set expectations for your client and also helps them prepare for their photo shoot. Your packet can ultimately preempt many difficulties or sources of miscommunication that can arise between you and your client and lay the groundwork for a successful shoot.
An effective welcome packet can take years to design, but there are a few essential steps you can take to get started on creating yours.
How Do I Make One?
Your welcome packet can be simple or extravagant depending on your needs. While each packet is different, many include a folder and several sheets of letter-sized paper or stationery.
Etsy and Pinterest have many design ideas you can use as inspiration for your packet. Many designers also have templates for packets available on their websites. Alternatively, you can have the team at SILKCARDS create a whole suite of marketing materials for you.
Related: I'm a Photographer. How Should I Design My Business Cards?
What Should I Include?
Here are some photography welcome packet ideas that you can use to build yours:
Welcome Card:

This greets your client and introduces them to your services.

Images:

These show the client examples of your work and can give them ideas about what kinds of pictures they may want to take.

Guidelines:

Your client is likely feeling enormous stress, but a set of guidelines on clothing and lighting can give them a clear idea of what they can do to best prepare for a smooth photo shoot.

Contract and Pre-Stamped Envelope:

The contract lays out the responsibilities for you and the client. It can prevent miscommunication while setting expectations for the day of the shoot. Include a pre-stamped envelope for the client to return the contract.

Model Release Form:

You may want to also include a model release form so you can use select photographs for marketing purposes.

Email/Socials/Contact Info:

A welcome packet is a great chance to build your brand and market your services to potential new clients. Include all of your contact information so that anyone who sees the packet can easily get in touch with you.

"Thank You" letter:

This is a great way to show appreciation for your client. It can also help build a relationship between that can lead to referrals.

Business cards:

Your client can retain these or hand them out to other guests who may want to work with you.
Related: 6 Picture-Perfect Photographer Business Cards [Showcase]
New Client Welcome Packet Ideas
You want your Welcome Packet to showcase your uniqueness. Let your personality shine through with these extra special touches.
Customize the Theme for Their Event: There's a big difference between wedding photography, boudoir shoots, and new baby pictures. Your welcome packet should be designed around the event and tailored to the personality of the client. A fun and flirty casual wedding shouldn't have the same design elements as a traditional wedding. Create your welcome packet with your customer in mind.
Follow Your Brand Identity: working in a visual industry, it's even more important that your brand elements (color, logo, font, etc.) are consistent across the board.
Welcome Video: Nothing says personalization better than a video created just for them. Shoot a one minute video, talking to them specifically, and include a link in the packet. If you can, give them a behind-the-scenes glimpse at your work space.
Explain the Process: While a photo shoot seems fairly straight forward, your client would love to understand the process behind their photos. Create a simple infographic that takes them from setup to final touch ups.
Create a Fun Envelope/Packaging: Creative packaging for your welcome packet screams "unique." If you're doing a shoot for a newborn baby, consider packaging the welcome packet in a bassinet-shaped envelope or perhaps a stork. For a wedding, consider an envelope or folder shaped like a ring box or a veil. Your client will be so blown away by your creativity, they'll know they've chosen the right person to capture their special occasion. And they're sure to show their friends.
Trusted Referrals: If you have other vendors that you work with and trust (clothing designers, makeup and hair artists, baby blanket designers, etc.), why not recommend them? These vendors will likely be willing to refer you when the need arises. Just make sure that you trust these people as they become a reflection on you.
New Client Welcome Letter Sample
You'll want to customize your welcome letter to showcase your personality and meet the tone of the event and the client. However, there are some basics you can use to craft your letter. Here's a sample letter to get you started.
Dear Bride and Groom,

My name is Phyllis Photographer, and I'm so excited about our upcoming photo shoot. Your wedding is an incredibly special day, and I'm honored to be a part of it and to capture the images that you will adore for years to come.

I have a number of standard shots that I take to ensure your day is commemorated. However, if there are any special shots you'd like, I'm happy to do them. You can see my full portfolio at photography.com to get some ideas.

The proofs should be ready by the time you return from your honeymoon. I'll send you an email with a link. From there, you can choose your favorites, and I'll work my editing magic. I've included packing pricing and options to make the ordering process easier.

If you have any questions or concerns, I'm just a phone call away. I want you to be comfortable with the process so you have one less thing to worry about! Call me at (555) 555-5555 or email me at [email protected].

Looking forward to your big day,

Phyllis Photographer
A photography welcome packet can serve as a memorable first touch point for your clients. It can display your skills and abilities and get clients excited to work with you. By including policies and including contracts, you can also tastefully set the terms of you and your client's working relationship.