How to Make More Money as a Photographer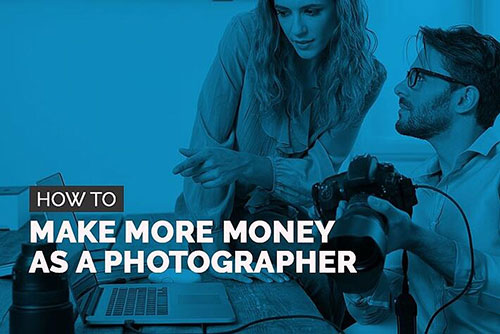 Category:
You love what you do. You're an artist, you capture beauty and emotion, and you make people happy. Unfortunately, as a freelance photographer, there's a ton of competition fighting for the same clients. It can be difficult to put yourself out there, be seen and heard above the crowd, and find more clients.
How to Make More Money as a Photographer
If you're looking to grow your business, there are a variety of things you can do to reach a wider audience and increase your income. Read through the following suggestions and see which ones you could apply to expand your client list today.
Related: How to Get More Photography Clients With These 12 Strategies
Teach Photography
Photography is your passion so why not share it with others? There are always tons of people, from children to seniors, who would like to learn how to take better pictures. Teach classes at your Community College, offer an online course, or teach neighborhood children to love photography as much as you do.
Throughout your journey, you've learned techniques and tricks that have made you the amazing photographer you are today. Why not share these with others and make some money in the process?
Shoot Events
It's a lot of work to cover an event, however the paycheck can be nice. Market yourself as a photographer for weddings, birthday parties, bar mitzvahs, holiday gatherings, or company parties. You may find that you enjoy working some types of events more than others. Find your niche and then make yourself known through networking, marketing, and online means.
Submit Your Work to Stock Sites
Once you've reached a decent size portfolio of your work, there are a variety of platforms available on which you can sell them. These sites make your images available for download (for a fee) to individuals, businesses, media outlets, and marketing agencies around the world.
You may wish to upload images to a few sites. However, be sure to read the guidelines before you do as some sites want exclusivity when it comes to specific images (This means you won't be able to post them anywhere else). A few of the sites you can check out include Shutterstock, BigStock, and iStock. There are also image hosting sites like 500px that allow you to save your photos for free and then market them.
Work as a Photography Assistant
If you've got open dates in your calendar, why not work as an assistant for another photographer? You can lend them a very qualified and knowledgeable hand; plus, it creates relationships with other people in your industry. In the future, when these photographers are approached about a date on which they are already booked or an assignment that's out of their scope, they may recommend you as an alternative solution (and vice versa).
Create a Website and a Blog
There is no escaping the online market… and why would you want to? A website allows you to display your portfolio online along with your contact information and a little bit about yourself and your services. When you add a photography blog to the website, you establish yourself as an expert in your field and drive more traffic to your site through Search Engine Optimization (SEO).
You have a lot of knowledge to share with the world, and a blog will help you connect with potential customers. In addition, you can make money off your blog by hosting Pay-Per-Click display ads on your site or including affiliate links to other businesses. When someone purchases through your website link, you receive a commission.
Related: How to Start a Photography Blog Right
Photograph for Businesses
Just like you need photographs for your website, other businesses do as well. Whether they are a crossfit gym or hip new restaurant, they need to tell a visual story about their business. That's where you come in. You can photograph their physical location, products, team members, events, etc. Tapping into the corporate photography business market can greatly expand your freelance income.
Utilize Social Media
There are certain sites such as Pinterest, Instagram, and Facebook that work well with a visual business. Post some of your images on these sites (along with your contact information) so people can fall in love with your work. When they are in need of photography services, you'll be top of mind.
You can have someone shoot video of you in action and post these clips to Facebook or YouTube. Creating brand awareness for yourself will help increase your business.
Post your experiences with new equipment, and as you build up your following, companies may pay you to test out their gear and write a review.
Related: Attention Photogs! Instagram Is Important Now More Than Ever
Donate Your Time and Skills to a Non-Profit
Is there a cause close to your heart? Do you love animals, kids, veterans, etc? Find something you are passionate about and offer your services for free. This will get your name out into the community, get your work in front of potential customers, and help a good cause.
Raise Your Prices
Once you're established, experienced, and getting steady work, raise your prices. Your service is valuable, and you should be paid fairly for it.
Ask for Referrals
Were your previous clients happy with your customer service and your finished product? Then reach out to them and ask if they know anyone who might be interested in using your services. Maybe they have a friend getting married, a coworker in need of headshots, or a business that could use your help.
If they weren't happy, find out why. Word of mouth spreads quickly, and if you have unsatisfied customers, they are sure to share that with their network.
Related: 6 Picture-Perfect Photographer Business Cards [Showcase!]
Being a freelance photographer can be incredibly satisfying and if done correctly, it can also pay the bills. When you are ready to grow your business, consider these options for expanding your services, and getting seen.