Cannabis Marketing Materials to Give Your Dispensary Class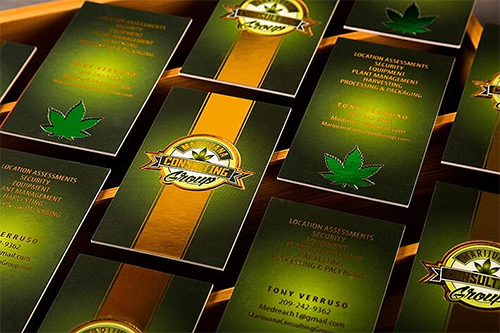 Category:
The cannabis industry has been growing ever since legalization of the drug began a few years ago. Not only is cannabis now used for medicinal purposes, but it's also increasingly used for recreational enjoyment. Many businesses are scrambling to get in on the action, and for this industry, more than any other, strategic marketing collateral will be the key to success.
Cannabis Marketing: The Challenges
Cannabis businesses are experiencing their share of challenges along the path to revenue generation, though. But for many investors, the prospect of a new and growing industry is alluring enough to outweigh current restrictions and obstacles. Keep the following adversities in mind as you craft your marketing plan.
1. Preconcieved Notions
Many Americans still hold a negative view of and suspicion towards cannabis. It will take time, education, and skillful branding to overcome such negative press.
One particular way, among others, that cannabis businesses could rise above this challenge is by marketing their product as a healthier alternative to cigarette smoking.
2. Locality Problems
Another major challenge of the cannabis industry is that it can't operate like most other businesses do across the US. Most businesses can market across the country with relatively few problems. Since cannabis is still illegal in many states or under certain restrictions, this creates a limited and complicated market. Of course, that market could open up at any time but as to when that will take place, it's anyone's guess.
3. eCommerce Is Out of the Question
There are unique challenges with selling products online, too, since they could end up in geographical locations where it is still illegal to possess them. This could result in lawsuits for companies that aren't vigilant.
Presenting a Professional Image Through Dispensary Marketing Materials
Marijuana has been a dirty word in millions of households for generations. In the past, it was given a long list of slang or street terms. Cannabis was once viewed as lawless and devoid of character. That's no small wonder since, up until recently, the drug was banned even for medicinal use throughout the entire US. This makes projecting a professional image difficult, but you can keep these tips in mind:
1. Watch Your Language
For cannabis manufacturers to market their products successfully, there will need to be a lot of persuasion toward a different point of view. The very first step in that persuasion is the proper use of language to describe the product.
You can build a branding style guide that outlines what language is to be used as well as when and where to use it. Typical words of the past that retain a negative connotation must be avoided at all costs. "Cannabis" is the first and best word choice since it doesn't come with so much baggage. Without a proactive approach to developing your brand, everyone's mind will go right back to how the drug used to be viewed.
2. Be Transparent
Marketing materials must show that production of cannabis is professional and has nothing to do with how it used to be manufactured by illegal means. The process should be compared to other strict quality-control procedures that are set forth by other reputable companies.
For this reason, the quality and safety of the drug should be shown as far superior to former black market practices. If there are any health benefits to the drug, those should be made readily available as well.
3. Avoid a Casual Tone
It cannot be stressed enough that all dispensary marketing materials must be of the highest quality. Even more so than for other industries, it will be detrimental to a business if materials have even the slightest hint of being "homemade." This is another avenue where your branding style guide is important.
Also, with the increasing competition in the industry, it will be very important to show potential customers why they should choose one brand over another. By keeping these concerns in mind, cannabis businesses will be able to overcome the unique challenges of this new and growing industry.
Marijuana Marketing Collateral to Make Your Brand Stand Out
There are endless ways to make your marketing collateral stand out within this industry. One common practice is for dispensaries to offer printed brochures and menus. Since this was unthinkable back in the pre-legal days of the substance, this will give your brand a positive, open and professional view to potential customers. Collateral should be transparent about procedures used to make various cannabis products. Here are a few other forms of brand collateral to consider as well.
Business cards
Promotional

mailouts

Informational and promotional emails
Social media branding with Facebook, Twitter,

Pinterest

and

Instagram

A professional website
Company blog
Videos
The greater the variety of brand collateral, the better. You'll reach more people that way. Just never sacrifice the quality of your materials because you are spread too thin. In some cases, it may be best to focus on a few specific campaigns before branching out.
The cannabis industry is sure to keep expanding in the future. Businesses that already have an established and effective brand will be best prepared to serve droves of new customers when this finally takes place. Here at SILKCARDS, we're excited for your journey, and we'd love to be the partner you turn to for any of your marketing needs. Request a sample pack to see all that we have to offer.