5 Examples of Spooktacular Business Cards for Halloween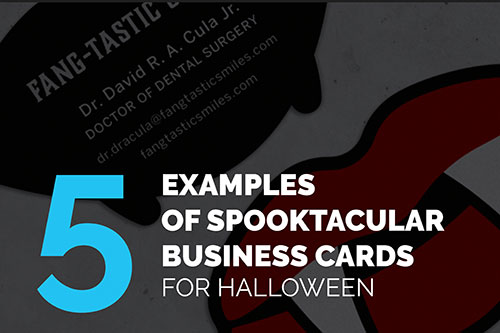 Category:
If you've ever created special, limited-time business cards or greeting cards for the holiday season, you know that a fun and festive design can draw more attention to your brand.
We recently looked at some beautiful fall-themed illustrations to celebrate the changing seasons, but if the golds and browns of autumn are a little too subdued for your taste, there is another way to make a timely, seasonal impression: give your brand some Halloween spirit.
Especially if your brand is fun and playful, you can mix things up by incorporating the eerie essence of October into your branding materials. You never know, it might just give your business a boo-st!
Here are 5 examples of spooktacular business cards to get you thinking: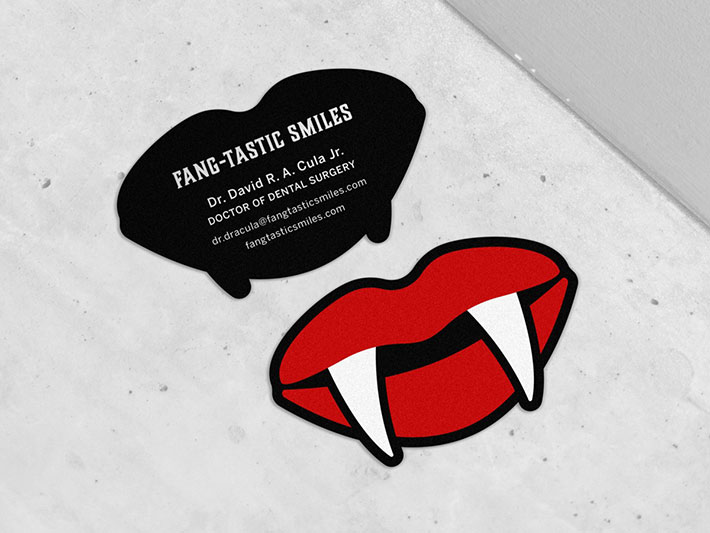 These cards were die cut into an eye-catching, custom shape that's relevant to both the Halloween season and the business itself. The design also makes good use of a classic strategy: pairing black and white with a bold color for a high contrast look that's sure to make an impact.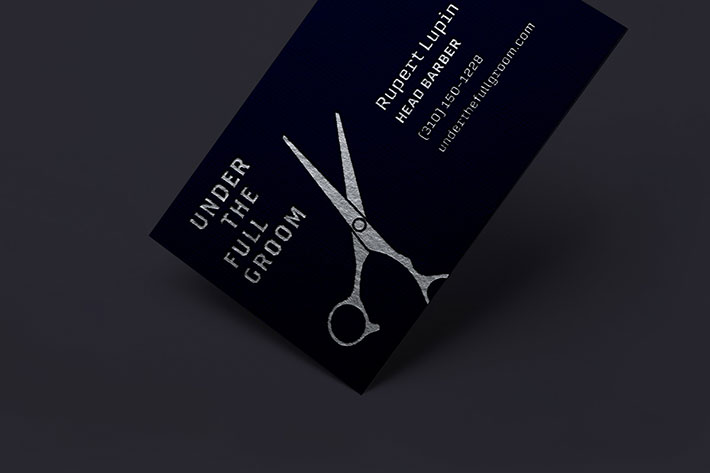 This card utilizes both 2-layer and foil effects, as well as the super-sleek Onyx Black Suede, creating a textured effect to amp up an otherwise simple design. Sophisticated and stylish, a design like this would work year round.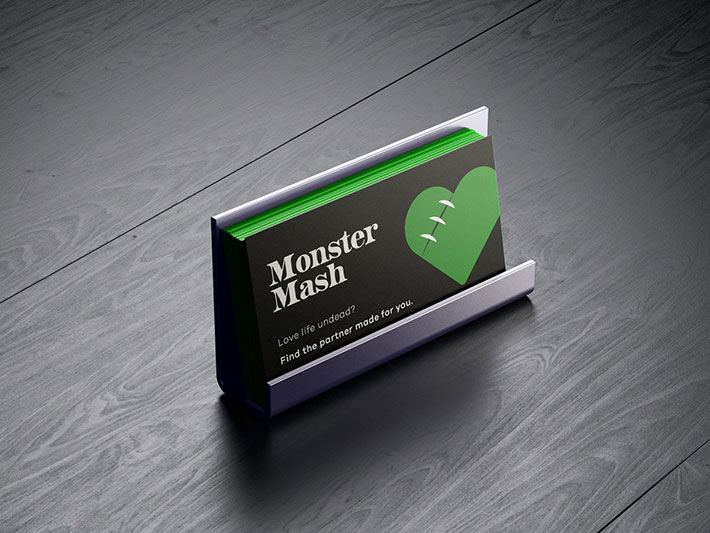 The playful font in this design shows a side to Halloween that's more fun than frightening, while the bright green accents and colored edges make a statement with the power of contrast. The heavier-than-average weight of the stock also ensures customers will remember being handed this card.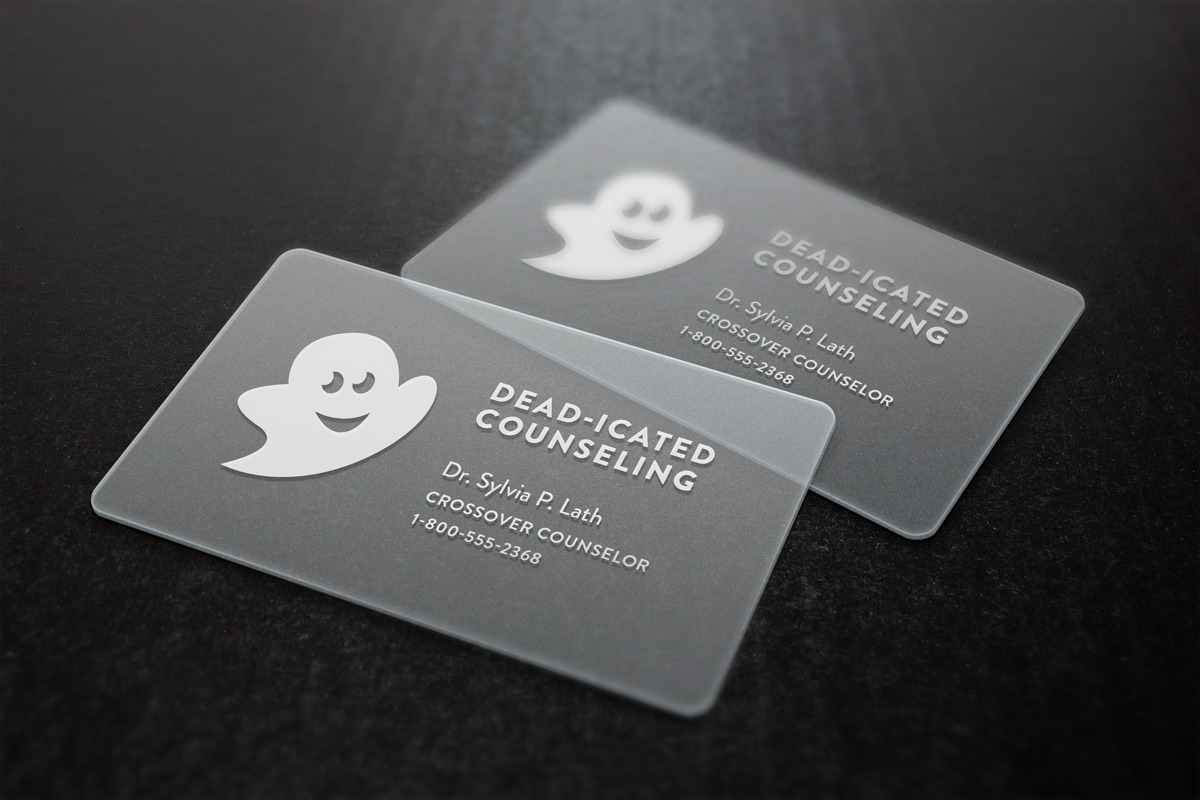 These transparent, frosted plastic cards have a ghostly effect and are sure to stand out in the land of the living. Plastic cards are also tear- and water-resistant — durable enough to survive a dark and stormy night. The unique material also creates an uncommon tactile experience that will make your message more memorable.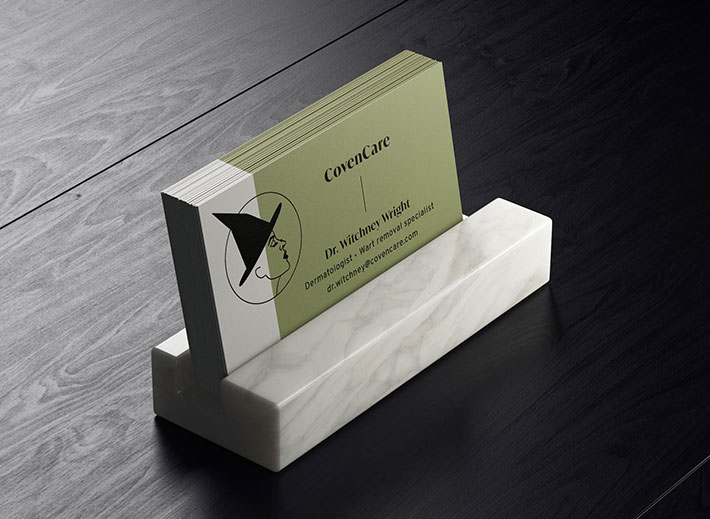 Using a shade of green that evokes a witch's bubbling potion and a memorable, hand-drawn logo, this design demonstrates a clean and simple way to show some Halloween spirit without going over the top.
From spooky color palettes to unique textures and treatments, we hope these designs inspire you to add some frightening and festive flare to your business cards this Halloween season. No matter your design, Silkcards can bring it to life with unique customizations and outstanding craftsmanship, so let your imagination lead the way.
Ready to create your own spooktacular cards? Get started.