12 Mouth-Wateringly Creative Restaurant Business Cards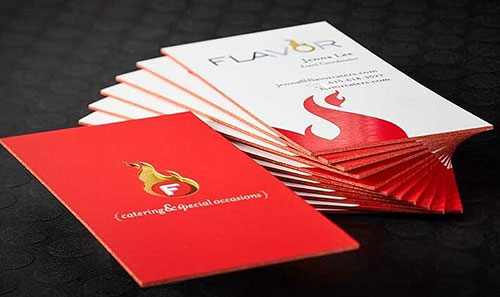 Category:
Whether you run a 5-star restaurant, low-key bar & grill, upscale catering service, or some other food company, you'll encounter the same struggle of branding your business and enticing foodies to come and sample your delicious meals. It doesn't matter if your brand is luxurious, modern, or down-home; we have the capability of creating the perfect restaurant business card to showcase your style, and we'll prove it!
Related: Top 5 Ways to Increase Restaurant Traffic During the Work Week
Restaurant Business Cards that Sizzle!
These business cards are the scrumptious, fun, or dazzling brand materials of great restaurants, and we're happy to share them:
1. Flavor Caters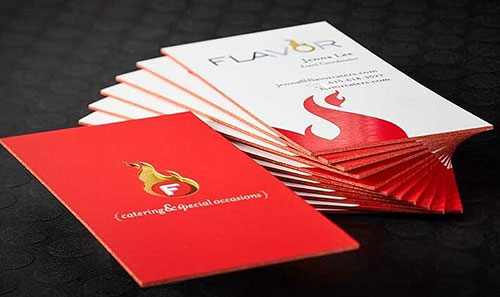 With the famous silk cards texture and a gorgeous die cut with foil inlay, this card is thick, tactile, and sleek, providing the perfect brand image of a catering company offering culinary excellence and high-end wedding service.
2. Jack's Gourmet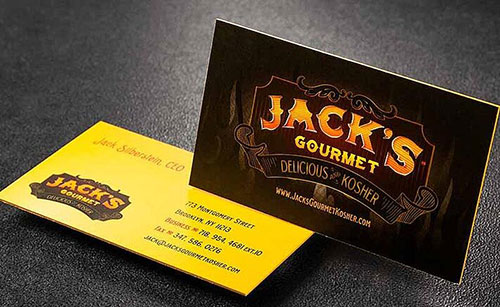 The die-cut logo might be the centerpiece to this card, but look at the gorgeous colored edge in contrast with the dark brown. We love the colors on this gourmet kitchen's business card, and the thickness brings real weight to it.
3. King David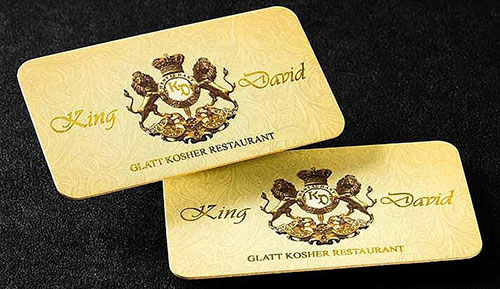 This premium restaurant went REGAL with their business cards. The soft yellow with the gold foil emanates warmth and luxury, making you feel as if you'll be treated like royalty as they serve you. This is an expert use of rounded corners to give it a different shape, and the faint background texture is simply beautiful.
4. Lovely and Sweet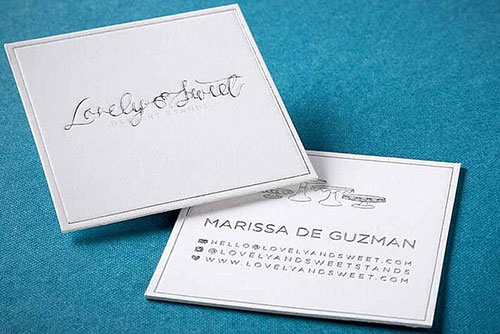 With a minimalist design and the unique square shape, this business card turns heads. The choice of textured foil for the dainty letters also gives it some character, and the suede material is oh-so-soft!
5. Maku Japanese Modern Fusion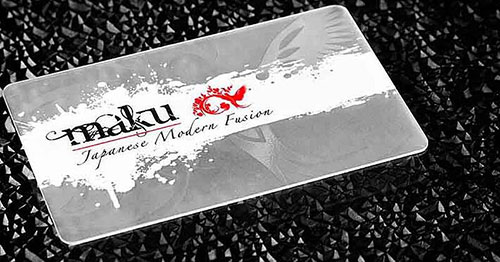 This frosted card uses white blocking for the stark contrast of white against translucent plastic, giving this Japanese restaurant a modern look and durable feel. The ink splatter effect is an especially good choice paired with the swirls of their logo.
Related: Feel the Heat of These 7 Frosted Business Card Designs
6. Saffron Indian Cuisine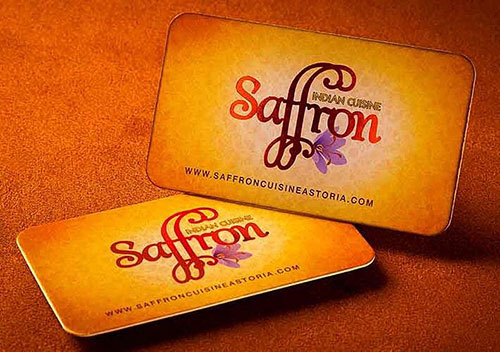 Color is important in Indian culture, and this Indian restaurant brings that culture to life with this gorgeous card. The curls in the Fs mirror the rounded corners perfectly, and the orange foil only adds more fire to the vibrant orange and yellow background gradient.
7. Say Cheese!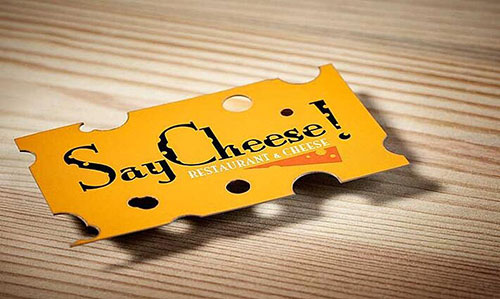 If this restaurant's main focus is cheese, they've sure found a delightful way to show it. With custom die-cut to transform the business card into the shape of swiss cheese, the most impressive part of this card is not just the edges holes in the edges but the holes inside the card itself.
Related: 6 Creative Restaurant Promotions That Win Over Customers
8. Surehands Chefs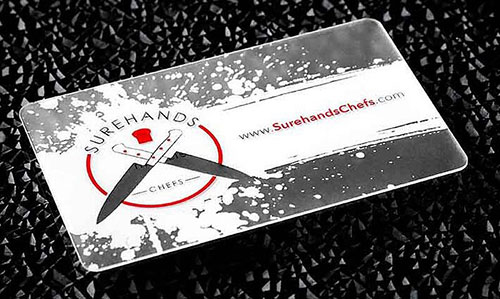 Here's another great example of white blocking on a frosted plastic card, and this time it uses the negative space to define the knives. Brilliant!
8. Toast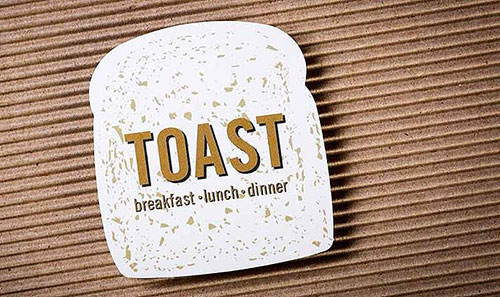 Just like with the cheese restaurant above, this business card uses the custom die-cut to its advantage in order to create a custom shape that perfectly reflects this brand. In this case, we have a business card that looks like a piece of toast! That's sure to be a conversation starter.
9. Nao Japanese Grill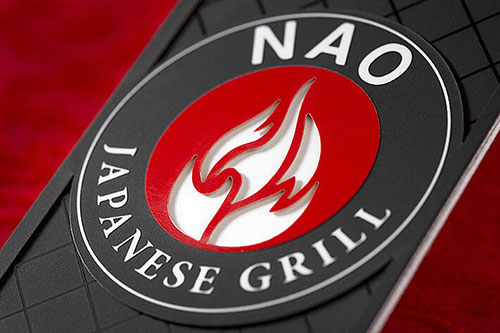 This business card furthers the die-cut design with delicate flames and a circular stamp-like logo. This effect is only achievable with ultra thick cards, and the design is underscored with gorgeous spot UV accents.
10. Craft Bar Kitchen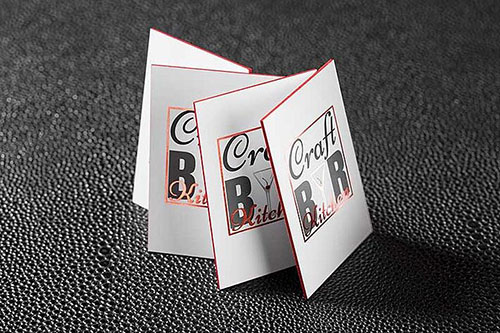 Check out the dramatic colored edge contrasting the minimalistic white background of this card. The color scheme is emphasized further with foil accents.
11. Acropolis Greek Restaurant & Pub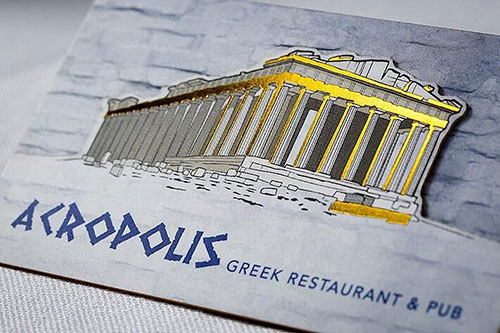 What better way to entice someone with Greek culture than by bringing classic architecture in mind? The gold foil then draws the eye around the card's composition with its stunning color against marbled background.
12. IHOP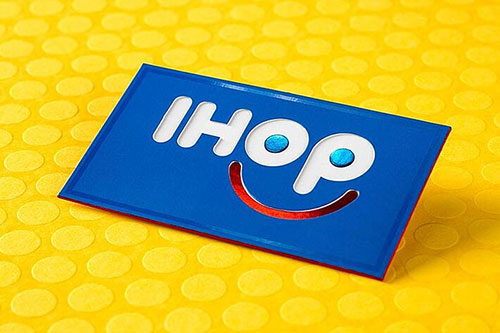 This one is one of our ultimate favorites: Simple and to-the-point. Their fantastic logo shines with blue and red foil against silk laminate, the latter with a bit of embossing for effect, the subtle smiley face hinting at customer satisfaction. Yum!
You can get even more inspiration in person by requesting one of our sample packs. Your business card can be just and awe-inspiring as your gourmet dishes!