The Importance of Always Carrying Your Business Card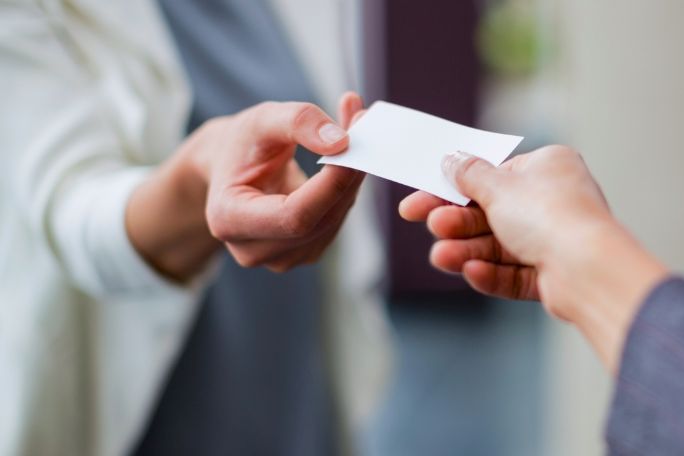 Category:
No one can truly be prepared for everything, although organizations like the Boy Scouts of America and the United States Coast Guard claim they are with their "always prepared" mottos. Business professionals can take a page out of their books and always be prepared with a business card on hand. Your cards might not prepare you for every professional situation, such as giving a speech at the last minute, but they can ready you for many potential interactions when you need to share your business information. Keep reading to learn more about the importance of always carrying your business card.
Easily Share Information
You should always prepare for professional interactions that end with an information request. Whether you're doing a meet and greet at a networking event or chatting with a fellow professional in line for coffee, any interaction can end with a business card exchange. Keeping several cards in your pocket keeps you ready for these interactions. You never know which encounter could open a connection that helps you and your business thrive, so you must stay prepared to give out your card.
Can you verbally share your contact information for someone to put in their smartphone? Yes, but that person probably has a long list of contacts. If they struggle to remember your name or their phone glitches, then your information is lost forever. A physical business card exchange won't let that happen.
Bridge Cultural Divides
When the professional interactions we described previously occur, some people don't just request a business card. They expect one. How you exchange that card is also important. For example, Japanese business culture has historically placed a premium on exchanging business cards with each introduction, even if you've already given your cards to the higher ups in their company. When you hand that card over in Japan, you should do so with a bow, holding the card face up in your right hand. After receiving a business card in return, you should place it in a cardholder, not your wallet or a pocket.
If you regularly interact with international professionals, then you need a business card for formal interactions. Without exchanging a business card, you lose helpful information and forfeit a potential relationship.
Leave a Lasting First Impression
Business cards can leave a lasting first impression, no matter who receives your card. You may not remember every name from a networking event or international trip, but looking at a brightly colored card or one with language translations can remind you of who you met. Your card will do the same for the recipients, especially if you design it with unique features like Spot UV. This shiny finish adds touches of visual and tangible interest to your cards.
Always carrying your business card is important because it prepares for any professional interaction, especially with people from other cultures. That interaction will stick with you and the recipient of your card so you can easily contact each other in the future. If you're looking for Spot UV business cards that will make your interactions stick, SilkCards can help! Our Spot UV adds a special touch to your cards so they're unique and memorable.