Choosing the Right Paper Type for Your Business Card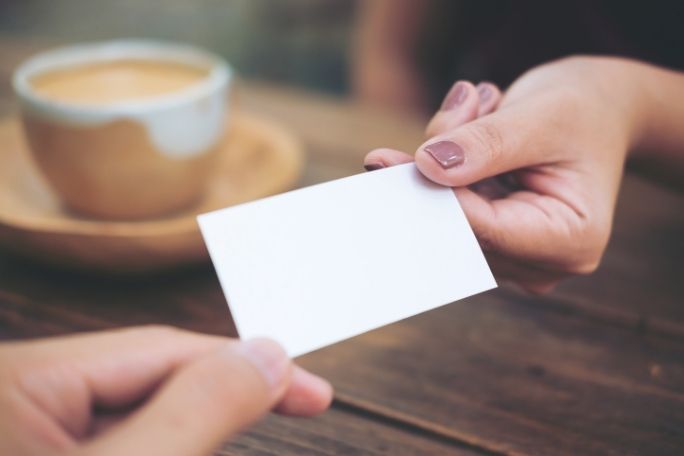 Category:
Business cards are essential when growing your business. They are a simple and effective way to get a large amount of information across in a short amount of time. A business card reflects the business style and all you can offer. Choosing the right paper type for your business card plays an important role in expressing that style and your services. Let's look at the different paper styles and why they matter.
Paper Style Matters
If you've ever been handed a business card, you've likely made a quick judgment of the services listed and possibly of the person handing you the card. We can't help it. That's why each businessperson designs their business card uniquely. Every business has its own personality.
Before designing your business card, determine the style of your business and what you want to get across. Is it elegance? Trendy? Edgy? Once you know what you want others to think when they read your card, you can then start choosing the right paper type for your business card.
The Weight
Papers come in different weights, and each creates a different business card style. Weight refers to the thickness of a paper. A thicker card easily handles the wear and tear business cards often go through. A lighter-weight card works well for displaying since it isn't handled as much.
The Finish
The finish of your business card paper makes a difference in the style of your business card as well. Let's take a look at different finish options:
Matte finish: A matte finish has no shine and might be chosen for an elegant business card.
Satin finish: A satin finish has a low shine at a level between matte and glossy.
Glossy finish: A glossy finish is the shiniest finish, giving cards a modern edge and protecting cards from moisture.
Uncoated: An uncoated business card has a dull finish and a textured feel to it. This type of card lacks protection without a coating.
Coated: A coated business card is protected with either a matte, satin, or glossy finish.
Specialty Paper
Specialty papers are for those who want their business cards to really pop. People take notice when you hand them a card that looks and feels different from the norm. There are two common types of specialty business card papers.
Plastic
Plastic business cards are made from PVC and come in a semi-gloss finish. Compared to other business cards, they're nearly indestructible. They're also a great conversation starter because they're so unique. Try plastic in bright colors.
Soft Touch
Soft touch offers an elegant, luxurious look and feel to business cards. They're velvety to the touch, and the coating softens colors.
As you consider your business card style, keep the paper style in mind. Traditional styles work for some businesses, but if you want to stand out, try something unique.
At Silk Cards, we design custom business cards as well as custom company gift cards. Contact us or browse our convenient online store for inspiration in the design of your new business or company gift cards.