Choosing The Right Colors For Your Business Card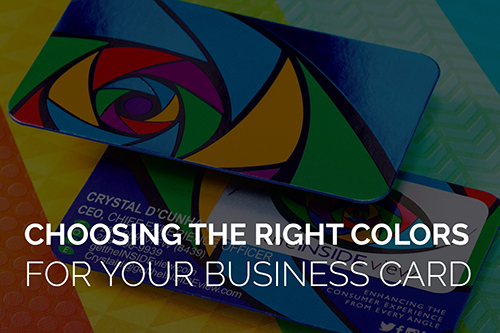 Graphic designers carefully select colors to best showcase the personality of a brand. That decision seems easy enough, but very subtle differences in tone and color depth can transform the look of a business card — and even convey a whole different message than originally intended.
Your mission is to seek out a color that will be memorable, one that expresses what your brand is all about. How do you find that color? We've assembled this guide to help you get started.
More than just a color
It's important to choose color associations that make sense with your business and resonate with clients. The color tones and combinations you choose will drive the visual narrative on your card.
Depending on the direction and intent of your brand, you can choose a color combination with a broad appeal, or select the road less traveled to create an emotional connection with a specific audience. A lumberyard with a sea green business card may not seem like an obvious choice, but it might make more of an impression.
Here are some commonly used color associations to consider for your cards:
Gold:
Gold is widely seen as a mark of status across cultures
Frequently used as an accent color (font color, border color, etc).
When used in a metallic foil, a golden glimmer is especially eye-catching
Purple:
Traditionally connected with royalty and power
Very bold, commonly used as an accent color so as to not overwhelm
Soft purple tones, such as lavender, are popular for kid-related businesses and maternity brands
Blue:
Peaceful, harmonious, and calming associations, related to the sea and sky
Evokes reliability and relaxation when used in branding
However, dark blue is often considered a somber color, one that doesn't excite or vie for attention
Green:
Closely associated with the natural world
Popular for sustainable and environmentally-minded brands
A classic look that's also popular for iconic industrial companies (think John Deere)
Yellow:
Associated with happiness, positivity, summertime, and sunshine
Richer yellow hues are also used as warnings (construction signs, for example)
More playful and optimistic than most colors, so it's great for kids
Orange:
Associated with fun, liveliness, and whimsy
Attention grabbing, especially in high-visibility color tones
Great for brands that associate themselves with summer
Popular for calls to action
Red:
Associated with excitement, energy, and action
Captures attention with engaging boldness
Used in warnings, so can also be perceived as threatening
Black:
Powerful and serious on its own, black also makes other tones stand out
Highly sophisticated and elegant with a touch of mystery
Commonly associated with darkness, so not necessarily the best choice for fun/whimsical brands
Pink:
One of the most variable (and trendy) color tones
Soft pink is calming and gentle, whereas hot pink is attention-grabbing
Commonly associated with more feminine branding, frequently tapped by brands in cosmetics, fashion, and beauty salons
Also associated with women's health advocacy
Of course, you need to consider associations with color combinations as well.
Red and yellow branding incorporates two highly engaging and active colors, but that duo is also most commonly associated with McDonalds.
Gold is viewed as a traditional symbol of wealth and privilege, so it's no surprise that it's a popular color choice for high-end brands. But the impact created by a set of black business cards with gold lettering will greatly differ from a set of pink and gold business cards with the same information, same layout, even the same logo. How so?
When paired with black, it becomes an attention-grabbing accent color. Alternately, gold helps to balance the delicate, romantic appeal of pink to give it a sophisticated edge.
This subtle difference in pairings can be tempered and balanced by the focus placed on each color, the layout of the card, and many other factors.
What color will make your brand stand out? Start designing your business card with Silkcards and see what connects.