Yelp For Restaurants: Take Advantage Of 26,380 Reviews / Min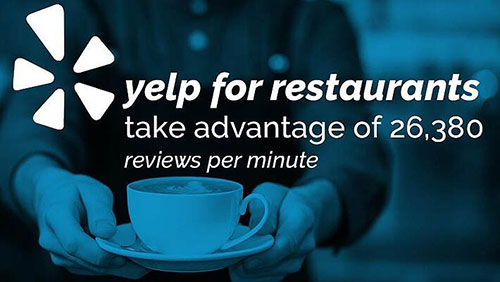 Category:
Yelp has emerged as the site for anyone looking to get a quick sense of what to expect from a local restaurant. This presents an enormous opportunity for businesses that actively cultivate their online reputation.
If you are looking for news ways of advertising and reaching out to customers that go beyond taking out a few ads in the local paper or sending out mailers, building a solid reputation on Yelp could help you build a solid, loyal base of customers, reach new ones and address problems in your business as they arise.
Related: Perfect Your Restaurant by Making the Most of Customer Feedback
Why Online Reviews Are So Important
Online reviews can make or break a business.
A single star can mean the difference between gaining a new wave of local customers or missing out to better-reviewed competitors. This is especially true for local businesses and restaurants. Statistics from 2016 show that 92% of buyers read online reviews before making a decision about their purchase. Buyers are 72% more likely to purchase from a local business that has a 4-star review or better.
On the other hand, poor reviews can damage the reputation of your business and can cost you customers. A single bad review can cost a business 30 customers while each star missed can keep you from anywhere to 5-9% of additional gross revenue.
Related: Why Brand Management Takes Continual Effort and What You Can Do About It
Yelp for Restaurants: Our Top Tips
Thankfully, there are a number of things you can do to make your restaurant's Yelp presence more powerful:
Include Pictures: What's more enticing, a description of a heaping plate of spaghetti or a bowl of curry or pictures of them? Including pictures of your food is a great way to get mouths watering from miles away.
Offer Deals: Many restaurants will offer a free drink or a discount through Yelp. This can help attract new customers and encourage them to use your page.
Advertise on Yelp: You can also help increase the visibility of your business by paying for paid placement on web searches with Yelp.
Deal with Negative Reviews: Yelp provides business owners with the unique opportunity to engage with dissatisfied customers in real-time. You could turn a poor review into an opportunity to display excellent customer service. You can also address problems relating to the quality of food, wait times or service once they appear.
How to Cultivate Reviews for Your Restaurant on Yelp:
It's easy to cultivate a great reputation for your restaurant on Yelp. Some of the actions you can take include:
Yelp Badges: Placing Yelp badges on your window, menus and website could let customers know about your online presence.
Coupons: Give customers an incentive to leave a review such as a discount on their next meal or a free drink.
Create an Online Community: Many customers want to connect with your business online. Active community management can help you field questions as they come in, share the latest updates from your business and establish your business as more than just a place to eat.
Yelp provides restaurants with incredible opportunities to reach out to new customers, advertise new dishes or specials, and to fix problems with service or quality as they arise. There are plenty of steps that you can take to manage your online presence and to take advantage of great reviews of your business.
Related: Top 5 Ways to Increase Restaurant Traffic During the Work Week
Here at SILKCARDS, we're committed to being the partner that restaurants turn to for marketing materials. Whether you want to put your Yelp designation on your business cards or print out eye-catching promotions, we're in your corner. Request a FREE business card sample pack to see exactly what we can do.