Advantages of Ordering Die-Cut Business Cards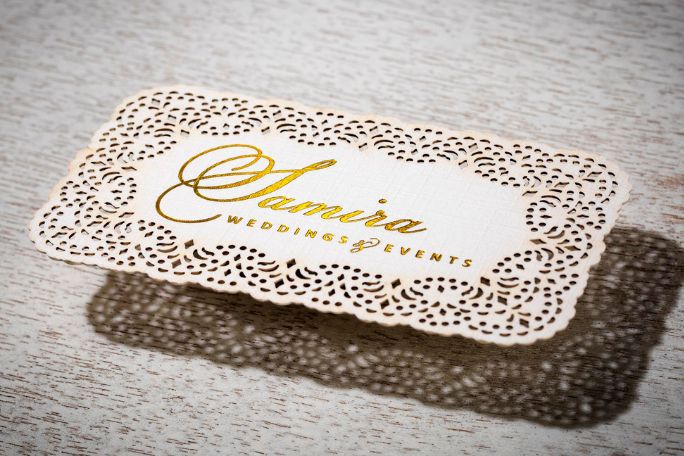 Category:
Think about the last time you were handed a business card after meeting someone or at an event. It was probably a white rectangle of paper with black writing that you forgot about as soon as you laid it down. If you don't want your own business cards to suffer the same fate, you need to get creative with the cards you order. And that could mean die-cutting. Keep reading to learn about the advantages of ordering die-cut business cards to make your card stand out.
Make a Good First Impression
As we touched on above, many people in the US use traditional business cards that are rectangular white pieces of paper with black print. While this communicates your business to the person you're giving your card to, it doesn't make your business stand out in someone's memory. Your card is the first tangible impression of your business that the recipient has. Therefore, it needs to do more than communicate information about your business; it needs to look good too.
Custom die-cut business cards will allow you to do just that. You can order die-cut cards in any shape and customize them even further by selecting higher paper grades, foil stamping, and raised spot UV.
Better Communicate Your Business Goals
Die-cut business cards don't just make a good first impression; they also help you better communicate your business goals. While traditional business cards with words and maybe a picture can communicate what you plainly put on them, die-cut cards communicate more. The detail you put into customization and die-cutting communicates that your business is unique and serious about what it does. Card recipients will trust you when they accept a card that you've so thoughtfully and purposefully designed.
Stand Out From the Competition
You may think the business cards you already have make good first impressions and communicate your business goals well. Maybe you've used more interesting colors or special details like foil, so you know your card is a cut above the rest. It probably is. But if your card is the same rectangular shape as all the other cards someone receives, it can still end up lost in a stack forgotten.
Stand out from the competition with die-cut business cards. Giving your card a unique shape will set you apart even when the card recipient returns home and lays your card on their desk. They won't be able to stack your card with the others. That means you'll beat the competition before the recipient even needs your services.
The advantages of ordering die-cut business cards are that they help you make a good impression, communicate your business goals, and stand out from the competition. If you want to add die-cut cards to your business to reap these benefits, Silk Cards can help. Contact us about designing and ordering custom business cards today.