8 Restaurant Hacks That'll Keep Customers Coming Back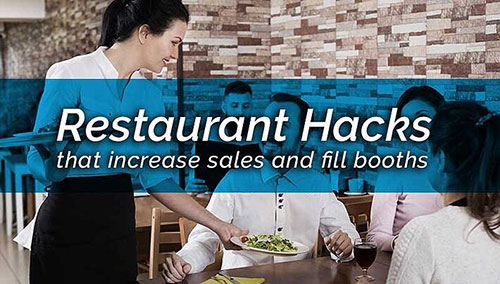 Category:
If you're the owner of a restaurant, you know that your goal is not only to bring new customers into your restaurant but also keep your existing customers coming back time and time again. Customer retention should be your main strategy for business growth because those satisfied customers have the potential to bring you business through word of mouth and positive online reviews. However, with all the competition out there not only from other restaurants but also fast food, supermarkets, and food trucks, this can be a challenge.
Restaurant Hacks that Increase Sales and Keep Booths Filled
The number one hack for restaurants is always to ensure that your customers are happy and satisfied with the service, the food, and the ambiance in your establishment. However, the following are some tricks you can use along with delivering a delightful customer experience:
1. Include Photos in Your Menu
Many people are attracted to more visual displays, so having photos of delicious food can be a factor in persuading them to order a dish. An overwhelming study by the Iowa State University found that a food photo increased up to 70 percent likelihood of someone ordering that meal. However, it's important not to stuff in too many pictures; focus on the dishes that are your main selling point or the ones that give you the highest profit.
2. Use Highly Descriptive Language
Your menu should be your selling tool, especially for new clients. Your meal descriptions shouldn't simply list the ingredients; rather, they should have detailed information likely to generate a desire to buy the item. Use vivid adjectives in item descriptions to help your customers taste the food in their minds.
Related: Customer Spotlight: Restauranteur Niddal Abedrabbo of ZaTaR Truck
3. Organize Menus According to How People Read
Clients are likely to order the first item that draws their attention. Thus, as a restaurant owner, consider putting profitable items in the upper-right corner of your menus because this is where the eyes of your clients first go. Also, you can place the item in a box with a different color and bolder font to attract attention.
4. Never Use the Dollar Sign ($) on the Menu
Delete the dollar sign from your menu as it subconsciously reminds customers that they're spending their hard-earned money. Studies show that consumers order more and expensive items when they don't see the dollar signs on the price tags.
5. Rounding up the Prices – 1 or 0.99?
While the actual difference between 1 and 0.99 may be trivial, your customers might think otherwise. This psychological difference can increase the frequency of clients' visits and drive them to spend more on every visit. However, this hack is more effective for dishes that cost less.
Related: Increase Your Revenue With These Unique Gift Card Campaigns
6. Choose Proper Music and Ambiance
Music plays a significant function when it comes to creating the desired mood for a specific restaurant ambiance. It influences client turnover rate and a person's buying decision. According to research, up-tempo music boosts customer turnover in restaurants while slow music increases consumer spending.
7. Use
Upsells

Efficiently

Upsells are vital to increasing sales. Once a client buys from you and is in a buying mood, it's easier to close additional and related sales. For instance, a customer is likely to order fries when the salesperson asked them if they would like fries to go with a dish they've already ordered.
8. Adopt a Loyalty or Gift Card Program
According to Level Up, a loyalty program can increase your clients' spending while redeeming their reward by 19 percent. It can also boost their frequency of visiting your restaurant by 75 percent. Similarly, gift cards are an excellent way to boost sales. They lure existing clients to visit your restaurant frequently while bringing along new customers.
Related: One Huge Difference Between Customer Loyalty and Customer Retention
Bottom Line
It takes more than just a friendly staff or good food to keep clients coming back to your restaurant. The above hacks are the most effective way to attract new clients and retain the existing ones. They'll spark your way of thinking towards those little details of your restaurant that you might be overlooking to enable you to reap full benefits.
At SILKCARDS, we're committed to helping restaurant owners just like you nail down their branding strategy and develop high-quality marketing materials. Our specialty ranges from custom business cards to plastic gift cards and more. Request a FREE sample pack today to see what we can do.