10 Ways To Modernize Your Business Cards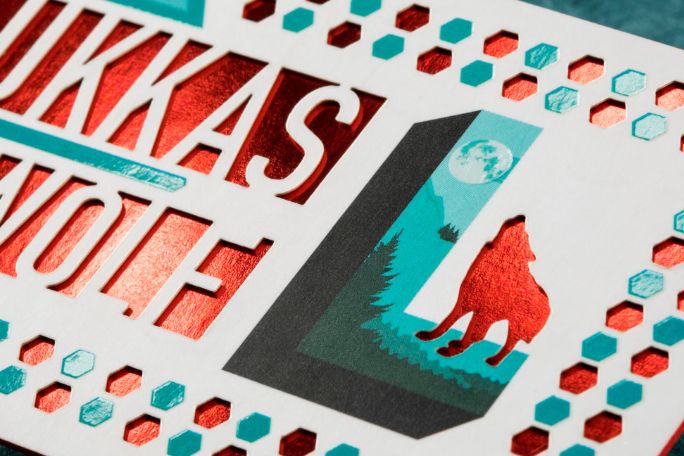 Category:
People from high society began using business cards in the 1600s to announce their impending arrival during travel. In the 400 years since, little about the card design has changed. While we now use them more for business than personal announcements, they continue to be white and black rectangular cards that can easily fit in a wallet or pocket. Now, those black and white rectangles have done their duty; it's time to make a change and step into the future with modern business cards. Keep reading to learn about 10 ways to modernize your business cards.
Different Materials
Paper has been the business card standard since the 1600s, and little has changed—but it should. Paper is easy to ruin with a splash of water or quick tear, which means that you always need extra cards on hand to offer replacements. While you can laminate your business cards, that defeats the purpose of the paper design. Instead, skip paper entirely and use a different material. Depending on who your printer is, you can order cards made from wood, metal, or plastic. All three are more durable than paper and offer a unique modern twist on the traditional business card.
New Shapes
Another way to modernize your business card is by breaking free of the rectangular shape. While rectangular cards are easy to slip into a wallet, pocket, or purse, they're also easy to stack, which means your information gets lost in the competition. Choosing a new shape for your card will prevent that from happening. Again, depending on your printer, you can order your cards in any other classic shape like circles, squares, or leaves, or you may even be able to order custom die-cut business cards in any shape you can imagine. No one will be able to lose your card ever again.
Special Finishes
For those who want to continue using paper for their business cards, there are other modernization options, such as special finishes. If you still want recipients to be able to write on the card, you can order a foil finish on the card, which will add metallic shine to the edge or another specified area of your card. To avoid the metallic look—but still add something unique—you can request Spot UV. Spot UV will slightly raise text or design elements and apply a shiny coating to that raised area so recipients can write on other areas of the card while maintaining the special design.
Unique Layouts
Imagine a simple business card. You're probably imagining a white rectangular card with black print. The black print goes from left to right on one side of the card while the other side is blank. It's also probably designed to be printed horizontally along the longer edge of the card.
Modern business card designs shouldn't be that predictable. Shake up the face of your card by choosing a unique layout. Print information vertically so a rectangular card must be held with the short side up. Print on a diagonal instead of straight. Follow the curves of other design elements. Block off smaller sections across the card for different groups of text. Layouts are versatile and the only limit is your imagination.
Interesting Text
While the information you're printing on your business card might be basic, the text doesn't have to be. You can make the text part of the overall design of the card. Choose beautiful calligraphy for important words or request that your text be in a bold color instead of traditional black. The only requirement for text is that it's readable, so get creative—but keep it functional—and your business card will look modern in no time.
Print on Both Sides
Another unique way to use text to modernize your business card is to print information on both sides. While traditional business cards print information on one side and leave the other side blank for notes, you can make your card unique by printing information on both sides. This gives you an opportunity to use a bigger font for the visually impaired or to include additional information, such as personal contact information as well as company information. If you're getting a die-cut business card, this is extra helpful since your card doesn't have the same dimensions as traditional cards but you still need to share the same amount of information.
QR Codes
QR codes became popular during the pandemic because they allowed for touchless interaction. While many people are becoming more comfortable with touch again, you can still use QR codes on your business cards. The codes can link to whatever you want, from your social media to your website, and recipients will appreciate the convenience. Just remember to print the QR code information on the card for those who don't know how they work or don't have the technology to scan them. Convenience shouldn't trump inclusivity.
Picture Perfect
Adding pictures to your business card makes it more like the original announcement cards of the 1600s, which is not a bad thing. Including a picture of the person handing out the card will help the recipient remember exactly who they talked to and who they'll reach if they use the card's contact information. Alternatively, you can include a more aesthetically pleasing photo of something related to your business, like a house you recently sold if you're in real estate or a birthday cake you recently made if you're a baker. No matter what you choose, pictures are worth a thousand words, making them a great design option for your modern business card.
Logo Logistics
You can use business logos as your picture or include the logo in a different section of your card and use both. Including your logo on your card will make it easy for recipients to recognize, so they don't have to hunt through the text to remind themselves who the card is from. If your card tells people to come to your physical store or office, a logo on the card will also be a helpful reference when they're looking at signs. You want your cards to help people, and including your business logo will do just that.
Professional Design
Lastly, modern business cards have something that older business cards, especially back in the 17th century, didn't have: professional designers. While you can design your business card yourself using a virtual program and print them on cardstock to save money, you'll be losing the unique elements professional designers have to offer. Professionals can help you choose all the modern elements you want to incorporate and combine them on your card in an aesthetically pleasing, effective way. Take advantage of their modern business card design services and spend the extra money for perfectly professional cards.
There are many ways to modernize your business cards, but these 10 are the best. While you probably can't combine all of them on one business card, you can pick the elements you like and consult with a professional to make sure your card is beautiful and effective. If you're still looking for that business card professional, you've come to the right place. SilkCards can help with your custom die-cut business cards and other business needs so you can effectively grow your business. Contact us to learn more about everything we have to offer and to order your new business cards today!