Your Go-to Business Card Printing Checklist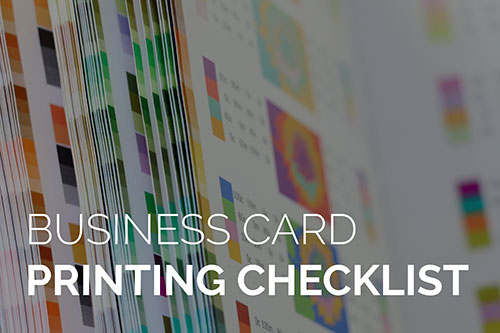 Category:
From your first back-of-napkin sketch to the printing press, there are a number of vital steps involved in producing new business cards.
To streamline the process and ensure you don't skip anything important, we've assembled this helpful all-in-one guide that covers everything from business card size and shape to print best practices.
The basics
Before you sit down to design your business card, you need to have the basics in place. Selecting the coolest cold foil treatment for your logo won't matter if the high level decisions you make early-on obscure something important (like your contact information, for example).
Remember to include all pertinent information on your card. Depending on your business or industry, that may include:
Company name
Your name and title
Phone number
Email address
Website URL
Mailing address (only if relevant to your business)
Social media handles (only if relevant to your business)
Keep in mind that the more information you include, the less room you'll have available for design elements like logos. If you try to cram in too much info, you run the risk of overdoing it and ending up with a crowded-looking card.
How you choose to lay out your information will affect all aspects of your card design. Traditional horizontal cards are popular with professionals in most fields, but a lot of creatives in highly visual fields like the extra canvas that comes with a vertical orientation.
Many others are using a folding card design to make their card more interactive, or including die-cut elements to raise the stakes with cutaways, textured logos, and much more.
Choose the right size
Custom-size business cards are growing in popularity, but they come with a certain amount of risk. Go too big or too small and you minimize the impact your card creates. How do you do something creative while adhering to best practices?
Sticking to a standard business card size makes designing cards easier, minimizing the risk that comes with transferring your vision from digital to a print medium.
Even in the world of custom shapes and sizes, there are "standard" measurements to use as guidelines, so you can do something creative without risking image quality and resolution.
What standard business card size in pixels should you design to? Here's a quick rundown:
Standard Business Card — 1050 x 600 pixels
Folded Business Card — 975 x 1200 pixels
Micro Business Cards — 300 x 900 pixels
Square Business Cards — 675 x 675 pixels
With these best practices in place, you can let your creativity run wild. At Silkcards, we specialize in adding unique visual effects, from cold foil accents and raised UV ink to die-cut touches and beyond, to create a card that brings your inner vision to life.
Choose your business card paper
Paper thickness, stiffness, and finish will affect the way your card looks when it returns from the printer. Before you sit down to select colors and dial in your design, consider these factors.
Paper thickness will affect how clearly the details on your card appear. Thicker paper can absorb ink better with less bleeding, allowing for a higher resolution.
In addition, the cardstock you select will impact the experience of holding the card in person — heavy vs. light, flexible vs. rigid, etc.
Finally, it's time to choose a paper finish. Matte paper and glossy paper interact with inks in different ways. Each finish comes with its own associations, its own touch and feel. Combining finish elements by using creative add-ons like foil and raised ink with a matte paper finish can create proportion and depth in your design, which makes it extra engaging for the viewer.
Use a bleed
If you don't have a background in graphic design, you may not be familiar with using a bleed. The bleed describes the area where your card design extends beyond the trim line, i.e. where the printer will cut the edge of your cards. This part of your image will never be seen by anyone but you, yet it's essential for getting good, clean images on your card.
Even the best printers have miniscule variations, so bleed offers a margin of error. By using a bleed, designers ensure that all graphics on the card extend all the way to the edge of the card (without an unsightly, uneven white border).
Choose printing techniques
Next, select the right printing technique for your budget and creative needs. Here's the breakdown:
4-color offset — Sometimes referred to as CMYK printing, this standard, full color printing process is similar to a home inkjet printer (but way better!).
1- or 2-color — With this technique, you select only one or two colors to work with, so it's good for producing a lot of materials on a budget.
Spot color — Created without screens or dots, spot colors are generated by an ink (pure or mixed) and printed using a single run. These colors may appear brighter and purer than 4-color printing, but don't allow for as much customization.
Don't shy away from asking a professional
If you have a specific design vision in mind, talk to a print professional. We can give you the necessary tools and insights needed to get the best quality results, and streamline the process from design to print to create less headaches for you.
Everything you need to know about sizing your business cards for print.