The Ultimate Guide to Ordering Gift Cards for Your Business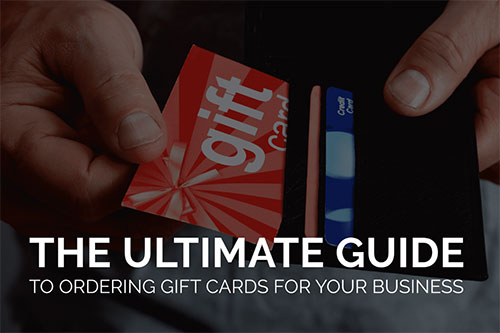 Category:
"Do you have gift cards available?"
Being able to answer "yes" to this question can be valuable for your business in a few intersecting ways.
Let's say you own a coffee shop, and you have a loyal customer named Mary. Mary is excited to learn that you have gift cards available, and buys a gift card for her friend Jane, who has never visited your shop before. When Jane comes in to use her gift card, she buys a cup of coffee and a sandwich, and ends up spending a little more than the value on the card. She enjoys the experience and the quality of your products, and becomes a loyal customer herself.
This example demonstrates the potential impact of implementing a gift card system for a small business. It gives existing customers a convenient opportunity to give a gift card to someone they know, introducing others to your brand in the process.
When that person goes to use the gift card, they'll likely spend a little more than what's on the card — according to giftcards.com, the average customer will spend 20% more than their gift card value.
Gift cards are a great way to get new customers and get more revenue from existing customers. In this blog post we'll discuss the merits of both physical and digital gift cards, and outline how to create online gift cards for your business.
Digital vs. physical gift cards
E-gift cards act as digital business cards for your business, and people are purchasing more and more digital gift cards as mobile commerce continues to grow.
Digital cards are convenient because they don't require a trip to the store, and can easily be sent via email. Additionally, while physical gift cards are easy to lose, digital ones can be stored in an inbox or mobile wallet.
However, physical gift cards also have their advantages:
When a customer is already shopping in-store, it's convenient for them to pick up a physical card, especially when displayed at the checkout counter.
Customers can choose the design they find most appealing or select a themed card for special occasions.
Creative gift card holders can make the gift-giving experience feel more personal. You can sell those alongside the physical card, or include them as an incentive.
Physical cards are more popular — in gift card redemption programs, 75% of consumers choose them over digital options.
Some stores opt for using e-gift cards only, some stick to physical cards, and some offer both. The best option for your store will depend on the preferences of both you and your customers.
Getting started with a gift card platform
1. Choose your platform
Thanks to the growing popularity of digital gift cards, you have plenty of choices for e-gift platforms as well as physical cards. Gyft and eGifter are two options, and Fit Small Business has reviewed several others, including Givex and Square. Not all platforms allow you to use 3rd-party printing services to customize your gift cards, so make sure to do your research before deciding.
When deciding on a platform, consider the following factors:
Pricing — Some platforms charge monthly, while others charge per transaction. Keep in mind that there is often a higher cost per card when printing through a POS provider than through a 3rd-party printing company.
POS compatibility — Can the platform be integrated with your existing POS system, or will you need to use a separate system for your e-gift card transactions?
Loyalty program capabilities — Do you need features such as referral incentives, promo codes, and personalized rewards based on purchasing habits?
Customization options — When it comes to the appearance of your gift cards, are you willing to work from a template, or do you want to design your own, custom look?
Ease of use — How many logistic adjustments will you need to make in order to implement the new platform? Will employees require extensive training in order to use it?
Reporting — Compare reporting capabilities across platforms for the metrics you need, such as sales, device types, customer purchasing habits, and more.
2. Input cards into your POS system
This process varies depending on your existing POS system and the gift card platform you selected. You may use QR codes, barcodes, gift card numbers, or some other technology to input the information into your POS system.
If you have a loyalty program in which gift cards are offered to existing customers as rewards, you might have the option of linking cards to existing customer accounts, depending on the platform you use.
3. Market your gift card options
Gift cards can't do your business any good if your customers aren't aware that you have them. Spreading the word is important, especially when you first launch the program.
Many businesses launch gift card programs by offering incentives. For example, you might offer a free $10 gift card for any purchase over $50. Remember, customers tend to spend more than the value of their gift cards, so there's a lot of potential for ROI with this model.
Create eye-catching, in-store gift card displays for physical cards, and place them strategically to maximize visibility. For example, you might put one display in an area of the store that gets a lot of foot traffic, and another one at the checkout counter.
Additionally, don't forget to advertise your gift cards on your website, on social media, and in-store. Make it easy for your customers to buy e-gift cards by offering them online.
4. Track results
To optimize your program, you need to know what works well. Depending on your platform, you will have access insights such as:
How many gift cards you've sold in a given time period
The sales ratio of physical to e-gift cards
Which devices are most commonly used to purchase and/or redeem your e-gift cards
Gift card sales as a percentage of overall revenue
Gift card sales during promotional periods or holidays
Average dollar amount loaded onto cards
Success of particular card designs over others
Tracking these metrics will allow you to make adjustments to your program and improve overall ROI.
Conclusion
Implementing a gift card program can bring new customers through the door, and both physical and digital cards have their advantages. Gift cards are a great way to boost your sales, get more revenue from existing customers, and earn some new loyal customers along the way.
Ready to create some eye-catching gift cards for your business? Start here!