Solidifying Your On-the-Rack Brand Strategy through Garment Hang Tags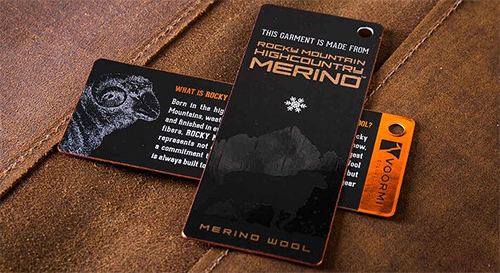 Category:
These days, the savviest emerging designers acknowledge the fact that their products require the best printed marketing materials to gain a competitive advantage in an overcrowded market.
This is why they don't hesitate to direct a significant percentage of their resources towards original ideas that make their items stand out from the crowd. A carefully designed garment hang tag is one of these ingenious details that may help new designers make a name for themselves, brand their products with more ease, and make their commodities truly desirable in the eyes of their buyers.
3 Reasons Why Creative Garment Hang Tags Will Always Be a Must-Have
For companies operating in the fashion industry, garment hang tags will never go out of style for several reasons, including the ones listed below.
Easier Product Identification.

For starters, let's focus on the practical value of hang tags. These tiny items serve a very important purpose: they help retailers, designers and their staff, and potential clients identify and keep track of certain pieces with less effort. This is a notable advantage, especially for multi-brand retailers or employees working in crowded stores.

A More Compelling Story.

Garment hang tags can give prospects one or more new reasons to buy your products, wear them with pride, and recommend them within their social circle, especially when you go the extra mile to add information that reflects the uniqueness of your product. For instance, your garment hang tags could be made of premium, less common fabrics such as recycled plastic, woven materials, or craft paper, and your tag would serve to indicate that your merchandise is totally unique, handcrafted, locally made, or eco-friendly.

A More Effective Way to Interact with Buyers.

Last but not least, hang tags give you the perfect opportunity to send a message that resonates with your buyers, show your passion for your latest collection, talk about your inspiration, and reaffirm yourself as a buyer-oriented, transparent brand by helping your clients make an informed decision. A well-designed tag should ensure easy access to essential information, such as pricing and basic garment care instructions. At the same time, the tags should also let your customers know how they could reach you on social media. By treating each tag as a business card, you could promote your company on the most popular social media platforms, boost the visibility of your brand, and reinforce your connection with new and existing clients.
Great Products Deserve Equally Great Garment Hang Tags
Garment hang tags should tell your story and offer you a simpler, more meaningful, and cost-effective method to connect your audience to the artisans who are behind the manufacturing process. The best tags are fully compatible with your brand identity and will speak to your targeted audience. They display design elements that can help customers associate your product with your brand and command attention at any corner.
During the design phase, most companies manage to solidify their on-the-rack brand strategy and realize that simple is beautiful; they use premium materials, add ingenious details (such as twine threaded through tags and connected through embellished safety pins) to highlight their passion for craftsmanship and unconventional materials, differentiate themselves in a sea of similar brands, and consolidate the relationship between their business and their segment of public. By focusing on all these important aspects, companies manage to come up with attention-grabbing garment hang tags that take their products a few steps closer to absolute perfection and make them more desirable in the eyes of potential clients.