What Your Tattoo Customers Really Want (Besides New Ink)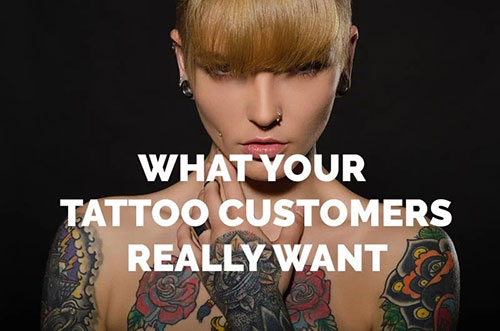 Category:
There was once a time when seedy shops and rude artists were the norm because back then tattoo shops were viewed as a place only bikers went. Those days are no more. Today people from all walks of life love ink, and when it comes to options for shops, tattoo fans have many to choose from. In today's tattoo industry, customer service is key, and keeping your finger on the pulse of what your clients want will help you to build your business.
Related: 10 Tattoo Shop Promotion Ideas to Get People Amped About Ink
What Your Tattoo Customers Really Want
Whether this is your client's first time in the chair or they are a seasoned tattoo aficionado, there are certain client needs that are universal. Tattoos can be addictive, and many people will return to you time and again if they have a great experience. Tattoos are for life, and if you want a client for life, know what your customers want:
An Artist Who Knows Them
When a client has a positive experience with you or your shop, it is easy to build loyalty because most people who get tattooed—especially if they are new to getting inked—like having a regular artist they can return to and recommend. Many people are nervous about visiting new shops and risking having an unpleasant experience or worse, an awful tattoo, so go the extra mile to make sure your client feels welcome and comfortable.
Related: 6 Things You Can Learn from Ink Master as a New Tattoo Artist
An Artist Who is Receptive to Their Ideas
As a tattoo artist, you are by now well-aware that tattoo ideas run the gamut from the brilliant to the unworkable and often even worse. There is a tendency for many to try to throw every tattoo idea they've ever had into a single piece, and some ideas won't work for technical reasons. Your work is your calling card, so being open, receptive, and encouraging while steering their ideas in a direction that will work and stand the test of time will result in a happy client whose tattoo will still look good years later.
Related: 13 Insane Body Piercing and Tattoo Parlor Business Card Designs
A Sanitary and Professional Environment
From a clean and stylish shop to a supportive and friendly staff, you'll want to make sure you create an environment that makes your customers feel comfortable and welcome the moment they walk in the door. Some major turn-offs for customers: shop drama, dirty workspaces, and staff that ignores them or is rude. Offer your customers a drink, make sure you have a comfortable reception area with great-looking portfolios, briefly explain your sterilization procedures, and encourage questions.
Related: The Issue of Pricing: A Thorn in Every Tattoo Shop's Side
Without exceptional customer service with a focus on making sure your clients are satisfied with every aspect of their visit, you risk losing business in this highly competitive industry. Take the time to make sure your customer's needs are always your priority, and you may just see them in your chair again sooner than you think.
Make an impression with your tattoo shop's business cards today. Request a sample pack to see what we can do for you!