What Your Business Card Says About You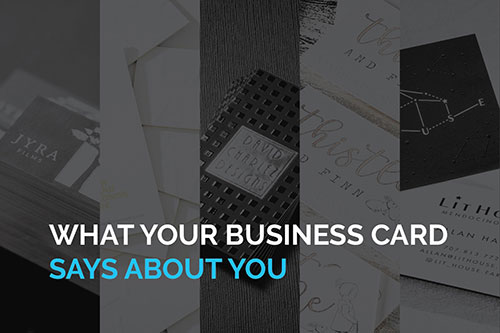 Category:
Every time you hand your business card out, you're giving someone something to remember you by. How they remember you — as someone serious or light hearted, flaky or reliable, an industry veteran or a bold disruptor — depends on what your business card looks and feels like.
Even the simplest things can color someone's memory and judgement. If your card is completely non-descript or has a small typo, they might think about you as someone forgettable or without a good grasp of the details. On the other hand, if your card is uniquely designed to reflect your personal style, it might just be enough to get that person to pick up the phone and work with you.
In this blog post we'll look at five aspects of card design and how the decisions you make about each one can impact what your business card says about you.
Typography
First up is typography — the way the letters and numbers are printed on your card. If you're someone who uses Arial or Times New Roman for everything you write, here's a tip: those aren't great choices for a business card. All they say about you is that you couldn't be bothered to choose a better font.
What style of typography you choose can communicate a lot about you — for example, deciding if you want to use Serif or Sans Serif fonts. Serif type tends to be viewed as more traditional, formal, and elegant, whereas Sans Serif type will come across as modern. Many designers will choose a pronounced Serif header font to stand out against more demure Sans Serif body text.
The font you choose will affect the way text on your card is presented as well. Introducing a heavy weight or boldness to certain text will direct the viewer's eye toward important information on the card. However, using too much bold text can make your card feel heavy and crowded.
No matter what typefaces you select, make sure each is properly kerned to create a clean and even-handed visual effect. To draw the eye toward key information on your card, consider adding Foil or Spot UV to accentuate the font you select.
Color
Your color choices make a statement, even if you don't intend them to. Even a plain white card can come across differently than a slightly off-white card will. Subtle variations in color and tone can have a big effect on your overall aesthetic.
Color psychology is the study of how different colors affect perception and interpretation of objects. Studies show that, while cultural tendencies and experiential factors will affect results, people tend to engage with different hues and tones in predictable ways.
For example, warm colors like reds and oranges tend to be associated with energy, motion, and excitement — while cool colors like greens and blues can communicate calmness, stability, and reliability. Likewise, brighter colors can be more eye catching and bold, but simple black and white communicate timeless elegance.
When designing your card, gain an understanding of how a color choice resonates with what you do and who you are.. Is a bold color choice — a blood red logo on a black background for example — complementary to your other branding? If you run a daycare, the likely answer is no.
Layout
Until recently, business cards were all laid out with a pretty uniform look. Name, title, and contact information were displayed in the center of the card, usually with a logo or watermark. Advances in print technology, combined with evolving design tastes, have transformed the looks and layouts that designers use.
When drafting out your new card design, one of the first decisions you'll make is the layout orientation. Vertically-oriented cards tend to position text in a smaller space, which can create more room for design elements. They're also still much less common, which can help your card stand out.
Many people choose to print double-sided cards, with their organization's logo on one side and their personal contact information on the reverse. This can be a great way to balance the desire to give space for visual elements with the need to keep your card easy to read.
Embellishment
Gold foil, silver foil, and foils of every color. Metallic ink. Dusted glitter accents. High gloss tones. The world of business cards is increasingly focused on effects and other touches that make you stand out. If you decide to include embellishments, make sure they work well with the overall design with your card. A minimalist card for a new legal practice focused on contract work probably doesn't need glitter — though that's your decision to make. Maybe you want to be the most fabulous contract lawyer available.
To understand which embellishment is right for your branding, consider how people tend to interpret different visual effects. Spot UV is a subtle and understated effect, whereas foil touches are bright, colorful, and flashy. A colored edge will make your card stand out, whereas a die cut is a big look designed to incite awe. For a more prestigious effect, embossing is a traditional look that can lend a sophisticated feel to your card.
Paper Stock
The weight of your business card affects everything from its feel to the types of embellishments you can add. Cardstock commonly used for business cards will be anywhere between 12 point and 16 point. Heavier cardstock will also be necessary to get the best effect from add-ons such as embossing, letterpress, layering, or die cutting.
SilkCards offers a variety of paper textures and finishes which will influence the way people feel when they receive your card. Traditional cotton paper is considered prestigious and a little vintage, which is a subtle adjustment away from the austere professional quality of linen. Silk and Suede finish cards, such as the Onyx Suede, are high-end and luxurious. Cold foil is youthful and even a little flashy.
SilkCards can also use cool alternative materials, such as wood, to make a bold statement.
Layers and Cuts
Die cut design and layering are two of the newest, most attention grabbing trends in business card design today. By introducing cutaway designs, you add a three-dimensional effect that creates a whole new dynamic for your vision. Using open space to highlight a design introduces both a visual element and creates a unique tactile effect. Layering a cutaway design on a 48pt paper stock with a back and embossing accents gives it a striking sense of depth that attracts a lot of attention.
Like the embellishments discussed above, layers and cutaways don't always need to be an accent to your design. You should think about how they complement the image you're trying to present to the world.
Card Size
Most people have a specific business card size and shape in mind. Nowadays, it's not uncommon to see business cards that are half or a quarter the size of a standard card though. Some will even design their card so that it can be folded into a three-dimensional shape.
A standard business card size is 2 inches by 3.5 inches. For people in more traditional industries, going larger or smaller than the standard size can be risky — you might stand out as inexperienced or less-reliable than your more conventional competitors.
However, for professionals in creative fields it can pay off to have a business card that stands out from the pack and shows off your design sensibilities. An oversized card will always stick out from a stack of standard cards.
Wrapping It Up
In the end, it's not about what choices you make with your business card design — it's about whether or not you've thought about how those choices represent you. Business card design isn't something to overlook, unless you want to let people know you're the kind of person who overlooks the details. Take the time to think about what your business card is going to say about you long after you're gone to correct someone's assumptions.
Want to make business cards that capture exactly who you are? Contact us!