Should I Quit My Job and Go Freelance?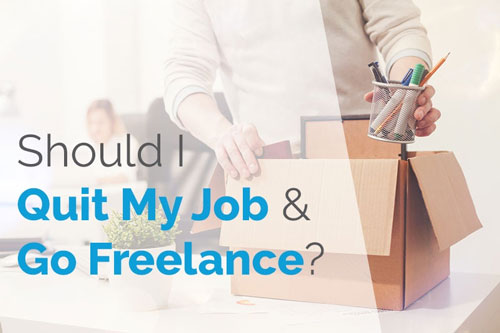 Category: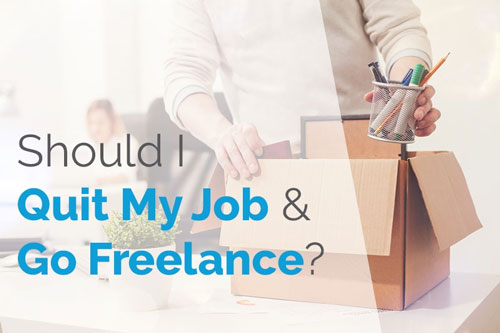 Everyday you find yourself at the office, sitting at your desk and wondering if there is more to life than working for someone else. You know that you are good, or even great, at what you do. Working at your company has become a chore, and you think you might be ready to try your hand at working on your own terms. But are you really ready to go out on your own and become a freelancer?
Should I Quit My Job and Go Freelance?
There are many factors that you need to consider before freelancing, so here are a few thoughts to consider.
Related: The Insider's Guide on How to Get Gigs While Self-Employed
The Pros of Going Freelance
I'm sure you have a running tally of all the reasons that you should break out on your own. But here are a few other positive aspects of becoming a freelance entrepreneur.
You can work from home or anywhere in the world. This means vacations can happen any time you wish. Or you can permanently relocate to where you've always dreamed of living.
There is an opportunity for a better income than what you earn now. Many freelancers report that they make more money than they did when tied to an office desk.
You can choose your working hours. This allows you to capitalize on your most productive hours (whenever they may be), and working more effectively means less time on the job. Freedom to choose your schedule means that when your work is finished, you can have a 30 hour or less work week (if your business allows it).
You'll have more time for family and friends. And because you choose when you work, you can shift your schedule at will. Now you'll be able to make it to your grandmother's birthday weekend or go to every one of your child's soccer games.
The Cons of Going Freelance
There are of course some drawbacks to being your own boss. These negative aspects of freelancing are not for everyone.
You have to market yourself effectively. Unlike your old job, you'll have to find your clients on your own. This means you'll need various ways to advertise yourself in order to have a clientele base large enough to keep your business running. This may be tough for those without any startup capital.
Bookkeeping and and taxes are complicated. If you don't know the first thing about how to prepare your taxes, you'll have to hire an accountant or bookkeeping business to keep your finances in order. Plus, being an independent contractor means the taxes aren't automatically taken out (you have to do it yourself) and could be up to 30%.
Your only benefit is your paycheck. As a freelancer, you won't have any employer-sponsored benefits such as health and dental insurance or 401k matching. You'll have to pay for these yourself.
It's on you to motivate yourself to work. A lot of motivation for work comes from the daily schedule of having to prepare oneself for the office. If you think you'll be just as productive rolling out of bed and working at your kitchen table in your pajamas, you might be mistaken. Successful freelancers are highly motivated people.
Sometimes, you might not have any clients. Even the hardest workers find that at certain times of the year there is no work to be found. Especially at first, it can be feast or famine.
How to Prepare to Leave Your Job for a Freelance Career
Sometimes it's not as easy to simply quit and get started on your own. Some preparation needs to be involved (and this will also allow you some time to "sleep on it" and decide if quitting your job to go freelance is right for you). Here are the ways that you can begin preparing now:
Save up some money
Put away enough money from your current job so that the first several months of freelancing won't be a financial burden for you. The first few months may not be as lucrative as you imagine.
Find a few clients and take on a couple jobs
Before you leave your current position, take on a couple odd jobs. This will help you to get your name out as someone who is a new freelancer. It's also smart to start looking for potential clients early before you resign. Consider this an important part of developing a personal brand.
Cultivate testimonials and positive reviews
You can also use these small freelancing jobs as a way to build your brand. Ask these clients for honest reviews on websites or to share their experience with you with their colleagues.
Research benefits, such as health insurance, and perhaps start a Roth IRA
Just because you are freelancing doesn't mean you have to stop putting away money for retirement. Research starting an Individual Retirement Account and begin to add money before you quit your day job. Also, find out how to obtain basic health insurance so that you won't have a lapse in coverage when you leave your position.
Related: 6 Crucial Steps People Forget When Starting a Freelance Business
WHEN to Quit Your Job to Freelance Full-Time
No one is ever certain when the best time to go freelance is, especially for those who have mortgages and families to consider. Because of this, it may be good to being building your brand and client books before leaving your job. It's important to have several clients so that if you lose one you'll still be able to pay your bills from the income from your other clients. But if you are certain that you'll be able to have several projects that will keep you busy and making a profit, then the time might be right.
Now that you've contemplated the pros and cons of a freelance life, do you think you're ready for the challenge? It's important to consider all the positives of freelancing, but really it's the negatives that you'll have to accept and learn how to mitigate. If you know that you'll be able to have a diverse clientele base and you've figured out how to handle all the negative aspects of freelancing, it is time to make the change.