How to Protect and Carry Business Cards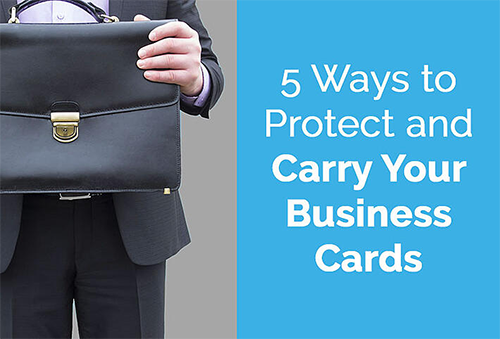 Category:
Even in the age of smartphones, business cards are still an effective way to network with others. Whether you're the CEO or work in an entry-level position, it's wise to carry cards with you at all times, so that you're always able to pass on your contact information.
5 Best Ways to Keep Your Business Card In-Tact
Handing over a dirty or crumpled card doesn't set the best first impression. How you carry your cards depends on your needs. Check out these popular methods:
Business Card Sleeve – Small sleeves are affordable and typically hold about 5 to 10 cards. They have a small cut-out that makes it easier to slip the card out of the sleeve, but the exposed area could become dirty.
Business Card Case – Cases are typically made from sturdy material and completely cover the business card, giving more protection. They come in a variety of styles and hold anywhere from 10 to 100 cards.
Briefcase – Many professionals simply keep a few business cards in their briefcase. This works well if you only expect to hand cards out in business situations, but you might not have your briefcase with you at other times.
Suit Coat Pocket – Throwing a few cards into your suit coat pocket is discreet and effective. The key to doing this well is to put the cards in your pocket just before you go out. If they stay in there for weeks, they're bound to get dirty.
Cell Phone Case – Since you always have your cell phone on hand, slipping the cards into the case can be a smart idea. Many cases have this feature. Most of the time, though, it does leave a bit of the card exposed, which leaves a dirty mark on the card. Change to fresh cards often if you use this method.
Read: DIY Business Card Holders You Can Easily Make Today
How Many Cards Should I Carry?
The number of cards you carry at any time primarily depends on the amount of cards you expect to hand out.
For instance, if you're simply going about your daily business, you might only need a few cards just in case. At a networking event, on the other hand, you'll need more. Plan to bring 50 to 100 depending on the size of the event. Those who are working trade show booths will probably need more cards than anyone.
Before handing a card out, ask for permission. That way, you won't be wasting cards on people who don't want them.
Read: How Many Business Cards Should I Order?
Who Needs Business Cards?
Most major corporations give business cards to all of their employees, but you might still consider getting cards even if your company doesn't provide them. They're also suitable for freelancers and those who own small party sales businesses. Even moms who want to connect with others parents for play dates find it useful to carry "mommy cards." If there's ever a chance that you'll want to give someone your contact information, business cards are for you.
Don't Have a Business Card?
It's easy for anyone to order their own business cards. Most sites offer templates to create your cards quickly, or you can pay a bit more to have a design team create something unique and top-notch. For high-quality cards, consider silk-coated cards like those we offer here at SILKCARDS. Our business cards have a more professional finish that is sure to help you and your brand make a lasting impression. Request a sample pack today see what we have to offer.