How to List Degrees on a Business Card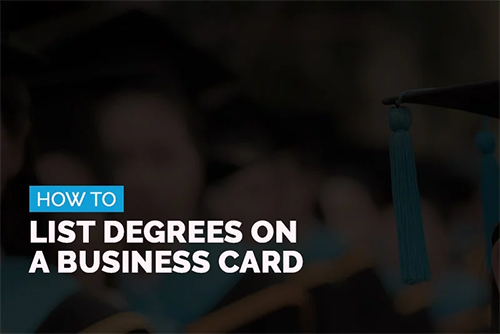 You have worked hard to earn your professional or academic degrees. The years logged in intensive studies have really paid off for you both professionally and personally. However, now that you have your own business to promote and manage, you have a decision to make. Should you include your degree on your business card? You definitely want to show potential clients what you have achieved and to display your professionalism, but it may not always be the best idea to add those earned letters after your name.
Related: 5 Simple Tenets of Memorable Business Card Design
Should I Put My Degree or Professional Designation on My Business Card?
Again, there are many reasons to want to put your degree on your business card. But it isn't always appropriate to do so. You should only list degrees or professional certifications if they are related to your current business endeavors in some fashion. For example, you may be a labor and delivery nurse building your photography business on the side. Potential clients may not understand why "RN" is on your business card. However, if you have decided to specialize in birth photography, it might be a selling point for families looking for someone they feel comfortable with witnessing the birth of their child.
Should you advertise your Master's in Public Health if you are branching out into the world of business consultation? Probably not as it wouldn't be as effective in enticing new clients. The short answer is that you should only list your academic or professional designation after your name if it is pertinent to the business venture at hand.
How to List Degrees on a Business Card
So now that you've realized that listing your MS in Civil Engineering is really going to help you in your freelance construction consulting firm, what is the best way to do it?
There are a few ways to list your professional designations on a business card. The most traditional would be to place those letters preceded by a comma right after your name. e.g. Janet Drusitch, PhD.
You could of course expand those letters into words, especially if the designations are not typically used. For instance not many people know what a GISP MSCE is. In this case, you may want to list your degrees just after or underneath your name. e.g. Michael Knighter, Geographic Information System Professional, Master of Science in Civil Engineering.
If you have especially long titles, such as those listed above, you might consider placing them on the back of your business card. Many professionals utilize the back of the business card as it is a great way to provide additional information without making the front of the card look too busy.
With that in mind, know that the common practice is actually to list the occupation/position you're in or the value proposition you offer rather than the degree you have.
Related: How Many Business Cards Should I Order?
How to List Qualifications on a Business Card
What about those professional qualifications or titles from professional organizations that you hold? Those can be displayed on your business card as well. For certain positions, such as accountants or real estate agents, this is actually very important. Again, you can simply put your qualifications right after your name on the front of your business card. e.g. Gloria Reed, CPA
Of course, you may have several titles that you'd like to share or perhaps you'd like to advertise your professional registrations. In fact, it may be more important for you to list your registrations, as a certified member of a professional organization, than to list academic degrees. For instance a person who is a registered yoga teacher who wants to find new students would want to leave her MFA off of her business card.
Note that this real estate agent is a REALTOR, mortgage broker, and certified condominium specialist. These are all important designations and distinctions in the industry.
Again, you may also like the idea of listing your professional certifications on the back of your card, especially if you have quite a few to list. This will leave the front of your card less cluttered and easier to read.
Related: 14 Creative Ways to Use the Back of a Business Card
A Minimal Approach to Listing Degrees or Qualifications May Be Best
You definitely want your business card to be easy to read. An easy-to-read business card makes it easier for people to find your contact information. This is why it is best to keep your list of degrees, certifications, or titles to a minimum. Remember your business card is primarily designed to help people to contact you by phone, email, or website. In fact, by directing your potential clients to your website, you can list all of your academic and professional achievements on your About Page and opt to leave them off of your business cards.
Your academic and professional achievements have been important to the development of your career, even if they are not directly related to your business. But remember, potential clients only need to know about the degrees or certifications that have to do with your current business. Furthermore, perhaps they need only know about what you can offer them and the quality of your work. Taking this into account, design your business card to list these important distinctions in a way that is professional and concise.