How to Broadcast Your Powerful Product Line with Custom Hang Tags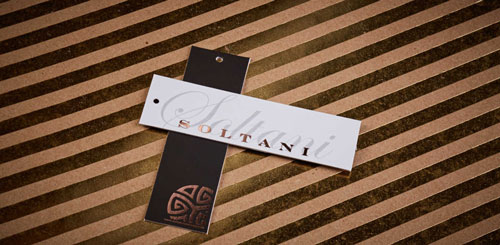 Category: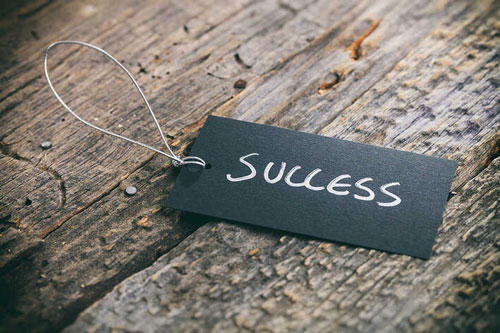 Custom hang tags don't just provide customers with a price for your merchandise; they're also a powerful advertising tool that builds your brand's recognition and broadcasts a specific image associated with it. Customers often make purchases based on your brand's projected image, so well-designed garment tags should not only attract their attention but also provide any vital information they need.
When your company sells a variety of products, fusing your brand into your hang tag design connects everything your company has to offer. Consumers have come to expect hang tags while perusing merchandise at their favorite stores, so use this opportunity to stand out from your competitors.
Related: Why Do I Need a Hang Tag?
What Is a Hang Tag?
A standard hang tag is basically a label attached to your products that includes the price and UPC of the item and sometimes a description of the merchandise. Custom hang tags, on the other hand, provide so much more.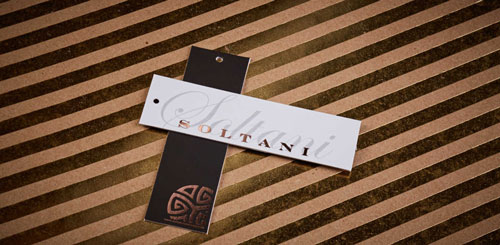 Related: Creative Ideas to Make the Perfect Custom Price Tag
While common on clothing and accessories, hang tags aren't limited to the apparel industry. Just about anything in a retail environment can benefit from a well-designed price tag. Your tags should attract attention while promoting your brand and highlighting the features and/or benefits of a specific product. It's like a mini sales pitch that combines creativity with product promotion and each product is unified with branding.
A Hang Tag's Role In Branding
Branding is essential in promoting your company's worth. While your individual products may come and go, your brand is a constant. As you market new products, customers attracted to your brand may try them simply because you've won their trust and/or loyalty with previous merchandise. Without brand recognition, however, these customers won't be able to differentiate your products from all the rest. Thus, branding makes garment tags more than a helpful informational tool. Your brand may be associated with a certain prestige or perceived value that you should always incorporate into your hang tag design.
Related: Solidifying Your On-the-Rack Brand Strategy Through Garment Hang Tags
Essential Elements of a Hang Tag
The anatomy of your hang tag should include several essential, informational elements. These elements project your brand's image while providing vital information in an appealing way.
The most important element is your logo or brand name. You can't successfully brand your business and its products if you don't include this on every single item you sell. If you have a tagline, include it along with your logo. This helps customers better associate products with your company because a good tagline is often more memorable than just a logo. Consider also including:
1. Your Company's Contact Information
One of the most important things about building a great brand is transparency and positive interaction with customers. Your hang tag could function as a calling card with the phone number, mailing address, and email address of your customer service department if applicable.
With the growing popularity of connecting online, if you have a Facebook page or other social media account relating to your business, include this information, as well.
2. Basic Product Information
Information such as price, care instructions, UPC, materials list, ingredients, or contents can also be helpful on a hang tag. Basic information is especially important if you're a wholesaler and your products are featured in various retail outlets who rely on these details.
3. The Info They Don't Expect
Detailed product information is where your products really stand out. This is a great place for any background story about a product that would appeal to your customers and get them personally invested in your brand. Do portions of the proceeds go to philantrhopic endeavors, or is the entire product made from recyclables? You can include whether it's locally made or sourced, eco-friendly, or anything else that makes this product special. Providing details information to denote why your product is different or better than the competition's is one more way to attract more attention.
Keeping the Customer In Mind
The essential elements of a hang tag you choose to include and every other aspect of your design should reflect the market you want to sell to. Match your graphic elements to the tone you want to set for this market and be consistent for better branding and appeal to your target customer. When you're done, always ask for a proof prior to ordering and ensure your tags are typo-free to avoid costly mistakes and embarrassing situations.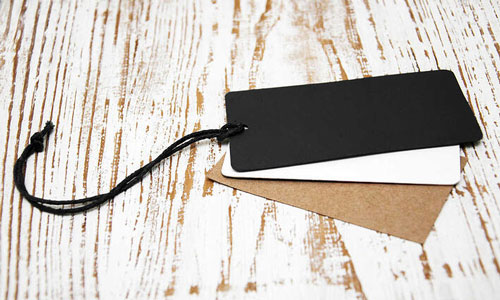 Related: 9 Sure-Fire Tips for Marketing for a Designer Clothing Line
The Hang Tag Design Tips You've Always Wanted
Besides the written copy you want your design to include, there are many other details to contemplate. Every one of these details should be well thought out to make sure your hang tags promote your brand's high standards.
Although budgeting may not allow for the fanciest options, you don't want to chance purchasing cheap tags that might undermine your customer's perception of your products' worth. Go through paper choices, typeface, color options, and even the methods of attaching tags to your merchandise carefully to ensure it matches your overall brand identity. Here are some steps to take during the design process:
1. Choose good paper.
You may get so involved with the message you want your hang tags to send and forget that the paper this message is printed on is just as important. Poor paper quality goes back to the perception that your products and your brand are as cheap as your hang tags. Thick, 16-point paper stock hold up well, and a glossy finish gives your tags a sheen that's more noticeable and often reinforces the perception of high quality. You can also choose plastic tags, which are even more durable, or UV coating for added protection from fading.
2. Analyze your typeface choices.
Like any document, you want an appropriate type and size of font. Choose a simple type and font size that are easy to decipher. You want something large enough to read easily or you could lose a customer's interest quickly. Fonts smaller than 7 points should be avoided. You should also steer clear of using more than two different font sizes to avoid distraction.
3. Pick your colors.
The color(s) you choose should match a theme, preferably matching your company and logo colors. You can set the tone with both colors and images, but you don't want your overall message lost in a clutter of too many visuals. Try to limit color choices to three colors and if you choose to use an image, be sure it also matches your brand to further keep your marketing consistent and your products unified. Remember, smaller size hang tags are limited, so don't go overboard on some of the effects.
4. Don't forget the hole.
A hang tag isn't a hang tag without a hole to hang it. Surprisingly, this is a common mistake when designing a new hang tag. You get so caught up on all the elements that make your hang tag a great branding tool, you forget to leave room for a hole. Typically, holes are cut at 1/8". Be sure your design allows for this space or you could lose important information when the hole is drilled and detract from your overall effect and credibility.
5. Revisit the copy one final time.
When designing your hang tag, each element is important, but none more important than the copy. You're working with a small size, so it's imperative you keep your copy concise and simple. Make the points you want customers to remember and leave out longer, more involved messages. While you could utilize a fold over hang tag and include more copy inside, the extra cost is most likely wasted as a majority of consumers won't take the time to read it all anyway.
Related: 5 Breakthrough Tips for Vibrant and Effective Hang Tag Design
Each element of your hang tag design should appeal to your average customer. Appeasing these customers involves knowing your key demographics and how they respond to your branding. Always keep this demographic in mind when creating hang tag designs. These designs, as well as your color schemes and graphics, should match your brand and the quality of your tags should match the quality of your products, to stand out in a positive way.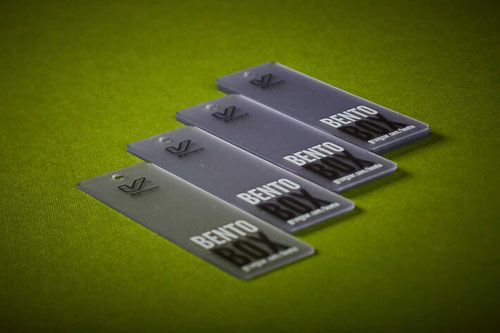 The Possibilities for Hang Tag Inspiration Are Endless
When trying to come up with hang tag ideas for a snazzier design, look at other similar brands in your market and decide what you do and don't like about theirs. You'll also find various marketing strategies in regards to hang tags to consider, such as:
Using Quick Response (QR) codes. Customers can scan these with their mobile phone to learn more about your company or products.
Jumbo hang tags that are more difficult to ignore. This doesn't mean you should just blow up your regular hang tag to fit the space. Instead, create something fresh with additional design elements.
Getting fancy with die-cut hang tags in interesting shapes. Your goal here will be to latch on to something both trendy and more attention-grabbing than plain, square tags. One popular choice are die-cuts in the shape of your logo, which can bring branding to whole new level.
Adding a perforated coupon. This can be redeemed on the customer's next purchase or include some other promotional incentives to encourage them to keep your hang tag instead of immediately throwing it in the trash when they get home.
Your branding is even more powerful with matching hang tags that help customers identify all the products you have to offer. A hang tag design that makes a lasting impression with your customers can be a powerful marketing tool for a more successful product line.