How Thick Is Business Card Stock?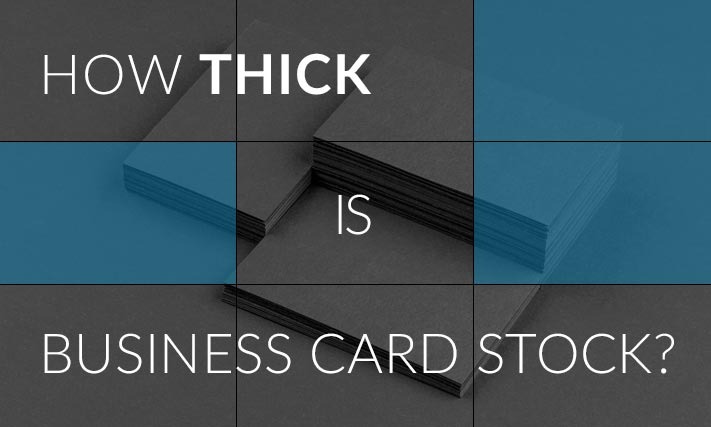 Category:
Business cards help you make a memorable first impression with a new contact. Unfortunately, flimsy business card stock might make it your last impression.
Download the Professional Business Cards Guide
If you are comparing stock options of a business card printer or buying card stock online to print in-house, you'll want to learn about the importance of thickness before making any decisions.
How Thick Is Business Card Stock?
Two of the most common sizes for business card stock are 14pt and 16pt. A 14pt business card is about as thick as a typical flyer, postcard or brochure. These are typically used for mass distribution, especially with media. A 16pt card is somewhat thicker and comparable to a greeting card or a folder, and is the kind most commonly handed out during meetings or mixers.
If you are looking to make an impression with a thicker card, you can also choose from 32pt or 48pt card stock. Both the 14pt and 16pt cards are fairly inexpensive options, but they are more easily damaged and have limited design opportunities in comparison to their thicker counterparts. A 32pt card stock is simply twice the thickness of a 16pt card, while 48pt card stock is nearly as thick as a penny.
How Thick Is Business Card Stock in Inches?
The thickness of business card stock is measured in "points," each of which which are equal to .001 inch. For comparison, a human hair generally comes in anywhere between .002 to .006 inches.
Business cards with a 14pt size are somewhat thinner than 16pt cards and are ideal if you simply need exposure. Traditional 16pt cards are sturdier and are easier to hand out to contacts in-person.
Larger size card stock, such as 32pt and 48pt., are available if you want to expand your design options beyond brighter colors or glossier finishes. Thicker card stock can also use a wide array of textures, which gives them a tactile element that can make it stand out from thinner cards.
Here are some measurements to keep in mind when selecting a card stock:
14 pt: .014 inches
16 pt: .016 inches
32 pt: .032 inches
48 pt: .048 inches
What's the Best Card Stock Weight for Business Cards?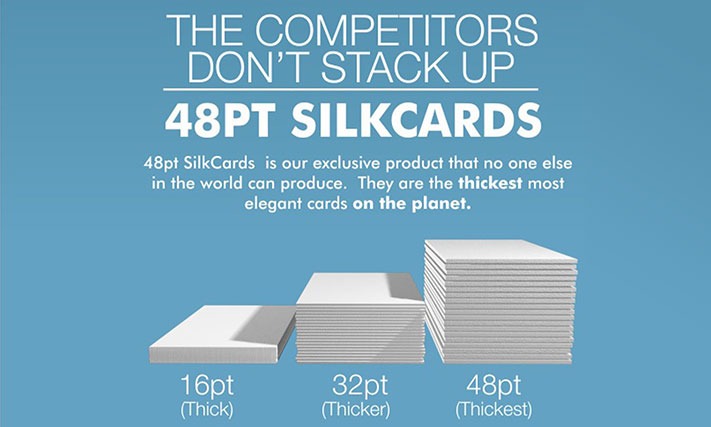 Like many other printers, SILKCARDS offers traditional 16pt business cards, but they can also create 32 pt and 48 pt cards with their proprietary manufacturing methods. These cards have multiple layers into which you can die-cut elaborate shapes and designs without compromising the card's structural integrity.
SILKCARDS' 48pt card is the only one of its kind and provides a sturdy base for whatever designs, colors and textures you can dream of. In addition to serving as canvases, these 48pt cards are also one-of-a-kind keepsakes that can dazzle your new contacts.
You'll never have to worry about someone forgetting about your card with one of these:
Single Layer: 16pt – The thickness of a standard business card, these are ideal when volume is a necessity and you want to save on costs. While they are more affordable, they offer limited design choices and are less sturdy than thicker alternatives.
Double Layer: 32pt – A thicker card stock allows for crisp, clean die-cut designs without losing structural integrity. These are more expensive than 16 pt cars but offer a wider array of design possibilities than thinner cards.
Triple Layer: 48pt – Available only through SILKCARDS, 48pt card stock allows for elaborate cuts, deep imprints, vibrant colors, a wide variety of textures. These are more expensive than the others, but can be memorable for any contact who receives them.
Business Card Thickness Comparison
When it's time to impress a new contact with your business card, you don't want to give them one that is damaged. A thicker business card has improved survivability, making it more likely that a new contact holds onto it and contacts you later.
In addition, a thicker card allows for a much wider variety of creative design choices which traditional business cards simply can't offer.
A thicker card stock can also show how much you value each person who receives your card. Each card becomes a keepsake you give to contacts, who may be more likely to keep your card for longer than a thinner one.
These can add a unique flair to your company's marketing efforts, which is important if you are working in a saturated field.
Choosing a thicker card stock could be your best option if you are trying to make an unforgettable first impression. Thicker business cards present a wide array of new marketing opportunities which businesses are only now starting to harness.
You can use this to your advantage and place yourself top of mind with whoever receives your card.