Can Lawyers Have Creative Cards & Be Taken Seriously?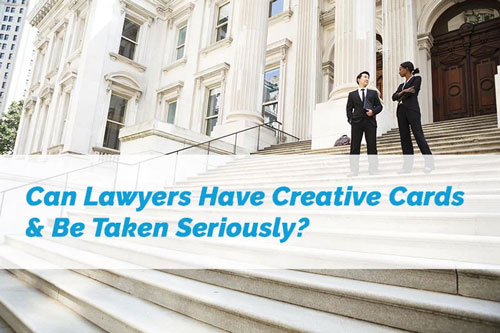 Category: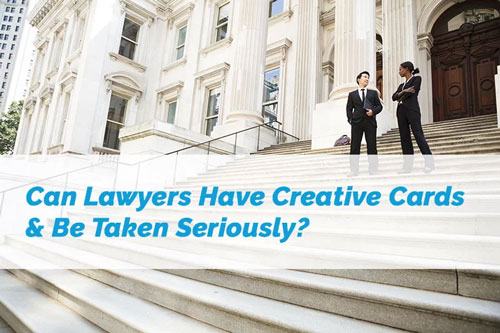 A good reputation takes years to build and can take just a few minutes to destroy. As a lawyer, you know that maintaining a professional image is important, but how do you balance that with a desire to stand out from others in your field and express your personality?
As a Lawyer, Will I Be Taken Seriously With Creative Business Cards?
Well, that depends on your definition of "creative". If your idea of standing out is offensive, cheesy, or downright unprofessional… then no. If by creative, you mean visually interesting and clever, then yes!
Keeping Your Target Customer in Mind
Remember that while creativity and self-expression are important, you must adhere to what resonates with your ideal client and what they expect to see in your marketing materials. Many aspects of law are extremely serious, and potential clients may not appreciate you making light of their situation.
Following Strict Ethics Restrictions
Lawyers are held to a certain standard of ethics which dictates not only their behavior, but their marketing as well. The following guidelines can be seen as a hindrance to creativity, or an inspiration to be even more creative!
Avoid false or misleading communications

: Terms like "expert" or "specialist" are often professional designations that require certification.

Truthfully represent your name and law firm

: Make it easy to read and use the same name on your licensure

Be clear about virtual offices

: If you work out of a virtual location, say that you are available "by appointment only" to avoid confusion.

Disclose your jurisdiction

: What state are you licensed to practice in? Is it different from where you are located?

Content should be factually substantiated

: Avoid using terms like "top" or "best" as these can't be proven.
How to Pull Off Creative Business Cards in a Serious Industry
There are a few ways to ensure that your business cards uphold your reputation while helping you stand out:
Avoid Clichés
Nix the scales of justice or the gavel. You won't stand out, you'll just drown in the sea of lawyers using clip-art.
Skip the Legal Jargon
You aren't trying to impress other lawyers with your knowledge of legalese; you're trying to help potential clients feel like you will listen, understand, and represent them.
Use Striking Visuals
Your title and terminology may not be bold and exciting, but that doesn't mean your business card can't be. Choose strong colors or designs that appeal to the eye and reflect your personality.
Break Expectations with Higher Quality Printing and Design
Business cards are an investment in your business and your future. They are often the first impression you get to make to a potential client, so you want to stand out from the crowd and stick out in their minds.
Poor quality will always trump even the best design. SILKCARDS business cards are thick, laminated, tear and water resistant, attractive, and affordable. These business cards allow you to promote your brand with a creative look while avoiding a potentially off-putting design or message.