Business Card Design for Makeup Artists: Your Art Lives on Your Card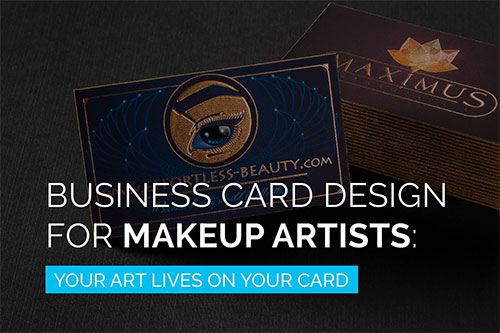 Category:
>
Aesthetics reign supreme in the beauty industry, and first impressions matter. When clients are deciding who to book, they want to see creativity, artistic talent, and a sense of style that jives with their own — and there's no better place to look than on a business card.
As a makeup artist, you know that aesthetics matter to your clients. A business card is the perfect opportunity to make a good first impression by putting your aesthetics front and center. From metallic finishes to pops of color, don't be afraid to get creative — potential clients will take notice.
Your profession is an art, so your business cards should be works of art, too. You'll want to make strategic design choices while staying true to your unique style.
To get you inspired, here are some examples of makeup artist business cards, and what they do well:
A textured, metallic finish makes this business card stand out, while the gold and black palette communicates glam and elegance. The logo is front and center, and the different fonts add interest while still playing well together.
This card features hand-drawn calligraphy from the artist, in a cute, whimsical font. Together with the watercolor paint design, it evokes creativity and fun.
The lipstick image is fun and gives a pop of color, while the accent font evokes brushstrokes — perfect for a makeup artist.
Black and white doesn't have to be boring! This card places emphasis on the brand name and logo by sticking to a minimalist design, and makes a lasting impression with a velvet finish.
This card makes good use of a pop of color against black and white, and pairs a simple, clean font with the bold, eye-catching brushstroke font for the initials.
This card is perfectly on theme, and manages to utilize colorful illustration without being too busy.
White and gold marble is a trendy aesthetic, and this card adds an elegant, vintage floral design to the mix without detracting from the geometric logo.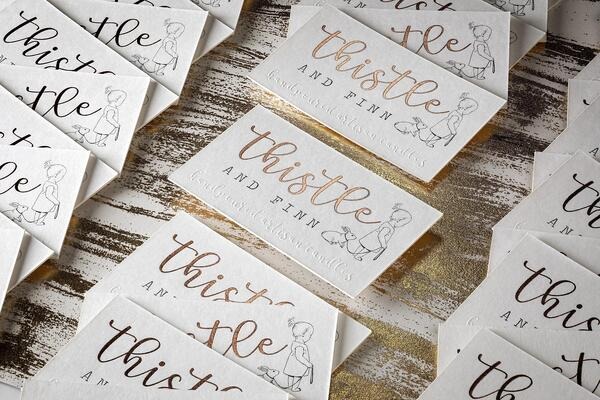 Die-cut, contrasting fonts come together with eye-catching rose gold foil to make a bold, memorable card.
Think about your aesthetic as a makeup artist. Is it bold and bright? Soft and subtle? Vintage-inspired? Modern and trendy? However you describe it, incorporating your style into your business card is a great way to showcase your creativity, introduce potential clients to your unique point of view, and make a lasting impression.
Want to attract clients with business cards that capture your style? Contact us!