9 Colossal Business Card Mistakes You'll Never Make Again!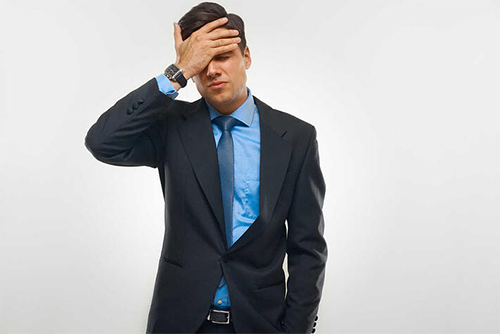 Category:
These days, designing a truly effective and aesthetically pleasing business card can be quite a challenge, especially for those who have never had quality printed marketing materials before.
9 Costly Errors to Avoid While Designing Your Business Cards
In today's market, most companies spend top dollar on efficient advertising tools that could help them achieve their business goals and strive to come up with the best ideas for their business card design. If you are currently in the same situation, take a closer look at the following nine business card mistakes that you should avoid to create the most practical and attractive print materials for your company.
1. Opting for an Inadequate Business Card Style
Black writing on white background is a foolproof recipe for success in business card design for conservative industries such as accounting or engineering. If their owners were to opt for a more eccentric approach, the delivery would seem confusing and distract from the services, brand and persona they should be projecting. On the other hand, people in a more creative field, such as entertainment or graphic design, could go for avibrant, unexpected color combo or other unexpected conventions.
2. Thinking That More Is More in Business Card Design
Overstuffing a layout with a plethora of graphical elements and tons of information is a common mistake that many business owners make. Keep it simple and say yes to a minimalist design to make your contact info stand out. The easier to read, the better.
3. Oversizing the Logo
In the shadow of an oversized logo, your contact information and calls to action may have a reduced impact on your audience, and any font or other elements would have to be smaller in order to fit on the limited space you're working with. This impacts readability and clutters the card.
4. Vague or Misleading Branding
Vague information and the lack of a strong, compelling tagline are only two of the elements that may lower the efficiency of your branding strategy. If your card doesn't help the recipient figure out what you do in a matter of a few seconds, you shouldn't hesitate to adjust its design to showcase your contact details, assets and involvement in your industry.
5. Ignoring Important Information
Whatever you do, do not ignore key channels for contact methods. In other words, make sure your business card lists the information that your prospects are more likely to use to reach you. Your email address, phone number and website are key elements that should always be displayed on your card.
6. Neglecting the Importance of Supporting Text
In order to create a long lasting impression and convince your prospects to get in touch with you, you will need to offer them more than your contact information. Boost the practical value of your cards by adding hooks in the form of a clever tagline to convince recipients to respond to your calls to action.
7. Going for Unconventional Materials, Shapes and Sizes for No Apparent Reason
Unless you operate in a saturated or creative industry, such as advertising or music production, refrain from choosing odd materials, shapes and sizes for your cards. While the thought of surprising your clients with oversized business cards made of chocolate may sound tempting, such promotional materials won't deliver a high return on investment in the long run. In other words, after eating the fancy chocolate strip, your prospects will most likely forget everything about you.
8. Relying on Unnecessary Bells and Whistles to Draw Attention
Everything on your business card should serve a purpose. Any adornments such as 3D elements, glitter, rhinestones and exotic fabrics should be used in conjunction with your brand rather than competing against it. Make sure that any high-end design elements only enhance and help the readability of your contact information. Going all out for the bells and whistles is a great way to be memorable but only when executed in a way that showcases the value you already provide with your brand.
9. Wasting Valuable Space
Last but not least, don't waste any valuable space while designing your business cards. The back of the card can and should be used as well to convey an important message about your brand. In this blank area, you could display a QR code or link to your website that your prospects could use to land on your pages and fill out a form to benefit from a discount or a freebie.
Avoid all these big business card mistakes by getting the best design ideas from 4colorprint.com and putting them to good use to come up with stunning print marketing materials.