What Should be on a Business Card for a Student or Recent Grad?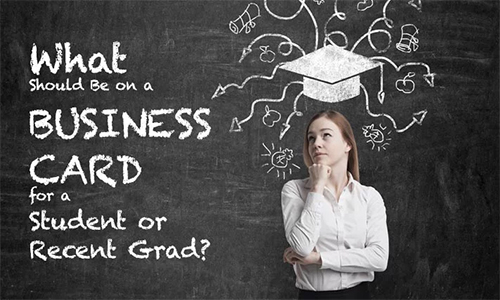 Category: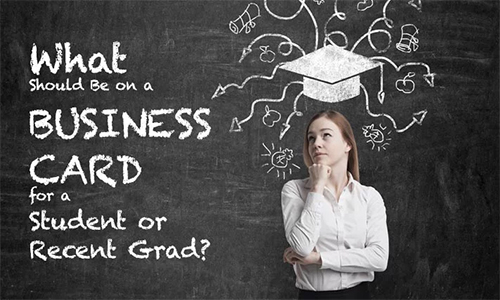 Starting out in a new career can be intimidating, whether you are about to graduate, entering the workforce, or embarking on a new career adventure. Now is the perfect time to begin flexing your networking skills.
Now, we all know that effective networking is important to finding work. In fact, it's just as important for finding permanent positions as it is for finding freelance jobs
Across all industries, the art of marketing one's self is the best indication of future success. Business cards are a simple self marketing tool to share your contact information with important people as you build your network.
What to Put on a Business Card for a Student Who Is Seeking Employment
If you haven't yet graduated or haven't yet worked in your field you might think business cards are not right for you. This is a common misconception. Business cards are an inexpensive way to market yourself starting now.
If you are still in school, there is no reason to wait until graduation to begin networking with professionals. Many companies are seeking newly graduated individuals to bring new perspectives to their industries.
Focus On What You Do
For most professionals, business cards tend to list job titles or degree status. Since students have not yet graduated, it is better to simply list your qualifications and skills.
For instance, if you are a journalism student you can list your titles held at your college newspaper. If you are an engineering student, list your special focus (ie computer systems management or civil engineering).
Be sure to highlight those skills that best suit your career path. Your CPR training may not be a desirable skill to mention if you are seeking employment at a graphic design firm.
Just Include Your Contact Info
Then again, you might not have a huge list of pertinent skills to put on your card. Don't be troubled if it is difficult to determine what skills would be impressive.
Remember, the most important information on a business card is your contact information. As you find yourself networking with others in face-to-face meetings, you'll see that you'll be able to explain a bit about who you are and what you do.
At that point, your business card will be all that particular potential employer or client will need to find you later for work.
Get Creative
Since you don't have much career experience to draw from, you may find that your business card lacks a lot of information. This is not a bad thing!
Again, the most important parts of a business card are your name and contact information. But, there are also many design elements that can make even the sparsest business card look impressive.
Have fun with color pictures or gold foil elements. Perhaps you could choose a different shape of card so that it really stands out from everyone else's plain white rectangle.
Even creative fonts can bring attention to your card, and ultimately to you. Have fun designing your card and use your creativity to showcase your talents.
What Do You Offer?
As someone who is new in the workforce, you have a lot to offer potential employers and clients. But it is up to you to figure out the best way to showcase your talent and drive to others.
Begin by asking yourself what innovation or service you provide that others cannot. Maybe you have previous work experience in another field which gives you a unique perspective within your new industry.
Everyone has something unique about themselves. Once you figure out what makes you different from others in your field, use it to your advantage by telling your network connections what makes you valuable.
---
So whether you are starting out in a new career or just starting your career, there are many ways you can use business cards to your advantage. Remember to list any skills and accomplishments that are pertinent.
Also, the most important part of your business card is your name and current contact information. A creatively designed card is always a great way to stick in someone's memory. With these tips, you will find that business cards will be an asset to you in building your network and achieving your first job offer.