Interior Design, Branding and the Influence on Your Company Culture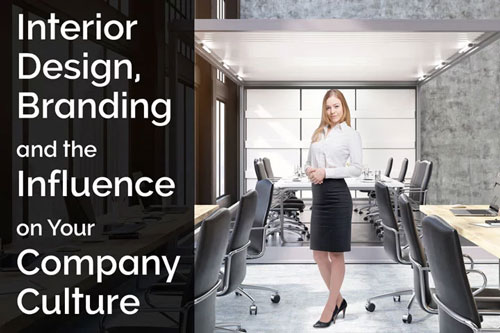 Category:
Tying Interior Design, Branding Together
While this creates a cohesive impression to those visiting your brick and mortar business, it's important to incorporate the new brand everywhere that a potential client or customer will see your name, product or even business associate.
Your corporate offices must be part of your complete branding plan.
Social Media Is Everywhere
Your social media department is probably sending out tweets, posts and pics from the comfort of their cubicle or while wandering around the halls at the office. Yes, they have successfully established a relationship through clever phrases and images of products.
Your avid customer though, will see beyond the item and take in the decor, office structure, dress code and (possibly) even the water cooler!?!
These first impressions affect how they perceive the company beyond the service that you provide.
Free Advertising Space
By infusing various marketing promotions with company culture found in the office environment, you can potentially raise the number of impressions on social media. That is, if your employees are working the internet connection by:
Visually showcasing the use of new products by company staff
Promoting in-office seasonal promotions and events
Highlighting community involvement
This not only raises interest in the content of your social media posts, they're also cost-effective opportunities to expand the reach of any campaign.
Public Appeal Translates into Happy Employees
When designing your retail environment in relationship to your brand, considered traffic flow and the ability to draw a customer deeper into the building through use of:
Art
Promotion
Light and Sound
Colors and textures selected influence positive effects on a person's psyche. In short, you make a happy place to be. Was the same thought given to the work environment of the office?
If the workplace is a dull, cubicle filled box appointed with beige and grey, would it inspire a person to work harder and seek inspiration?
Not only does a grim workstation lower the employee's productivity, it starts to eat at the public persona of the business.
If your office decor reflects that of your brand featuring spark, color and energy, it starts a self-fulfilling move towards the expansion of the brand. Workers will want to share their open and creative environment.
Through social media, your customers will perceive it as a good place to work and therefore a company that they want to support.
Your Words Become the Corporate Action
Branding is often simply perceived as an eye-catching collection of a:
Title
Font
Color
Catchphrase
Combined, these elements can be used repeatedly to hammer the existence of a company into the public consciousness. However, a successful brand goes far beyond that simple goal.
It should also encompass the philosophy of how you approach business and the way you will relate to your client base.
By including design elements and actions grown out of your brand into your office environment you will reinforce public and private perception.
This in turn will send your entire business in the intended direction created through the branding process.