How to Manage Your Tattoo Shop's Online Reputation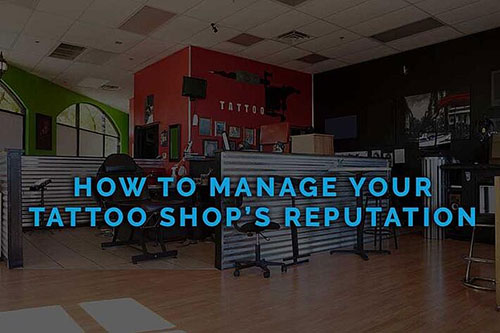 Category:
Sticks and stones only break bones, but poor online reviews can kill your business. Maintaining your business's online reputation is critical to its long-term survival. Poor reviews can sour potential clients on your parlor before they ever set foot in the door. If one manages to go viral, it could be a matter of weeks until you have to close your doors.
Keeping on top of your online reputation is easier than you might think and can bring immediate benefits to your business. Learning why people leave bad reviews and how to mitigate them could give you an advantage over competitors and just might save your business from trouble.
Related: The Anatomy of One Bad-Ass Tattoo Shop Business Card
Common Reasons Why People Leave Poor Reviews for Tattoo Shops
Long wait times
No transparency for pricing
Poor quality work
Rude customer service
Infection or irritation a few days later
Inexperienced artists
Artists inking without clear idea of customer needs
Freehand tattooing
Artists pressuring clients
Tips for Keeping These Issues at Bay
While some problems parlors face require personnel changes, such as hiring more staff for faster service, others have simpler fixes. Poor client communication is the source of many problems but is one area where you can quickly reduce complaints and improve service.
It's easy to forget, but there is a great disparity in knowledge between your artists and their clients. Educating clients about tattoos and listening to their concerns can prevent many complaints from arising. Failure to do so could make your artists seem rude or disinterested in client welfare. You could also give clients tattoos that don't match their expectations.
Related: 6 Things You Can Learn from Ink Master as a New Tattoo Artist
Your artists should talk to their clients to find out what they want before they start inking. A client's design might not easily translate to skin and may look much different in ten or twenty years. Your artists should explain why and offer possible modifications. You may have to work even closer with clients who do not have designs. Your artists should also educate clients about proper tattoo care, which can help them avoid infections early on.
Unclear pricing can also hamper your business. Clients could face sticker shock and take their complaint online if you aren't transparent with the costs for your services. Clients should know the rates for their artist and should receive an estimate before they get their tattoo.
How to Manage Your Tattoo Shop's Online Reputation
While word of mouth alone was enough to keep tattoo parlors alive in the past, today many people rely heavily on online research when deciding where to get their tattoo. If you have a bad online reputation, this will negatively impact your business and by scaring potential clients away.
Related: 10 Tattoo Shop Promotion Ideas to Get People Amped About Ink
One way to cultivate a strong online reputation is to encourage customers who loved your services to leave glowing reviews online. A strong review serves as free advertising and could even go viral, bringing you even more business. You could offer rewards to customers who leave reviews and thank those who do, which can help to build client loyalty.
If your parlor has negative reviews online, it's crucial to respond to them and resolve the issues raised by reviewers, if possible. This shows that your business cares about client satisfaction and may even prove some of the poor reviews to be unfounded.
Responding to Bad Reviews
As the importance of online reviews grows, so does the potential damage each bad review can inflict on your business. Sites like Yelp are visited by hundreds or thousands of people in your area daily, which means it doesn't take long for bad reviews to start affect business. Poorly done tattoos can scar your clients and your business for life when shared online. Each bad review can stay up for years, slowly poisoning the pool of clients you can draw from, making it vital to resolve negative feedback as soon as possible.
Respond to bad reviews promptly and respectfully. Empathize with the reviewer and apologize for any distress or damages caused. Avoid being defensive as this can only go against your favor. If appropriate, you may also give more context to the reviewer, which might help clear up miscommunications which may have led to the poor review. Even if the reviewer does not remove their post after your intervention, other visitors can read the thread with your responses and can see that your business cares about client welfare and took time to make amends.
Related: 7 Insane Body Piercing and Tattoo Parlor Business Card Designs
Cool Ideas to Keep Customers Unbelievably Happy
Provide every client with a take-home care bag
Follow up regularly to see how aftercare is going
Offer free touch-ups
Managing your tattoo parlor's online reputation is vital to the survival of your business. As more people turn to online reviews when making purchasing decisions, the importance of every bad review only grows. However, they can also improve your business if you work hard to prevent them from ever being a problem.
Spread the word about your business with awesome tattoo business cards. Request a FREE sample pack today to see what other tattoo artists have done with our products.