Designing and Printing Die Cut Business Cards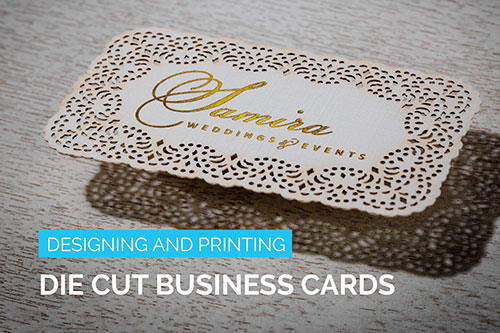 Category:
If you're looking for custom shaped business cards, then die cut might be the best choice for you. But how does die cutting work, and where can you get the best quality business cards made? We're here to help!
In this review, we'll cover:

What are die cut business cards?
What are different ways to cut business cards?
Ideas for designing custom die cut business cards.
Where to buy die cut business cards?
What are die cut business cards?
A die is an ultra thin, razor-sharp steel blade that has been shaped into a custom cutting stamp — kind of like a super sharp, heavy-duty cookie cutter. When paired with a high-power press, this implement can cut through layers of paper, cardstock, labelstock, or other substrates to produce dozens or even hundreds of identical custom-shaped pieces.
Die cutting is popular for making shaped vinyl stickers, door hangers, and (you guessed it) custom business cards.
What are different ways to cut business cards?
Die cutting isn't the only option available to designers and marketers. Laser cutting produces business cards with hyper-precise edging detail. The software that drives a laser cutter can produce intricate cuts that a die can't. However, laser cutting produces one card at a time, and it can become time consuming in large runs.
So what's the difference between die cut and laser cut business cards? Die cutting is most valuable for high volume, low-to-medium detail projects. Alternately, laser cutting is ideal for cards that require superior detail, but it can stretch time estimates for delivery because of the production process requires each card to be cut individually.
A third option, router cutting, uses a machine similar to a table saw to render larger-than-life cuts for permanent and temporary signage. This option doesn't scale well and the cuts aren't especially fine or precise, so it's not especially ideal for business cards.
See the difference for yourself! Request a free sample here.
Ideas for designing die cut business cards
Adding a third dimension to your design unlocks unbelievable creative branding potential. Where do you even get started? Here are some of our favorite ideas:
Stay subtle with rounded corners. Not every cut needs to be a bold gesture… there's a lot of delight in the details.
Use layering to produce cutaways and textured backgrounds. Make your logos and other key features stand out — literally!
Highlight your branding with a creative flourish. Enhance your existing aesthetic with a thematic element, such as a house cutaway for real estate agents or a "bite" out of your restaurant business card.
Where to buy die cut business cards?
In order to look crisp, die cut business cards need to be produced with high quality print materials and precision design. After all, these cards are made to create a unique experience for the recipient — presentation is everything.
SilkCards has been making custom die cut business cards for creative brands since the late 90s. We have the technology and the experience you need to get great results.
Everything you need to know about sizing your business cards for print.