BigCommerce Content Strategist Corinne Watson on Website Strategy for Small Businesses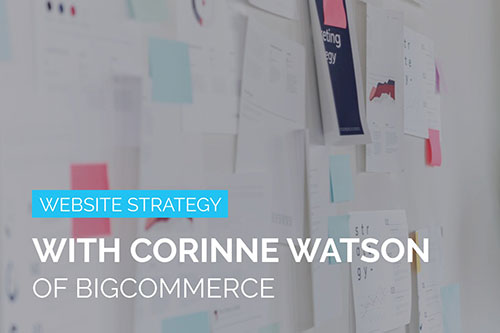 Category:
Corinne Watson is a writer, researcher, and content strategist for BigCommerce, the leading cloud ecommerce platform for growing businesses. She's a pro at helping businesses of all sizes develop winning marketing strategies and design stunning websites, so we asked her for some insight on website strategy for small businesses and entrepreneurs.
What's the most common mistake you see entrepreneurs make when they build their websites?
Before I dive into problems with the website experience itself, there's an issue that affects entrepreneurs from the get-go — which is not building a website at all.
Smaller businesses that are primarily brick-and-mortar (or primarily work with catalogue and phone orders) sometimes don't set up a website until they are forced to by competition or distribution problems.
A lot of this is simple reluctance, but often times people don't realize how easy it is to set up an online presence and start selling products — whether it's by using a marketplace like Etsy or or a direct-to-consumer website like Poshmark.
When it comes to actually building that direct-to-consumer website, I see a lot of entrepreneurs not putting enough focus on the customer experience.
Take a moment to survey your customers. Or if you need a shortcut, put up a heat-mapping app like CrazyEgg to see the journey people go through while shopping on your site. You're likely going to be surprised by some of the paths they take, and some of the areas where they experience friction (like clicking on something that looks like a button, but isn't).
As brands get increasingly sophisticated online, customers will continue to expect better and easier shopping experiences. Constantly test your website, and don't let content get stale.
How have best practices for entrepreneur websites changed over the past five years?
Five years ago, a lot of care went into the design, look, and feel of a website. While that remains important, entrepreneurs are now taking a more technical pass at their website by adding improvements like cart abandonment campaigns and checkout optimizations with Apple Pay, one-click checkout, etc.
In addition, five years ago there was no real set standard around shipping times. The last six months in particular have seen a race to the fastest shipping, with 2-day shipping becoming increasingly standard.
What are some must-haves that entrepreneurs often forget to include on their sites?
A quick way to get in touch with customer service. If you're sophisticated enough to add a chatbot, that's great, but make sure there is still someone on the other end of the line who can answer responses quickly. If you're just starting out, an email address, social media presence, and customer care phone line should do the trick.
Estimated shipping timelines are also standard. The customer shouldn't be left wondering when their product will arrive. At the very least, include a date range — or go out of the way to truly delight a customer by letting them know the exact day a package will arrive, if possible.
Would you say most site visitors care more about user experience or visual design?
User experience, hands down. More websites are actually turning to simpler visual designs (think lots of whitespace, clear product pages) in order to focus solely on the customer experience.
Is it smarter to build a website yourself using DIY platforms, or to hire a web designer or agency?
It depends on your level of experience and the number of products you're selling. If you are an entrepreneur selling a limited number of SKUs to a small demographic of people (a homemade candle company, for example), you're better off starting with a DIY platform and putting off getting the help of an agency until further down the line.
If you're a B2B business or an older, established retail business with a lot of SKUs, an agency's experience will come in handy both as an executor and a consultant. If you need help ideating your brand story or your visual appearance, an agency can help there as well.
What's the first thing a small business should do before starting work on a website?
Survey your customers. Ask them what they would want to get out of an online shopping experience. We all know that a repurchase costs less than a net-new customer — so why not build trust with your existing customers and convince them to buy online first? That way, they can also be your source of feedback as you make continued tests and changes on your website.
How can you measure the success of a website? What are the most important KPIs to track?
Conversions and revenue. Check how many people visit your site and leave without making a purchase. Figure out where in the funnel they left, and why they left. Revenue is important for obvious reasons, but if you are getting the right amount of traffic and the right rate of conversion but your revenue is still off, you need to look at your overall spend and/or your pricing strategy.
—
There you have it! If you're a small business owner or entrepreneur looking to build a website, you're already on the right track. It's important to follow Corinne's wisdom by listening to your customers — they're the key to building the best website for your business.
Take your small business to the next level with beautiful, custom business cards. Get started.