8 Business Card Statistics to Give Your Strategy Direction [Infographic]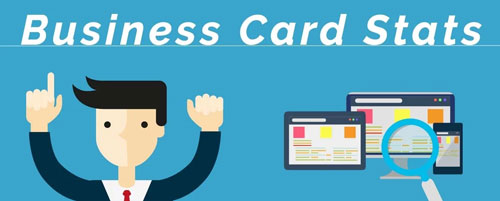 Category:
Marketing is an ever-evolving, ever-changing practice, and making it an effective one starts with making the right choices based on data and ROI. We've found some mind-boggling visual marketing and business card statistics that might change the way you think about some of your print strategies.
Check it out below:

Infographic Sources:
Infographic Summary:
Visual Marketing & Business Card Statistics
38% of people are drawn to brands that provide visually appealing marketing content.
50% of B2B marketers are prioritizing visual marketing this year
84% of all marketing communications is predicted to be visual by 2018
Number of business cards printed in the US annually: 10,000,000,000
Percent of business cards handed out that will be thrown out in less than a week: 88%
Prospective clients hold on to a color card 10 times longer than a standard white card
72% of people judge a company by the quality of the person's business card
39% of people would choose not to do business with someone if they have a "cheap looking" business card
Related: 6 Business Card Printing Methods to Inspire Your Branding Strategy
Is Your Business Card Making the Right Impression?
If visual marketing (colored foil, die cut, embossed) is on the up and up, and people have such strong opinions about business cards, have you put the right amount of thought behind the tiny rectangle that is such a strong brand advocate?
Is your business card one of the 88% that gets thrown out, or do people hang on to it?
Are you capturing the attention of the 72% who use the quality of your business cards to judge your company? In a good way or in a bad way)
Is 39% of your prospects walking away because of your business card?
Related: 4 Branding Mistakes That Are Killing Your Company Image
If 10 billion business cards are printed a year but 88% of those are thrown out in less than a week, what's the point? Increase your business card ROI by increasing the quality of your cards.