6 Effective Direct Mail Ideas for Real Estate Agents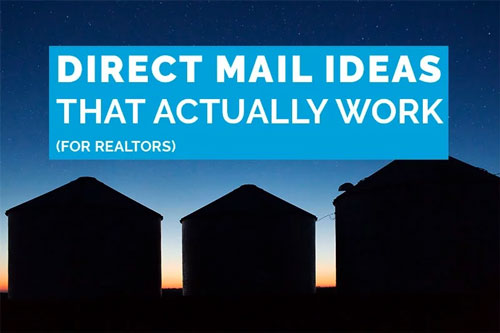 Category: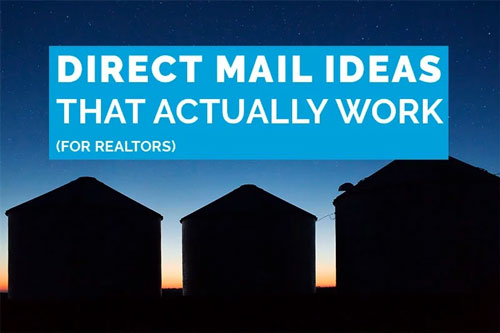 You've learned the hard way how difficult it can be to expand your business, especially in an age where house listings can be found with the click of a mouse. You need connections, people to trust you and recommend your services. How do you build up that kind of clientele? Gain some visibility for your business and try some brand-boasting direct mail marketing or postcards.
Direct Mail Marketing Tips for Agents to Keep in Mind
When designing your marketing campaign, consider these important factors:
Copywriting
Portraits of picture perfect homes are great when advertising your real estate business, but catch your potential customers' eyes with some smart phrases to give them an even better idea.
Targeting Specific Neighborhoods
Be selective about distributing your materials, and use copy specific to that neighborhood to make the best impression. In addition, if you focus on one neighborhood at a time and really saturate that neighborhood with your brand plus your direct mail postcards, the repetition of seeing your ads will plant the seed in your customers' minds.
Related: 5 Simple Strategies to Find the Right Real Estate Clients
Maintaining an Active Social Media Presence
Facebook, Twitter, and Instagram are this generation's main source of information. Don't forget to provide links to your accounts (and create them if you haven't already) so they can keep track of your available listings. You might even be able to reach new clients when past clients interact with your posts.
Related: Why Is Social Media Crucial for Getting Real Estate Leads?
Getting Quality Direct Mail Materials
Don't be afraid to splurge on your design. A cluttered advertisement will turn a potential client's eye away rather than pull it in.
Direct Mail Ideas for Real Estate Agents
First impressions matter. When someone's first impression of you comes from a slip of paper, make yourself stand out. To do so among the sea of real estate postcards floating through the mail, try a few different strategies.
1. Open House at the Office
Before you offer your services, offer people a chance to get to know you! By inviting them to your office for food, chit chat, and maybe a couple freebies (some water bottles, pens, string bags—anything with your logo stamped on it), they'll see you as a person rather than a faceless advertisement.
2. Use an Incentive for Responding
Before they have the chance to toss your card in the trash, give them a reason to keep it: offer a free lunch, coffee, or coupon if they meet you in your office with the ad in hand.
3. Reach Out to Buyers
While most agents vie for the sellers' attention, change the game and advertise to a potential buyer. They may already own a house, but that doesn't mean they're happy there. This is where learning your demographic comes in handy. Recent parents and empty nesters are perfect buyers.
Related: How Do I Market My Real Estate Business Without Being Pushy?
4. Target Apartment Renters
On a similar note, take a break from your regular neighborhoods and focus on a different demographic. The chances are that someone living in an apartment might be looking to buy their first home.
5. Use a Fun Card Design
Don't just aim for pretty with your mailing materials. Have some fun with it—borrow a familiar font to make your card pop out from the rest of the mail. Advertising to families? Try a cute, Disney or Nickelodeon design to make your business seem friendly. Bachelors might be drawn to a design resembling a local sports team.
6. Use Homey Photos
As enviable as a pristine house sitting atop a Crayola-green hill looks on paper, the face-front house photo has become stale. Rather than picture a staged room with untouched furniture, add some realism to your photos. A lit fire, a sleeping pet, or a table set for dinner will give your cards a more softer, more welcoming feel.
Related: 17 Real Estate Business Cards That Close Deals
With real estate postcards becoming as widely used as they are, you as a real estate agent need to boost your business's originality and reliability. By getting creative with your advertising methods, you'll reel in customers in a way impersonal marketing materials don't.