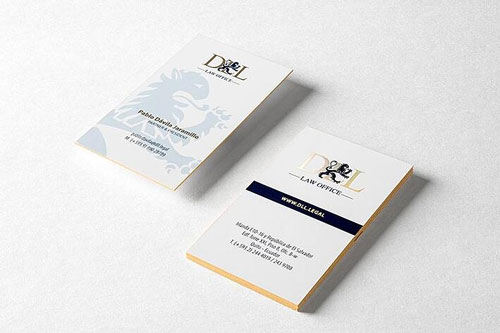 If you're creating your business card, you may be worried about advertising restrictions. Including content like your email address, business slogan, and social media information could have ethical implications. This can be frustrating to a lawyer who wants to get his or her name out there, but by following the rules of conduct below, you can easily design a business card and ensure you're still in full compliance.
Attorney Business Card Rules
All states have a code of conduct that applies to communications such as business cards. To avoid violating ethics rules and misrepresenting yourself to a client, it's essential to follow the guidelines closely.
Related: 3 Things a Lawyer Can Do to Grow Their Referral Network
Rule #1: Avoid False or Misleading Communications
Business cards shouldn't include false or misleading information about you or the services you offer your clients. For example, if you describe yourself as a "specialist" or "expert" in your field, you should know that most states have rules about using these terms. You may need to be certified to apply those designations, or you may need to add a disclaimer to your business card that indicates that certification is not required to practice law in your state.
Rule #2: Truthfully Represent Your Name and Law Firm
On your business card, it's best to use the same name that you used for licensure. However, some states may accept variations of the first name, such as a nickname, on your card as long as it doesn't mislead your identity.
Related: 4 Rules of Smart Business Card Etiquette
You should also ensure the law firm name on your business card isn't misleading. It is a violation of the conduct rules for attorneys to imply that they practice in a multi-lawyer organization if they're in fact a solo practitioner. For example, using "Smith & Associates" as a law firm name on the card would be an ethical violation if the lawyer doesn't have any other licensed attorneys who work with his or her practice. If you are associated with an organization, you do not, however, need to disclose your relationship to the firm as long as your card clearly depicts that you're an attorney.
Rule #3: Be Clear About Virtual Offices
If you have a virtual office, it's important to avoid misleading clients who may think you have an actual office location. Your business card should have that the office is available "by appointment only."
Rule #4: Disclose Your Jurisdiction
If your firm is located in a state where you're not licensed to practice law, you must indicate this on your business card. Simply disclose that you are not licensed to practice in that particular state but are licensed to practice elsewhere.
Rule #5: Content Should be Factually Substantiated
Comparative statements should not be included on business cards if there's no way to prove them to be true. For example, if you have a slogan that states "Top Attorney in New York," this would be considered misleading and be in violation of the ethics rules. The same rule would apply to email addresses and social media handles. With that in mind, if your email address is something like "www.bestpersonalinjurylawyerinohio.com," it shouldn't be included on your business card.
Related: Can a Business Card Give You Confidence?
Creating a Lawyer Business Card That Grabs Attention
It's simple to create an interesting business card without violating any of the above regulations. Include basic facts such as your name, address, and telephone number. To help ensure advertising compliance, it's also a good idea to avoid superlative adjectives such as "best," "top," etc. when including a slogan, email address, or social media handle.
While the language may be cut and dry on your business card, the design doesn't have to be. Show off your style with premium business cards from SILKCARDS, and ensure your clients remember your name when they need legal help.