5 Industries That Should Absolutely Use Creative Acrylic Business Cards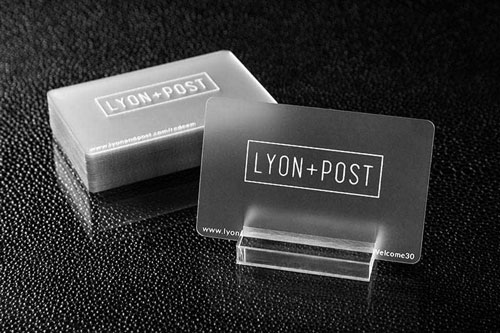 Category:
Companies operating in oversaturated markets know just how important it is to invest in quality promotional materials that reinforce their brand image and fuel their competitive edge. It's becoming essential to apply clever and creative ideas to business card design simply to stand out from the competition. Over the past few years, creative acrylic business cards have become widely popular and accessible due to their exquisite appearance, versatility, durability and cost-efficiency.
5 Industries Where Acrylic Business Cards Always Make a Powerful Statement
Available in different shapes, sizes and colors, plastic and acrylic business cards are an excellent choice for different sectors. Here are 5 industries that should consider opting for ingenious, customized acrylic business cards to stun their clients and prospects, create an amazing first impression with less effort, and show their products or services in the best light.
Related: How Letterpress and Silk Cards Can (Literally!) Make an Impression in a Saturated Market
1. Fashion
Most emerging designers spend a lot of time researching and implementing the best marketing strategies that could enhance their visibility online and offline. Some of them have already acknowledged the importance of acrylic business cards, which are an ideal medium for bold hues.
By putting a full-color acrylic business card next to its full-color paper counterpart, you will notice that the colors of the acrylic card are far brighter and more vibrant than the ones displayed by the paper surface. Therefore, if you want to create and maintain a positive brand perception, and reaffirm yourself as the entrepreneur behind colorful, youthful collections, invest in trendy acrylic business card designs matching the image of your brand.
2. Cosmetology
The same strategy can be applied by makeup artists. Think of acrylic nail products: the first thing that comes to mind is that hard and glossy texture. Considering that acrylic can help you impress clients and prospects with a rainbow of vibrant colors, you could use this material to design exquisite business cards that display your contact information and also reveal your most recent masterpieces. While paper-based cards may rob your work of some of its beauty, acryl will amplify it, making it easier for you to stay relevant and competitive in this field of activity.
Related: 5 Simple Tenets of Memorable Business Card Design
3. Graphic Design
Laser-cut and engraved plastic business cards are an invaluable asset for graphic designers who wish to highlight their creativity in a minimalist, tasteful manner. In this case, the material of choice commands attention and can eliminate the need for contrasting colors and images that may distract the recipients' attention from the listed contact information.
4. Photography
Photographers are constantly looking for new ways to market their talents and expertise. The most prominent names in this creative industry go beyond conventional materials and overdone design concepts when it comes to updating their business cards. Instead of lowering the readability of their contact information by adding a plethora of colorful images, some of them go for clear plastic cards, and use this material to send a clear message about their vision, purpose in business, and mission.
For instance, a photographer could create an original business card that could be creatively used as a camera lens. In this case, an inspiring creative concept meets the most versatile material available on the market and a passion for minimalism to underline a photographer's individuality and excellent taste and style. This clever approach will wow clients.
5. Construction
It's no secret that paper cards are not always the best option at hand for people with "dirty" jobs. Plumbers, construction works and landscapers are only a few categories of professionals who should consider ordering plastic business cards for their great look and durability. These products preserve their flawless appearance even when they are being handed over by dirty hands.
Plastic always turns out to be a smart choice in the long run, given that it is not susceptible to water damage or premature fading. In addition, many people in the industry have made designs that could be used as rulers or other multitools in order to increase the card's value to the prospect receiving it.
Discover the Unmatched Beauty and Versatility of See-Through Business Cards
See-through business cards are great tools for companies operating in any sector. These items combine extended durability and resistance with cost-efficiency, versatile materials and innovative printing techniques to help business owners attract as much attention as possible and give recipients a good reason to hold on to the cards that they have just received, instead of throwing them in the trash.