3 Famous Brand Failures and How to Avoid Their Mistakes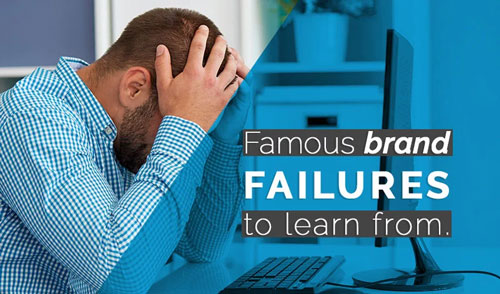 Category: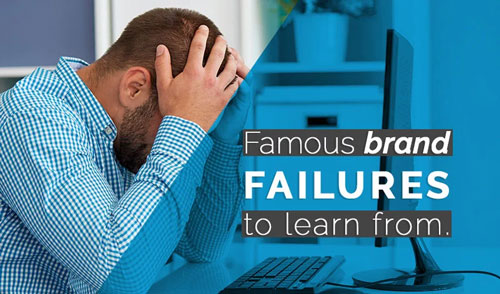 We all learn from mistakes. In the marketing world, it's far better practice to learn from someone else's mistakes rather than put your own brand failure out there for the world to revel in. Naturally, the bigger the brand, the larger even the most minor of "oops" can be. That's why it's important to build and maintain your brand by partnering with a marketing team and professional design service if you don't have one in-house.
Famous Brand Failures to Learn From
To help you navigate life's book of Lesson's Learned without compromising your own company in the process, take a page or two from these big boy blunders, and check out what not to do when you want to make a name for yourself.
Related: 4 Branding Mistakes That Are Killing Your Company Image
1. Hoover in the U.K.
"Overpromise and under-deliver" isn't a phrase that's going to get you very far in life. Just ask the folks who were formerly employed as top marketing execs at the U.K. branch of Hoover vacuum cleaners. Failing to see how offering free flights with any purchase over £100 could possibly create an angry mob, the company set off on its epic fail.
Of course, it didn't take the public-at-large to do the math, and folks started buying vacuum cleaners in bulk while simultaneously accumulating free flights (including those which were part of the extended promotion, which offered flights to the U.S.)
Related: 7 Strategies for Protecting Your Brand Online and Offline
The company canceled the promotion, but the mayhem had already ensued. A pressure group was formed and the members became shareholders. It took £50 million to try to fix the fail (along with a complete firing of all the top marketing folks), and the board eventually ended up selling the company.
Lessons Learned:
Never promise more than you can deliver.
Don't let your eyes get bigger than your budget.
Set controls and know where you need to keep your numbers before you launch your marketing campaign.
2. Nike in Flames
In 1997, Nike created a new logo for its basketball shoes that was meant to represent flames. Some concerned Muslims warned that the logo actually appeared to read as the word "Allah" in Arabic script. Nike disregarded the warnings and proceeded with production anyway. As time went by, a global fire was set that resulted in the recall of 38,000 pairs of shoes. The brand also apologized by way of a $50,000 payment to an Islamic school.
Related: The Never-Do List of Logo Design Mistakes
Of course, this was before the days of Twitter and cyber-everything. Had this happened in today's world, the disaster could have gone to new heights.
Lessons Learned:
If you receive warnings of offense from people of other cultures, religions, or languages, listen to them! Take their input to other teams of individuals and a/b test their feedback.
Act immediately. The internet waits for no one. If you step in an epic fail, put on your reputation management hat right away.
Have a backup. Be sure to have alternative designs and campaign options in case you need to scrap your first choice last minute.
Related: 3 Brands That Are Crushing It in the Apparel Industry and Why
3. Oprah's Free-Car Giveaway
What's the quickest road to terrible publicity? Give away free stuff that costs your lucky winners a boatload of cash. Oprah's freebie faux pas is one the most infamous of our time, causing plenty of negative publicity that's still talked about 12 years later.
When she generously gave all 276 members of her audience free cars, people not only paid no attention to the Pontiac brand being promoted (fail #1), but she also cost each person around $7,000 in taxes, which many people simply couldn't afford. The giveaway left a bad taste in her followers' mouths, and Pontiac didn't exactly gain much from the stunt, either.
Lessons Learned:
There is such thing as bad publicity. If you want to be remembered for something, shoot for a positive impression.
Consider all angles. Free giveaways that aren't thoroughly thought-out can come back to bite you big time. If you're giving something away for free, make sure you've picked up any related charges (such as flights, accommodations, and taxes) or your faithful followers may end up resenting you.
Related: 5 Small Business Promotion Ideas You Can Get Behind
The Importance of Building and Maintaining Your Brand
The inception of social media has amplified companies' vulnerability when it comes to creating lasting impressions of the bad kind. If you're heading to a branding brainstorming session sometime soon, be sure to approach your ideas from as many angles as possible. Group think and unintentional oversight of details can lead to long-lasting brand damage.
Related: Why Brand Management Takes Continual Effort and What You Can Do About It
What's your ultimate big brand blunder? Share your favorites with us in the comments below or connect with us on social media!