13 Examples Of Company Mission Statements (Is Yours Next?)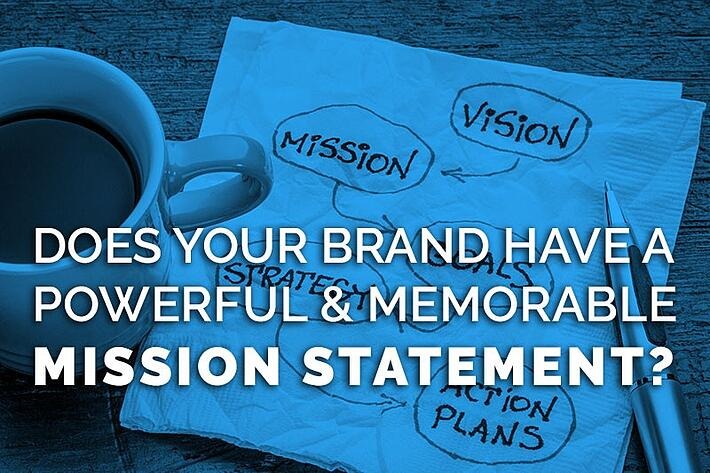 Category:
As a business owner, you not only need to inspire your customers to buy from you, but you must also inspire your employees to bring their best selves to work every day. To do this, you must clearly communicate to your team what your company is all about (your brand) and what you plan to achieve as an organization (your goals).
Related: Company Taglines: Integrate Your Business's Strength in Its Slogan
The Importance of a Clear, Custom and Interpersonal Mission
In order to communicate your company purpose to your customers, your employees, and yourself, you need a mission statement. The statement outlines the direction that your company is moving in and the goals that you hope to accomplish. When you've done it properly, employees and customers should be able to read your mission statement and understand why your company exists and the need that you were created to fulfill.
The Difference Between a Mission and Vision
Discerning the difference between a mission statement and a vision statement can be a bit challenging when you are first getting started. The best way to think about is present versus future tense.
A mission statement is a reflection of your company's current state.

– Why does it exist? What does it do? What does it hope to accomplish.

A vision statement is a reflection of your desired future state.

– Imagine your company in 10 years. What have you accomplished? The vision statement creates an aspirational look at a future where you have achieved your goals.
As an example, the mission of Best Friends Animal Sanctuary reflects their goal: "Bring about a time when there are No More Homeless Pets." Their vision, or the ideal future they are working towards, is "A better world through kindness to animals."
Related: Don't Stop at the Logo: 5 Great Types of Non-Visual Branding
How to Write a Clear Mission Statement in Just 5 Steps
It may seem daunting at first, but when you ask the right questions, writing a mission statement is simple.
What do we do? What is the benefit of our product or service?

How do we do it?

What's our why? Why do we do what we do?

How are we different from other companies that sell a similar product or service.

What is our company culture and what do we do for our employees? What do we do for the community?
Developing a Company Vision Statement
When you fully understand what you do, and even more importantly, why you do it, you can better communicate it to others. The mission statement is yours to craft, so feel free to create two if appropriate—a full version for internal use and a more succinct version that your customers will see. You can also create segments of your mission statement to represent specific goals.
Writing the mission statement is important, but the real power lies in the edits. Every word counts here, and less is better. Take several passes at your statement, slashing what isn't absolutely necessary. This will lend more power to the words that get to stay.
As you go through the process, you may want to look at examples from companies that you admire.
13 Inspiring Examples of Company Mission Statements (from Some of the World's Best Companies)
Need a little bit of inspiration and guidance as you craft your mission statement? Look no further than some of the top brands in the country. They have perfected the art of creating a mission statement that not only reflects them as a brand but connects with their target customers.
Dunkin' Donuts:

To be the leading provider of the wide range delicious beverages & baked product around the kingdom in a convenient, relaxed, friendly environment, that insures the highest level of quality product and best value for money.

Starbucks:

To inspire and nurture the human spirit–one person, one cup and one neighborhood at a time.

Linkedin:

To connect the world's professionals to make them more productive and successful.

PayPal

: To build the Web's most convenient, secure, cost-effective payment solution.

Kickstarter

: To help bring creative projects to life.

Google

: To organize the world's information and make it universally accessible and useful.

Whole Foods

: Our deepest purpose as an organization is helping support the health, well-being, and healing of both people–customers, Team Members, and business organization in general–and the planet.

L'Oreal

: Offering all women and men worldwide the best of cosmetics innovation in terms of quality, efficacy and safety.

Coca Cola

: To refresh the world… To inspire moments of optimism and happiness… To create value and make a difference.

Amazon.com

: It's our goal to be Earth's most customer-centric company, where customers can find and discover anything they might want to buy online.

Build A Bear Workshop

: Our mission is to bring the Teddy Bear to life. An American icon, the Teddy Bear brings to mind warm thoughts about our childhood, about friendship, about trust and comfort, and also about love.

IKEA

: At IKEA our vision is to create a better everyday life for the many people.

TOMS Shoes

: For every pair you purchase, TOMS will give a pair to a child in need. One for One.
Your mission statement may be one of the most important branding devices you ever create. In addition to representing your company out in the world, the mission statement should be the guidepost by which you, and your employees make decisions regarding your company. New hires can benefit from your mission statement as it will help them understand the purpose and goals of your organization. When your purpose and your methods are clear, your business will flourish.