Seasons change, and so do color palettes — as the weather gets colder, colors get warmer, shifting toward oranges, reds, and browns to reflect the changing colors of leaves.
With imagery like pumpkins, pinecones, and cozy sweaters, fall-themed art evokes memories of curling up with a good book next to a roaring fire, drinking a mug of hot cocoa, or talking a walk in the crisp autumn air, leaves crunching under your boots.
Here are some fall-inspired illustrations and photography to get you thinking about autumn aesthetics: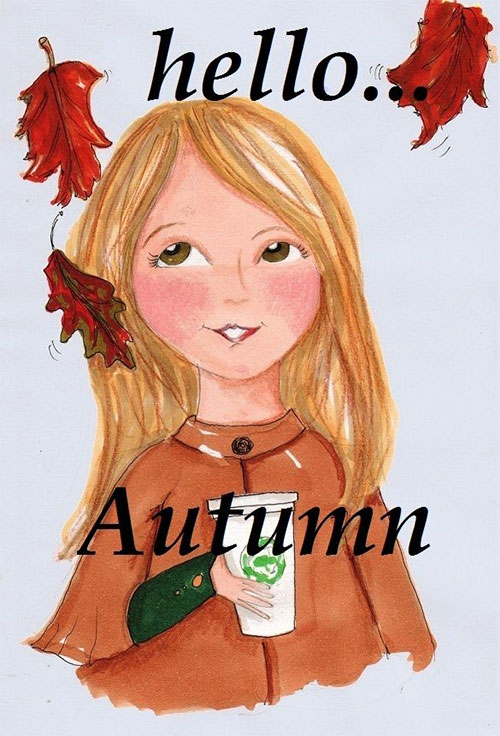 This illustration by Rose Hill Designs brings to mind that autumn moment when the weather gets a little colder and it's finally time to put on your favorite coat and order a pumpkin spice latte.

Did you ever jump into a pile of leaves as a kid? This photo by Dominika Brudny will remind you of the satisfying crunch of autumn leaves.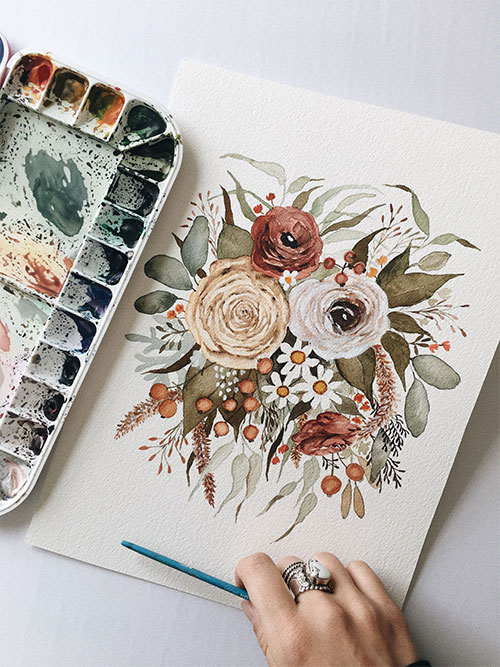 When you think of beautiful bouquets, you probably think of spring. But fall brings its own delightful variety of rich, warm colors and textures, and fall bouquets — like the one showcased in this watercolor illustration by Shealeen Louise — are becoming more and more popular.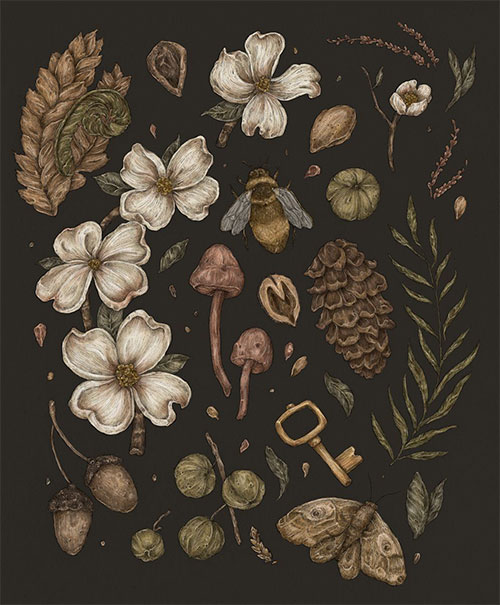 Mushrooms, pinecones, and acorns are all symbols for the bounty of fall. The deep, woodsy tones in this aptly named "Nature Walks" illustration by Jessica Roux remind us to appreciate the autumn landscape and all it has to offer.
Are you ready to break out your fall wardrobe? When sweater weather rolls around, we'll see a lot more coats, hats, and scarves (and, of course, sweaters!) in rich orange and olive tones, like the ones in this photo by no.varal.
There's nothing quite like enjoying a warm drink on a cold day. Whether you prefer hot cocoa, cinnamon lattes, or spiced apple cider, this photo by ellstark will make you want to pour yourself a drink in your favorite mug.

/p>
For many people, visiting pumpkin patches is a treasured autumn tradition. This whimsical digital painting by Ramona Kaulitzki evokes childhood nostalgia for picking out your favorite pumpkin and taking it home.
Fall is often associated with country harvests, but city landscapes have their own special magic when the leaves change colors. This photo by Alex Zouaghi captures the romance of autumn in London.
Fall illustrations are powerful. In an instant, they can spark nostalgia and transport you to your favorite memories. From the color palettes (rich oranges, reds, browns, and olive greens) to the imagery (sweaters, pumpkins, and leaves), fall aesthetics capture the joy of changing seasons and autumn festivities.
Ready to see your illustrations in action? Get Started!