How to Accent Your Business Card Design with Gloss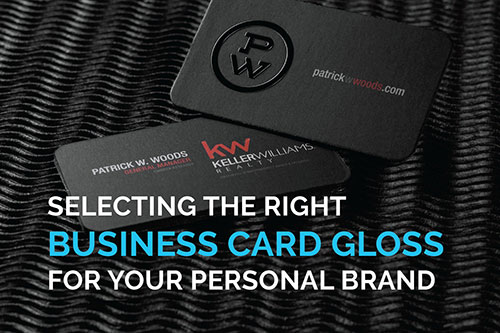 Details matter: even the paper finish you choose for your business cards can say a lot about you.
It's important to remember that when you give someone your card, that card represents your brand. Each finish comes with its own feel, its own texture and — above all — its own moment.
You want to create an experience that stands out, one that makes you memorable and your brand impressive.
Subtle touches like gloss can do just that.
Using glosses to create an effect
A lot of designers use gloss touches to accent key elements in their presentation. Three common glossy accent inks are:
Spot UV — A glossy treatment applied to backgrounds, graphics, and text
Raised UV — An elevated glossy treatment that adds texture and depth to the experience
Dusting UV — A glittery finish that creates texture, both to the touch and for the eye
How each interacts with your chosen paper will determine the final look of your card. Some finishes work super well with gloss touches, others… well, they will require a very particular vision.
Here are some good options to get you started:
Silk
Matte business cards are popular for their clean, modern profile. Ideally suited for presenting bold and expressive layouts, Silk cardstock is a matte paper for cards with a luxurious quality and subtly textured feel.
Like their namesake fabric, silk finish cards are refined and soft to the touch. They aren't susceptible to glare — a marvelous quality for making gloss touches stand out. This paper has a very fine texture, so the applied gloss goes on evenly without distortion.
Business cards that combine bright UV gloss and clean design with a matte silk finish have a youthful, startup-like quality to them. Silk is a great canvas for applying intricate spot UV patterns, watermarks, text, and logos.
Perfect for: The Modernist — High-end business and retail, real estate, startups.

Suede
Suede finish cards are heavier and more textured than silk cards. These sturdy cards are all about the feel. Spot and textured UV treatments can bring out their sophisticated style — when applied correctly.
Used sparingly, spot UV is a great way to accent key features on your card. For example, a card with an elegant watermark accent will be brought to life with a subtly textured UV touch. Likewise, subtle glossy touches on names, titles, and logos can go a long way.
Designers should avoid adding too much gloss to a suede card, however. The selling point for suede cards is touch, so adding too much smooth gloss will undermine that appeal. In addition, suede cards are made with thick or extra thick paper stock. Adding too much UV can make them feel bulky and unrefined.

Perfect for: The New Creative — Designers, visionaries, entrepreneurs.
Cold Foil
Cold foil lends a subtle metallic effect to your business card that is refined and elegant. This stock combines an underlay of silver foil with a silk finish that will stand out when paired with UV accentuation.
For designers, cold foil unlocks a number of creative dimensions. Spot UV offers a radical contrast of texture and color, introducing a striking glossy touch to the matte paper finish and shimmer of the foil. Add a raised UV accent to introduce an even more pronounced look.
Perfect for: The Millennial — Creatives, craftspeople, influencers.
Linen
For a throwback look, uncoated business cards are as traditional as you can get.
Without a finish, linen cards rely on paper texture and quality to make an impression. Heavy stock with a woven motif will enhance its unadorned look.
Linen cards look marvelous with subtle gloss UV on them. The delicate patterning of the linen can be offset with a color-matched spot UV motif to give it added complexity. Alternately, a raised UV overlaid on key text can make it stand out.
Perfect for: The Executive — Attorneys, finance professionals, consultants.
Cotton
Glossy touches aren't ideal for every kind of card, though. One key example is cotton.
Cotton business card paper is made using a mix of paper pulp and cotton fiber. The result is a rich, detailed texture that is coarse and unruly, but soft to the touch. It's a marvelous choice for debossing.
However, add spot UV or textured UV and it… doesn't look right. If you want to introduce more texture or glimmer to a cotton card, try a different approach — letterpress debossing, foil, raised embossing. Unless you have a real vision for using spot UV gloss, it's best to avoid it.
Perfect for: The vanguard, no one else.
Conclusion
Selecting the right paper finish is one thing, but there's so much more to designing a smart, one-of-a-kind business card. From paper choice to die-cutting to laser etching, it's important to know what options you have available.
Glossy accents are one of the many ways you can make a business card that tells a story. It's only the first step, though — modern business cards come with a variety of effects, from die cuts to laser etching to metallic touches and more.
Want to make business cards that are as unique as you are?
Learn more with our Designers' Ultimate Guide to Printing Unique, Custom Business Cards!