Spot UV vs. Super Gloss in Printing: What's the Difference?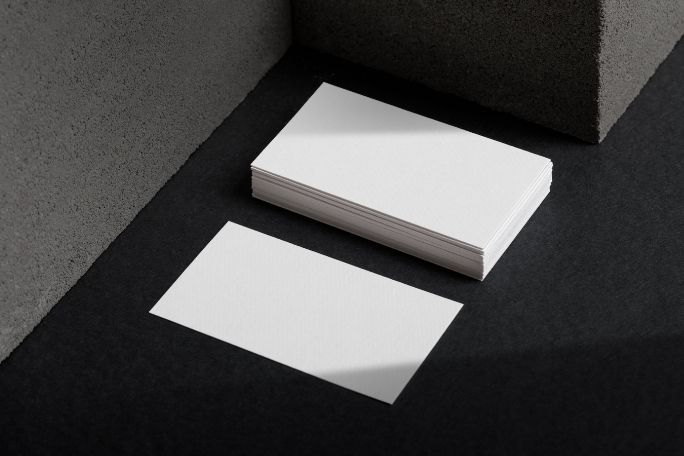 As you run your business, promoting your work is essential. Getting the word out there that you have a high-quality company with excellent services or products is vital to building clientele and putting yourself out there. It's what separates a simply good business from an innovative one.
While you research your options, creating business cards and pamphlets is quick and efficient for passing information from one person to another. Bite-sized and easy to put in your pocket, eye-catching business cards are perfect for promoting yourself. As you design your cards, you must decide what you like. So, what's the difference between Spot UV vs. Super Gloss for business cards?
Spot UV
Spot UV is simply an ultraviolet coating applied to a specific area on a printing material to give an extra pop of sheen. It then passes under a UV light to cure, harden, and dry it so that it stays in its place. People also call it spot varnish or spot glass because it's a thin layer on a blank or printed substrate.
You only use Spot UV in specific areas rather than the entire surface to create contrast and draw attention to specific parts of the printed material. It gives a clean and classic feel that emphasizes simplicity, especially if it's one solid color.
Super Gloss
Super Gloss covers entire surfaces instead of specific areas like Spot UV. It thus leaves the whole surface of a printing material shiny, as well as smooth to the touch. It's incredibly eye catching and stands out from other materials printed with matte finishes.
After the machine perfectly aligns the gloss, it places the varnish directly over the top and moves it under a high-intensity ultraviolet light. The light instantly dries it. Once the curing ends, it leaves behind an intense and impressive shine while enhancing the color underneath so that it really pops.
Their Similarities
Both Super Gloss and Spot UV act as high-end professional finishes that increase quality and sophistication. They can make a printed material's surface stand out among others, giving it an advantage against the competition. They allow people to spot the material easily while keeping it sophisticated.
Both can work on just about any printing material, including photographs and colored paper. You can also apply them to stickers to add extra flair and fun. Moreover, they're designer friendly and environmentally friendly.
Their Differences
As previously mentioned, the differences between the two coatings aren't too drastic. While you use Super Gloss on an entire surface, you focus Spot UV on specific areas of the printing medium. Spot UV is best for logos and text that need to stand out against the matte material of a printing medium. It gives the material an impressive professional shine.
As for their curing processes, the coatings slightly differ there, as well. Super Gloss is easy to place over the entirety of the printing medium and immediately dries under UV light in a quick process. Meanwhile, Spot UV must lie precisely under the printer, which applies it with a varnish. It then undergoes a curing process under a UV light, immediately drying down the surface.
Benefits
While providing a beautiful color and shine, Super Gloss and Spot UV bring out the finer details within the printed material. The importance of the differences between Spot UV and Super Gloss comes down to what the designer wants to focus on in particular.
UV curing is rapid and has a short downtime. This results in a faster turnaround, and you can create more at a quicker pace. Additionally, both protect the printed material from damages like scratches. For example, they can make a business card more resistant to excessive wear.
Drawbacks
On the other hand, there are a few drawbacks to Spot UV and Super Gloss. One of their limitations is that they don't enhance the look of anything with metallic ink or foil stamping. They defeat the purposes of those details and can make a surface look less professional as a result. Additionally, these shiny glosses are challenging to write on. Due to the lacquer, writing over a UV coating doesn't work well.
Lastly, UV gloss coating can run up your budget. Any additional add-ons for your printed medium will increase the price of your design. So, be sure to keep your design simple with just a few add-ons that you enjoy.
Best Printing Materials
All in all, the best materials suited for UV coating are various forms of paper. If you use a matte color in your design, the color will show off the varnish effectively. The type of cardstock paper that suits these coatings best is 34pt. However, you can still print on thinner materials, such as 100lb gloss book paper. If you plan on using business cards, 14pt and 16pt cardstocks are your best bet for satisfying results.
Of course, UV coating works on just about any format size. But it's preferable to keep your design small. The smaller your card is, the more attractive it becomes upon closer inspection. So, it's good to know to keep it on the smaller side if you really want to make an impact.
Their Uses
It's no surprise that many professionals enjoy the look of a professional business card. But UV coatings are helpful for just about anything. You can make custom stickers to your liking using UV coatings and stick them on your water bottle, laptop, or even notebooks. You can also create a decal to put on the windows of your car if you really want to do so.
Additionally, you can create beautiful custom postcards that pop out in the mailbox. So, if you know someone who has a birthday coming up, you can create a unique postcard with a UV coating and send it off to them to keep. The receiver will be pleasantly surprised due to your act of kindness.
If you're in the market for printed luxury business cards, give us a visit at Silk Cards. We offer multiple types of materials, including cotton and linen. We can also help create anything from stickers to presentation folders. So, if you have any questions, contact us today.